Affordable Health Care
We pay more for health care than any other nation, averaging nearly $10,800 per person per year.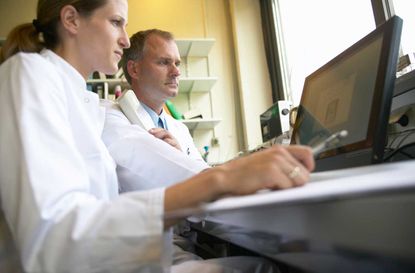 (Image credit: This content is subject to copyright.)
As open enrollment rolls around again, our special report has advice on picking the best group, individual or Medicare plan, plus tips on how to save money on health care providers and prescription drugs throughout the year. The very fact that we publish a guide to navigating the complexities of choosing health care each year is evidence that our system needs fixing—which is exactly what voters on both sides of the political spectrum are saying as we close in on the 2020 elections.
The U.S. health insurance system is a confusing patchwork of employer-provided group and individual coverage, as well as Medicaid and Medicare. No matter what plan you're on, the rules are complex, and it's up to you to appeal when the insurance company denies coverage.
That wouldn't be so bad if health care didn't cost so much. For the average U.S. worker with employer-provided coverage, the total cost, including the employer-paid portion and the employee contribution and out-of-pocket costs, is $6,348 a year per person, according to the 2019 Milliman Medical Index. The employee pays more than 40% of that. If you buy coverage on your own, you may spend even more. According to the nonprofit Kaiser Family Foundation, individuals who purchased a bronze-level policy sold on the state health insurance exchanges in 2018 had an average deductible of $5,938 before most benefits kicked in.
Subscribe to Kiplinger's Personal Finance
Be a smarter, better informed investor.
Save up to 74%
Sign up for Kiplinger's Free E-Newsletters
Profit and prosper with the best of expert advice on investing, taxes, retirement, personal finance and more - straight to your e-mail.
Profit and prosper with the best of expert advice - straight to your e-mail.
Pocketbook pain. Half of Americans who have coverage through an employer say that in the past year, they or close family members have put off going to the doctor or filling a prescription because of cost, according to a survey conducted by the LA Times and the Kaiser Family Foundation. Unpaid health care bills are a leading cause of bankruptcy, as hospitals sue patients, garnish wages and seize tax refunds.
The Census Bureau reported in mid September that 27.5 million Americans were without health insurance last year. The 0.5-percentage-point uptick in the uninsured rate, to 8.5%, was the first increase in a decade (despite the good economy). Much of that gap occurs because, for most working-age Americans, health insurance is provided by employers. For people who are self-employed or work for small employers, finding affordable health care is a challenge.
I am grateful for the Affordable Care Act provision that allowed my daughter—who has several health conditions and has had only part-time or short-term full-time jobs in between working on her college degree—to stay on our health insurance until age 26. Now she has coverage under COBRA, but when that runs out in less than a year, I'm not sure what her options will be.
The U.S. pays more for health care than any other nation. The total annual cost, including government, insurer and patient outlays, is nearly $10,800 per person—more than twice what the Netherlands, Canada, France and the United Kingdom spend. And yet U.S. life expectancy is shorter, and our rates of obesity and maternal and infant death are higher, according to a study recently published in the Journal of the American Medical Association. Based on the experiences of these and other wealthy nations, a big part of the health care affordability solution may be legislation that caps out-of-pocket expenditures and tightens regulation of prices.
Elsewhere in this issue, our cover story, written by senior associate editor John Waggoner, has strategies that should help you keep calm and carry on if you're unsettled by the stock market's roller coaster ride. And if you've been tempted to buy a DNA test kit, read Discover Your Roots With Genetic Testing, by associate editor Pat Esswein. As Pat points out, genetic testing truly is a brave new world, with a slew of unintended consequences.
Editor, Kiplinger's Personal Finance
Mark became editor of Kiplinger's Personal Finance magazine in July 2017. Prior to becoming editor, he was the Money and Living sections editor and, before that, the automotive writer. He has also been editor of Kiplinger.com as well as the magazine's managing editor, assistant managing editor and chief copy editor. Mark has also served as president of the Washington Automotive Press Association. In 1990 he was nominated for a National Magazine Award. Mark earned a B.A. from University of Virginia and an M.A. in Writing from Johns Hopkins University. Mark lives in Washington, D.C., with his wife, and they spend as much time as possible in their Glen Arbor, Mich., vacation home.