Getting Good Service
We rated the customer service of large financial service firms for accessibility, reliability, responsiveness and knowledgeable answers.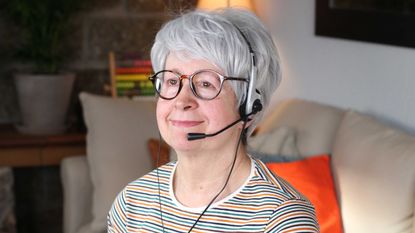 (Image credit: Getty Images)
While we were in Michigan over the summer, our Washington, D.C., house was undergoing a serious makeover. When we embarked on this project, friends and family warned us about the delays and disappointments we were likely to face with the contractor. It wouldn't matter who, they said. It's just the nature of the business. After we negotiated and signed the contract, I steeled myself for uncomfortable interactions and veiled threats to keep the work flowing and the quality high—from 800 miles away.
But our contractor turned out to be a different, perhaps old-fashioned, breed. We chose Randy because unlike the other contractors we interviewed, he runs a family operation, with two sons working alongside him, and his wife in charge of the bookkeeping and billing. He would be there every day to supervise the work, instead of delegating the task to an employee who would have less of a stake in doing a first-rate job. He took ownership of the project and made repairs on our 80-year-old house that other contractors probably would have let slide. Another winning attribute: He returned our texts and e-mails promptly.
Best customer service for you. While Randy was belying the rap on contractors, the staff at Kiplinger and I began to brainstorm how we could translate the universal desire for good service into rankings that served our readers. The result was Financial Service Firms That Treat You Like a Star (opens in new tab).
Subscribe to Kiplinger's Personal Finance
Be a smarter, better informed investor.
Save up to 74%
Sign up for Kiplinger's Free E-Newsletters
Profit and prosper with the best of expert advice on investing, taxes, retirement, personal finance and more - straight to your e-mail.
Profit and prosper with the best of expert advice - straight to your e-mail.
Most of us have trusted financial professionals in our corner. But the pandemic has accelerated a shift in customer service from the up-close-and-personal to the distant-and-digital. (Even bank lobbies were shuttered for a while.) So we decided to focus on four categories of personal finance services that operate mostly from a distance: credit card issuers, mortgage lenders, auto and home insurers, and banks.
We whittled the firms to 10 or so in each category, then we conducted a national survey to see how customers rated them on customer service attributes: accessibility, reliability, responsiveness and knowledgeable answers to typical questions. We also checked complaints, evaluated the websites, called the customer service phone numbers and put the apps through their paces. Contributing editor Lisa Gerstner, who has earned her stripes rating rewards credit cards and banks, did the heavy lifting, with a bit of help from summer intern Spencer Philps.
As we were putting the finishing touches on this months-long project, Lisa had her own struggle with a customer service issue. She and her husband, Tom, bought a house in early August, and they chose a large, D.C.-based credit union as their mortgage lender because it offered a lower interest rate than the other lenders they checked with.
Their purchase contract stated that by about two weeks before the closing date, they had to deliver to the seller a letter from the lender stating conditional or outright approval of the loan. The letter finally came, but it was nearly 48 hours late and it pushed them out of contract on the house. The sellers could have backed out, Lisa says, but she and Tom decided to switch to a local bank that their real estate agent referred them to, and the mortgage team wrapped up the loan in two weeks.
Our survey is not about prices—just service. If you are in the market for a mortgage or a credit card from a company that respects its customers, or a bank or insurance company that will respond quickly and efficiently if you have a problem, check out our winners.
"We're paying a slightly higher interest rate, but the peace of mind has been 100% worth it," says Lisa. "Sometimes you really do get what you pay for."
Editor, Kiplinger's Personal Finance
Mark became editor of Kiplinger's Personal Finance magazine in July 2017. Prior to becoming editor, he was the Money and Living sections editor and, before that, the automotive writer. He has also been editor of Kiplinger.com as well as the magazine's managing editor, assistant managing editor and chief copy editor. Mark has also served as president of the Washington Automotive Press Association. In 1990 he was nominated for a National Magazine Award. Mark earned a B.A. from University of Virginia and an M.A. in Writing from Johns Hopkins University. Mark lives in Washington, D.C., with his wife, and they spend as much time as possible in their Glen Arbor, Mich., vacation home.