Rethinking Retirement Income Strategies
When interest rates are this low, it might be time to revisit some of the old rules of thumbs about reducing the risk of outliving your money.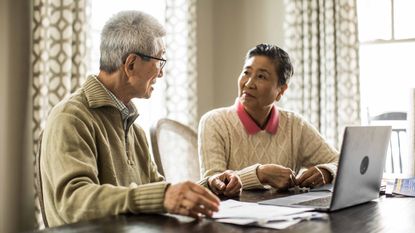 (Image credit: Getty Images)
Our annual guide to making your nest egg last as long as you do is even more timely this year because yields from the safest place to keep your savings—the bank—are at rock-bottom. The average yield on one-year CDs is just 0.32%, according to Bankrate.com (opens in new tab). Five-year CDs aren't much better, at just 0.49%, on average.
If you've saved diligently, you can still convert your savings into a reliable retirement paycheck, writes senior editor Sandy Block in our cover story (opens in new tab). But to reduce the risk of outliving your money, you may need to revisit some of the old rules of thumb. For example, with cash and fixed-income investments paying meager returns, retirees may have to boost their stake in stocks, forgoing the traditional mix of 60% stocks and 40% bonds and cash.
Relying on stocks for income can be scary for retirees, especially when volatility is running high. You can reduce the risk of investing in the stock market—and your anxiety—if you make sure you have enough cash flow to cover the basics for a couple of years. That way, when stocks fall, you can put withdrawals on pause until prices recover.
Subscribe to Kiplinger's Personal Finance
Be a smarter, better informed investor.
Save up to 74%
Sign up for Kiplinger's Free E-Newsletters
Profit and prosper with the best of Kiplinger's expert advice on investing, taxes, retirement, personal finance and more - straight to your e-mail.
Profit and prosper with the best of Kiplinger's expert advice - straight to your e-mail.
One way to supplement your guaranteed income—typically anchored by Social Security and pension benefits—is with an annuity. Annuities come in many flavors. In our cover story, we focus on the single-premium immediate annuity—in exchange for a lump sum, an insurance company will provide you with a monthly payment for a specified number of years or the rest of your life. Today's low interest rates reduce what you earn from an annuity, and that's one of the reasons most planners advise their clients to cap their annuity investment at 25% to 30% of assets. Sandy covers a number of other strategies to make the most of annuities.
Cautious optimism. To check the pulse of Americans putting their own withdrawal plans in place, we asked a national sampling of respondents age 55 to 70—people both approaching retirement and fully retired—how confident they are that they'll have enough money to last for their entire retirement. When we conducted the poll in June, the pandemic-sparked bear market was top of mind, and nearly two-thirds of respondents reported a decrease in their retirement investments.
Overall, they are optimistic, with a majority expressing confidence that they will be able to create a secure income stream in retirement. But there are also telling signs of worry: Half of respondents say they are less confident about living comfortably in retirement than they were before the pandemic. Women, people in their fifties and, not surprisingly, those with lower household net worth are the most pessimistic.
Kiplinger commissioned the poll in part­nership with the Alliance for Lifetime Income. The Alliance, whose members consist of prominent insurers and financial firms, focuses on educating people about how protected income from annuities can make them more confident about living a secure retirement.
The economic uncertainty and market volatility created by the pandemic have led many preretirees to rethink their retirement plans. "We're seeing a great retirement reset underway, in which Americans are more concerned than ever about having enough income to cover expenses in retirement," says Jean Statler, CEO of the Alliance. People are looking for ways to shield their retirement plans, she adds, which protected income from annuities or pensions can provide.
A surprising number of respondents in our poll still receive, or will receive, a pension, although the average amount is a modest $2,500 per month. Even so, the majority say they are looking for more guaranteed income. And nearly half have either invested in an annuity or would be willing to in the future. (See more highlights from the poll (opens in new tab).)
Editor, Kiplinger's Personal Finance
Mark became editor of Kiplinger's Personal Finance magazine in July 2017. Prior to becoming editor, he was the Money and Living sections editor and, before that, the automotive writer. He has also been editor of Kiplinger.com as well as the magazine's managing editor, assistant managing editor and chief copy editor. Mark has also served as president of the Washington Automotive Press Association. In 1990 he was nominated for a National Magazine Award. Mark earned a B.A. from University of Virginia and an M.A. in Writing from Johns Hopkins University. Mark lives in Washington, D.C., with his wife, and they spend as much time as possible in their Glen Arbor, Mich., vacation home.