2009 Halloween Fun Facts
With All Hallows Eve fast approaching, there are pumpkins to carve, ghosts and skeletons to post on the front lawn, and costumes and trick-or-treat candy to buy.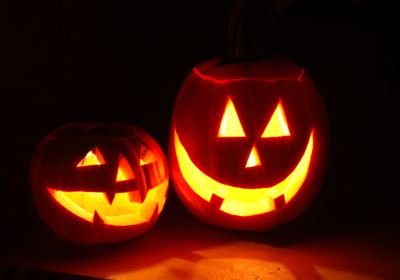 (Image credit: Charles Barthalomew/World Championship Punkin Chunkin Association)
With All Hallows Eve fast approaching, there are pumpkins to carve, ghosts and skeletons to post on the front lawn, and costumes and trick-or-treat candy to buy. Americans love to make Halloween spooktacular, but the recession has made this year especially frightening.
Total Halloween spending for 2009 is expected to drop to $4.75 billion, down from $5.77 billion in 2008. Here is a peek at what goes into making Halloween a ghoul-o-time.
Statistics provided by the National Retail Federation, National Confectioners Associations, U.S. Census and NASS.
By Amy Pollak
1/10
Trick or Treat?
This year, more than 36 million Americans of all ages plan to trick-or-treat, up about 65,000 from 2008. However, 88% of people plan to spend less money on the holiday this year.
2/10
Pumpkins, Pumpkins Everywhere
Finding the perfect pumpkin should be no problem, with an estimated autumn harvest of 1.1 billion pounds of pumpkins, about the same as last year's harvest. Illinois still leads the nation in pumpkin production with 496 million pounds, but that's down from 542 million in 2008.
3/10
BOOgie Down
Just because you're too old to trick-or-treat doesn't mean you can't dress up and have a little fun. One-third of adults say they plan on wearing a costume or throwing or attending a Halloween party. Most popular costume choice for women: witch, same as last year. Most popular for men: pirate, the perennial favorite.
Vampires are climbing the charts, too: Twilight and True Blood, anyone? Michael Jackson, Sarah Palin, Kate Gosselin, and even Bernie Madoff also may make an appearance or two at your door.
4/10
Most Popular Costumes for Girls
The princess costume is once again the most coveted by young girls for Halloween. Witch and fairy costumes are also showing brisk sales, retailers say. But also expect to see a lot of girls dressed as Hannah Montana or Tinkerbell.
5/10
Most Popular Costumes for Boys
Inner superheroes come out and play on Halloween. Spiderman is the top costume choice for boys this year, beating out the always-popular pirate get-up, according to the National Retail Federation. Batman and Star Wars are also popular with the boys.
6/10
Life Is Ruff on Halloween
Kids and adults won't be the only ones dressing up. The most popular pet costume is a pumpkin, followed by a little devil. Just be careful not to mistake a pet costume for an infant costume, because they can be very similar in size and price.
7/10
Recognize My Disguise?
Americans are expected to spend an average of $20.75 per costume in 2009, down from $24.00 in 2008. There are 2,011 costume-rental and formalwear shops across the nation to accessorize people for Halloween and other occasions.
8/10
Give Me Something Good to Eat
The average household plans to spend almost $18 this year on candy, down $1.39 from 2008. Trick-or-treaters say chocolate is the most sought-after goodie, while fruit is the least desired. Surprise, surprise.
9/10
Extreme Halloween Home Makeover
47.3% of households plan on decorating this year, down from 50.3% in 2008. Halloween is second only to Christmas in spending on decorations. As a way to curb spending this year, 35% of consumers will use last year's decorations again.
10/10
Smashing Pumpkins
More than 20,000 people gather each year near Bridgeville, Del., to watch orbs of orange fruit (yes, pumpkins are botanically classified as fruit) being flung across an open field. At the World Championship Punkin' Chunkin' contest, 72 teams of innovators compete to hurl pumpkins the farthest distance.This trebuchet designed by Team Yankee Seige (at right) holds the world record in the Adult Trebuchet category with a distance of 1,897.47 feet -- that's more than a quarter of a mile!
This year's contest will take place November 6-8, after Halloween is over.