AFFORDABLE FAMILY VACATIONS
When your family includes children ages 5 and up, you likely look for vacation spots with plenty to keep them occupied.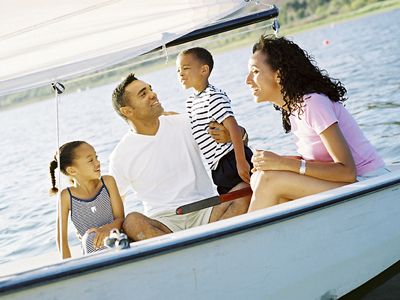 (Image credit: Riviera Maya)
When your family includes children ages 5 and up, you likely look for vacation spots with plenty to keep them occupied. No parent wants to hear "I'm bored." But you also don't want to spend a fortune paying for a multitude of activities just to avoid hearing your kids complain that they have nothing to do.
Here are ten affordable vacation options with plenty of fun for the whole family. From dude ranches to caves to Mexican beaches, these spots are anything but ordinary. And they won't cost you a fortune.
Compiled by Cameron Huddleston and Andrew Edelen
1/10
FLORIDA KEYS ROAD TRIP
How about a road trip ... on the ocean? Traveling down the Overseas Highway, the southernmost leg of U.S. 1, you can see water on all sides as you cross the 42 bridges that connect the Florida Keys chain. Before you motor out, visit the Everglades, where your kids can see crocodiles up close in the nation's largest subtropical wilderness.
Then stop at Key Largo, where you can take a glass-bottom boat tour of the John Pennekamp Coral Reef State Park, swim with dolphins (opens in new tab) (pictured right) or go deep-sea fishing. At Long Key State Park, you can camp with a view of the ocean and canoe or kayak through the park's lagoon. In the lower keys, check out the miniature Key deer on Big Pine Key and the beautiful beach at Bahia Honda State Park. Lodging is cheaper here than in Key West, where there is plenty for families to do despite its reputation as a party spot. Booking rooms in the summer (which is off-season because of the heat and mosquitoes) will ensure better deals.
2/10
CHEROKEE PARK RANCH, COLO.
At Cherokee Park Ranch in Colorado, your family can hit the open trail on horseback, go white-water rafting or fly fishing on the Cache La Poudre River, take a hayride to watch the sun set or relax in the heated pool. The ranch also has an extensive children's program for 3- to 5-year-olds and 6- to 12-year-olds. You can bring your own babysitter free for children younger than 3.
The ranch , a two-hour drive from Denver, still has many of the original furnishings and cabins from its days as a stagecoach stop in the 1880s. For lodging, meals and an action-packed week, adults will pay $1,450 apiece in the summer ($795 to $995 for each child) -- not exactly cheap but about $400 to $800 less than other ranches. For more options, check the Dude Ranchers Association (opens in new tab).
3/10
MEDOMAK CAMP, MAINE
Why not send the whole family to summer camp this year? So maybe the idea of sing-a-longs, outhouses and wienie roasts doesn't appeal to you. Medomak, outside Washington, Maine, is the family camp for families who don't want to rough it. You can enjoy a private cabin with adirondack chairs on the porch, made-from-scratch meals, a lobster dinner once a week, beer and cheese tasting, and massage therapy.
There's plenty to do -- from arts and crafts to gymnastics to sailing. Plus, you're not confined to the 250-acre camp. Parents can visit nearby art galleries, and the whole family is encouraged to explore the Maine coast once a week. Cost for a family of four for a week runs from $2,900 (for mid-June to mid-July) to $3,700 (for late July and August). You can find other family camps listed in the American Camp Association's directory.
4/10
COLONIAL WILLIAMSBURG, VA.
You can have fun and learn something at the world's largest living history museum in Williamsburg, Va. (Just don't tell the kids this will be an educational trip.) Historical reenactors help bring the restored former capital of Virginia to life. There's no charge for walking through the 301-acre area -- you just have to pay to enter the exhibition buildings and sites. Lodging within Colonial Williamsburg can be pricey. Instead, consider the family-friendly Kingsmill Resort and Spa, which has a Kids Kamp for children ages 5 to 12 and package deals for a family of four.
When your children get tired of the history lesson, take them to Busch Gardens Williamsburg, voted the "World's Most Popular Theme Park," and Water Country USA. For $69.95 per person, you get three days at both parks to enjoy the rides, shows and animal attractions (you'll pay that much for just one day at Disney World).
5/10
CYCLE TOUR OF FRANCE
Here's a way to let your family truly experience a foreign country without spending a fortune. Brits Geoff and Kate Husband and their company, Breton Bikes (opens in new tab), have been offering bicycle camping vacations in France since 1989. The biking routes are in Brittany, where you can travel down quiet country lanes or along the Nantes-Brest canal towpath. You'll see stunning chateaux, the spectacular French coastline and some of the best preserved megalithic tombs in Europe. And you can do it all at your own pace.
The Husbands have three children, so they know what's involved with taking kids on vacation. They've plotted several family-friendly routes. And they provide everything -- bikes, repair kits, maps and camping gear. Adults can expect to pay about $300 to $400 a week for the camping trip (more if you choose to stay in hotels); the rate is about half that for kids.
6/10
ZION NATIONAL PARK, UTAH
Want to truly wow your kids? Take them to breathtaking Zion National Park in Utah. It's relatively small (229 square miles), so it's easy to see everything the park has to offer: cliffs, waterfalls, slot canyons, desert, emerald-colored pools and unusual plant and animal life. There are several kid-friendly hiking trails, some of which are paved and stroller accessible. And there's a Junior Ranger Explorer Program in which children ages 6 to 12 go on hikes, play games and learn about the Southwest desert.
Zion also is close to Bryce Canyon, Grand Staircase-Excalante National Monument and the North Rim of the Grand Canyon. So consider getting an $80 park pass for entrance to all the national parks. Camping is just $16; Zion Lodge in the park charges $150 a night for two people.
7/10
LAKE GEORGE, N.Y.
One of the Kiplinger staff members took his children to Lake George, N.Y., a couple of years ago for the Fourth of July, and they're still talking about it. This scenic, middle-class resort area has a big lake, lots of affordable restaurants and hotels, and plenty of activities, such as boat cruises, hot-air balloon rides, kayaking and horseback dinner rides through the Adirondacks. You can find apartments and cottages for four from $1,000 to $2,000 a week; kids younger than 12 stay free at some of the resorts.
Nearby is Six Flags The Great Escape, with more than 135 rides, and Splashwater Kingdom. Your kids also can enjoy the area's children's museums, Adirondack Animal Land and Up Yonda Butterfly Farm. Mom and Dad might like a night at the Lake George Dinner Theater or live entertainment at the pubs.
8/10
MAMMOTH CAVE NATIONAL PARK, KY.
How many kids can claim they spent their vacation underground? The 365-mile-long Mammoth Cave in Kentucky has plenty to impress your children -- from huge, spectacular underground rooms, cool formations and creatures you won't see above ground to some of the largest continuous canyon passages and an underground river. There are tours for every level, including one just for kids ages 8 to 12 that lets them crawl into places no one else gets to go and a six-hour Wild Cave Tour for those ages 16 and up.
Once you emerge from the cave, try hiking, canoeing, kayaking, horseback riding and camping on the islands in the Green River. Kids can participate in the park's nature program or go to ranger-led campfire talks. Or you can drive an hour north to catch the horse races at Churchill Downs in Louisville, or an hour and a half south for live country music in Nashville.
9/10
SANDUSKY, OHIO
This small town on the Lake Erie peninsula between Cleveland and Toledo is big on entertainment. It's home to North America's second-oldest amusement park, featuring some of the world's tallest and fastest roller coasters. Cedar Point has 17 roller coasters, thrill rides, carousels, children's rides and water rides. Sandusky also boasts the nation's soon-to-be largest indoor waterpark, Kalahari Resort, where you can surf indoors or just float down a lazy river at the 80,000-square-foot park, which is adding another 93,000 square feet. The city has two more resorts with waterparks and plenty of lake-related activities.
Cedar Point and the waterparks can get expensive quickly, but you could hang out at the beach during the day and hit the amusements after 5 p.m., when the cost of admission drops dramatically. Or you can find package deals at the waterpark resorts that include admission to their parks. Kalahari offers a package for four people for $149 a night.
10/10
RIVIERA MAYA, MEXICO
This 75-mile stretch of Mexican coastline south of Cancun is renowned for its beautiful, uncrowded beaches, all-inclusive resorts and ancient ruins. The whole family can enjoy the area's many natural wonders, such as the Great Maya Reef, where you can see tropical fish and coral while snorkeling or scuba diving in the clear-blue waters of the Caribbean. Or take a jungle tour, swim in a subterranean cenote (freshwater-filled sinkhole) and watch sea turtles swim ashore. Be sure to check out the Xcaret theme park with a great waterpark.
A favorable exchange rate will help stretch your dollar. We recently found a room for four at the all-inclusive, five-star Bahia Principe Resort in Tulum for less than $150 a night. This resort has a kids clubs for children ages 4 to 12, so you can keep Junior entertained while you explore the nearby Mayan archeological sites.