Great Ideas for $1,000: Home, Travel, Gifts & Fitness
Maybe you received a bonus at work, got lucky on a scratch-off lottery ticket or—unlike many disappointed taxpayers this season—you scored a sizable tax refund.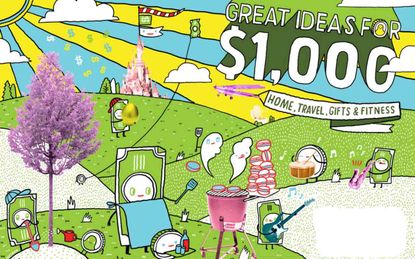 (Image credit: Illustration by Aaron Meshon)
Maybe you received a bonus at work, got lucky on a scratch-off lottery ticket or—unlike many disappointed taxpayers this season—you scored a sizable tax refund. If you have a grand to spare, we have recommendations on ways to spend it, including buying travel upgrades, creating a smarter home, making a difference for local schoolkids and much more.
1/21
Home: Get Organized
If Netflix's Tidying Up With Marie Kondo inspired you to cull your possessions, consider hiring a KonMari consultant to teach you how to determine which items "spark joy" and are worth keeping. A professional organizer can also help you set up a filing system or prepare you to move or sell your home. You can find a professional organizer at Napo.net (opens in new tab) or a certified KonMari consultant at Konmari.com. The cost will vary based on your location, the organizer's experience and the scope of your project, but most organizers charge $30 to $80 an hour, according to Costhelper.com. They may also charge by the day or project. KonMari consultants generally charge $60 to $150 an hour, but some offer discounts for multi-session packages.
2/21
Home: Make Your Home Smarter
Control your home—from the front door to the temperature—with a tap of your smartphone or a voice command by installing smart-home devices. Start with a smart speaker such as Amazon Echo ($100) or Google Home ($130) and a smart thermostat. For the thermostat, we like Ecobee 3 Lite ($170) for Amazon Echo users and Nest Learning thermostat ($250) for Google Home users. For either system, smart plugs, such as the Belkin Wemo Mini ($35 each), turn household items that plug into electrical outlets into smarter versions that can be controlled with your smartphone, tablet or smart speaker. The Philips Hue White Starter Kit ($100 for a kit with four bulbs and a bridge that acts as a translator between the bulbs and your Wi-Fi network) will allow you to turn lights on and off using your voice or a smart device. Extra bulbs usually run $15 to $40 each. To control access to your home and monitor what's going on outside your door, add a smart lock and video camera, such as the August Smart Lock Pro + Connect ($279) with the company's Doorbell Cam Pro ($199).
3/21
Home: Buy a 3D Printer
With a 3D printer, you can make household items (from vases to cell-phone cases), create replacement parts or just get crafty. Models for home use have come down in price (they start at about $200) and are now easier to use. For higher print quality and more features, a serious user should expect to spend $700 to $1,000. Most models in this price range build objects out of layers of molten plastic using a process called fused filament fabrication. (Depending on the quality, plastic runs $20 to $70 per kilogram—enough to make at least 100 chess pieces.) Some 3D printers also work with other materials, such as wood, bronze or copper-based filament. Among them: The FlashForge 3D Printer Creator Pro ($899) prints layers with precision inside a chamber that protects your work. If you like assembling things, consider a 3D printer kit instead. Kit printers usually take three to eight hours to build and cost $200 to $300 less than compar­able ready-made models.
4/21
Home: Barbecue Like an Egg-head
The Big Green Egg, a modern take on an ancient Japanese cooker, enjoys a cult following. Egg-heads grill, roast, bake and smoke over wood or charcoal in the domed ceramic cooker, and they swear by the juicy, tasty results. For about $1,000, you can get an Egg in the most-popular large size, big enough to grill up to eight steaks or about a dozen burgers at once. Depending on the package from the dealer (find one at biggreenegg.com (opens in new tab)), you'll also get a metal frame, called a "nest," for your egg, as well as side extensions for working or serving, a gripper to lift the grill in and out, and an ash tool. You can customize your Egg by choosing from a panoply of cooking islands and tables, grid and rack options and cooking accessories. Egg-heads share advice and recipes on the Egg-head forum on the company's website and on social media.
5/21
Home: Upgrade Your Toilet Seat
Kohler's C3-230 is the Lamborghini of cleansing toilet seats. The seat is ergonomically designed and heated. A built-in stainless-steel wand sprays warm water and adjusts for front or rear wash and oscillating (wider wash area) or pulsating spray (for a cleaner clean). A warm-air dryer finishes the job. You can adjust temperature and pressure settings and preset them for two people on the touch-screen remote. LED lighting illuminates the toilet bowl to serve as a night light. The seat will fit most elongated-style toilets. Recently, Kohler was selling it for $974, or 25% off the suggested retail price of $1,300 (model K-4108-0). And FaucetDepot.com was offering it for $652 with free shipping. Installation requires a GFCI circuit nearby and a water supply. Bonus: You'll save on toilet paper.
6/21
Home: Plant a Tree
"The best tree is the one you planted 20 years ago," goes the adage, so don't delay. As it grows, a tree will add to your property's value and cut your summer cooling bills (especially if it shades an exterior air conditioning unit). What you can get for $1,000 depends on the location, tree type and size, and time of year, according to Davey Tree Expert Co., a tree-service company based in Kent, Ohio. In the Midwest, a 5-foot Norway spruce may cost $100 versus $250 for a 10-foot one, and an 8- or 9-foot red oak may run $200 versus $600 for an 18- to 20-foot one. In Atlanta, an 8- or 9-foot willow oak would cost about $330, and an 18- to 20-foot one would be about $850. If a landscaper delivers and plants the tree, add about $300 to $1,500 to the cost. If you can be patient, choose a medium-size tree with a trunk that's about 2 inches in diameter—it will catch up in size to tall trees within three to five years, says R.J. Laverne, at Davey. Check out the Arbor Day Foundation's guide, "Choosing the Right Tree" (opens in new tab).
7/21
Home: A Bond-Worthy Bar
I've spent years (and I shudder to think how much money) building and restocking a home bar fit for a James Bond movie villain. But you don't need evil-lair money to impress at your next boozy get-together. By my count, you'll need 10 bottles: vodka, gin, rum, tequila, American whiskey (I favor rye over bourbon), Scotch, triple sec, some sort of aperitif (I like Campari), and sweet and dry vermouth. Spend $50 on each, pick up a couple of bottles of bitters, some fresh fruit and a decent recipe book and—voila!—you can make a tasty version of just about any cocktail. Total cost: around $550. Use your remaining $450 to stock up on barware (your friends—or nemeses—might want their martinis shaken, not stirred, after all), glassware (no more serving Manhattans in Solo cups), and maybe even a special place to put all of this stuff; a bar cart or even a giant globe bar will run you less than $200. Installing a trap door over your shark pit will run you quite a bit more. - Ryan Ermey
8/21
Home: Adopt a Fur Baby
The one thing I promised myself when I moved out on my own was to become a pet owner eventually. (My parents never bought my argument that a dog would make a great Christmas present.) Three years later, I'm finally taking the plunge, and, man, there are a lot of costs to adding another member to my household. However, with an extra windfall (thank you, tax refund), I can afford to adopt a cat this year.
The tab for a tabby starts with an adoption fee, which can range from free to nearly $200. Other up-front costs can include neutering or spaying, vaccines, a litter box and a scratching post, for a total of $365, according to the American Society for the Prevention of Cruelty to Animals (ASPCA). (I'm considering paying $175 to adopt from a rescue group, where animals have already received their shots and other medical care.) And, of course, there are recurring expenses: food, litter, preventive health care, toys and treats, for about $570 a year. Some apartment complexes charge an extra deposit of $200 or more to pet owners, as well as "pet rent" that can run as high as $100 per month. Thankfully, I won't have either of those two charges. But I'll likely invest in a pet insurance policy, which costs as little as $10 a month for cats (see Trim the Cost of Pet Care). - Rivan Stinson
9/21
Home: Take to the Skies
I've put off buying a drone because of the controversies over their safety and privacy violations. But in January, the U.S. Department of Transportation said it's revising its safety guidelines and expanding civilian drone flights while increasing security measures. So I made the leap, and I'm now developing my pitch, roll and yaw skills with my new Yuneec Mantis Q ($499). Not since my preteen days, when I built and launched model rockets, have I had this much fun in the air.
With a camera capable of photographing stills and video of up to 4k resolution, along with voice-command capability and the ability to return home and land automatically, my Mantis Q is fine for a novice. (It also has a long flight time of 33 minutes.) Spend closer to $1,000 and you can get a model that's smarter and loaded with more cool features. The DJI Mavic Air ($799), for example, has nearly all the Mantis Q features plus camera stabilization and sensors to prevent it from crashing into people or objects. My only gripe is its shorter, 21-minute flight time.
Before your maiden flight, register your drone with the Federal Aviation Administration. I paid a $5 registration fee to fly recreationally (good for three years). Visit knowbeforeyoufly.organd download the FAA's free B4UFLY mobile app that tells you where you can and can't fly. It may seem like a hassle, but if you follow the rules, the sky's the limit. - Marc A. Wojno
10/21
Travel: Treat Your Grandkid to Disney
Disneyland raised ticket prices for 2019, but you can lower costs by keeping the trip short and being selective about where you stay. A three-day ticket with admission to one park per day costs $300 for an adult and $280 for kids between the ages of 3 and 9. One-day ticket prices vary by date. (Disney World ticket prices vary based on your arrival date and length of stay.) The three hotels in the Disneyland resort will set you back at least $400 per night if, say, you stay during the last weekend in April, but you can save money by staying at a nearby "Good Neighbor" hotel. For example, for that same weekend, a two-night stay at the Castle Inn and Suites, across the street from Disneyland, will total about $300, including taxes. With the remainder of your budget, splurge on breakfast with Disney characters at the theme park.
For a more relaxing Disney vacation that doesn't require running around massive parks, consider a Disney cruise, says Chris Gray Faust, managing editor of CruiseCritic.com. A three-night Bahamas cruise on the Disney Dream costs as little as $684 per person in 2019; a two-night Halloween-themed cruise to Baja California on the Disney Wonder starts at $582 per person (taxes and fees are about $75 extra).
11/21
Travel: Upgrade Yourself
Because demand is higher for economy seats than for premium seats during the peak of summer travel, premium fares can be inexpensive when compared with other times of the year, says Scott Keyes of Scott's Cheap Flights e-newsletter. He recently found round-trip fares from New York City to Paris in premium economy for $956 and to Munich from several U.S. cities, such as Boston and Los Angeles, for $947. Heading south? Recently, you could find round-trip business-class flights in the spring or summer to Costa Rica from New York City for $577, and to Guatemala from Portland, Ore., for $760.
12/21
Travel: Bundle Your Travel
Nabbing a vacation package that includes flights, accommodations and more simplifies travel planning and delivers serious value for places that are normally expensive to reach or pricey to explore. The experts at Travelzoo, a deal-finding website, expect excellent deals to Hawaii to pop up through 2019. Recently, a couple could get round-trip flights from Los Angeles or San Francisco to Maui, three nights at the Grand Wailea resort, a three-day car rental and more for $880 per person. The hotel alone can top $600 per night. Further afield, the site found a 13-night guided tour of Japan and China for $999, including accommodations and round-trip flights from Los Angeles, New York City or San Francisco.
Or browse flight-and-accommodation deals pieced together by deals website TravelPirates. For example, you could recently book a six-night getaway at a five-star resort in Siem Reap, Cambodia, for $745 per person, or five nights at a four-star hotel in Panama City for $478 per person. Both deals include round-trip flights from New York City.
13/21
Travel: Watch Baseball in the Dominican Republic
David Ortiz, Pedro Martinez, Sammy Sosa, Robinson Cano, Vladimir Guerrero—those are just a few of the big-name Major League Baseball players who honed their skills in the Dominican Republic. Travel to the baseball lovers' paradise to see future (and some current) stars of the MLB play in the Dominican Winter League. The league, called (LIDOM), includes six teams that play from mid October to the end of January. Fly into Santo Domingo and see rivals Tigres del Licey and Leones del Escogido play in the nearly 14,400-seat Estadio Quisqueya. Or travel about 50 miles east along the Caribbean coast to see this season's champions, Estrellas Orientales, play in San Pedro de Macoris, known as the "cradle of shortstops" for its prolific production of shortstops. Round-trip flights from Chicago to Santo Domingo in the baseball season recently cost $400 to $600, and major hotels in Santo Domingo run less than $200 a night. You can often get tickets to Winter League games for less than $30.
14/21
Travel: Immerse Yourself in a Foreign Language
Instead of memorizing a few words from your guidebook, enrich your travels by spending a week or two learning the language and conversing with locals. Lingua Service Worldwide connects students to private foreign language schools. For $938, you could spend two weeks taking an intensive Italian course with up to 11 other students in Florence, Milan, Rome or Siena, while staying in a private room in the home of a host family. Or for $548 ($1,096 for two weeks), you could spend a week at the oldest language school in Portugal with branches in Lisbon and Faro, studying with no more than five other students and staying in a private room with a host family. For something more intimate, a pair of travelers could take Spanish lessons in Cuernavaca, Mexico (a 90-minute drive from Mexico City), through Anders Languages' ForTWO+ program. The cost, $986 per person, includes five days of two-on-one classes, outside activities where you can practice Spanish, three meals a day and accommodations in a private room.
15/21
Go to Camp
Many fantasy camps cost under $1,000. Nascar fans can get behind the wheel with "King's Experience" from the Richard Petty Driving Experience (opens in new tab) at any of 16 speedways (usually $1,100, but look for sales. The package includes training, after which you'll drive a race car by yourself for two eight-minute sessions—passing allowed—with a pit stop. Radio communication with a personal spotter is included.
If you never made it to Starfleet Academy, you can still spend three days at Adult Space Academy at the U.S. Space & Rocket Center in Huntsville, Ala. ($549 per person for three days). Trainees assume roles in hands-on, interactive space missions and learn what it takes to be an astronaut, including a tumble on a multi-axis trainer that simulates a bumpy ride.
Hone your chef chops at a two-day boot camp with the Culinary Institute of America in Hyde Park, N.Y., Napa, Calif., or San Antonio ($925). Offerings include grilling and barbecue, and the flavors of the Hudson Valley or Texas. You'll get a chef's jacket and eat what you cook.
Get away to the lake, woods or mountains at a YMCA conference and retreat center that offers programs and activities for adults and families. For example, the YMCA of the Rocky Mountains has three camps in Colorado that offer year-round programming, as well as a five-day camp in August for "kids ages 50 and up" ($325 to $345, including meals). Or dust off your ukulele, trombone or other instrument to make music at an adult band camp. One week of band camp, including meals and lodging, costs $755 at Allegheny College in Meadville, Pa., and $905 at the New England Adult Music Camp in Sidney, Maine.
16/21
Invest in Others: Enrich a Child's Future
Enrich a child's future. Contribute to a 529 college-savings plan and you may get a tax break, too (see savingforcollege.com). If the child has qualifying special needs, you can contribute money to an ABLE account, which can be used tax-free for expenses to benefit the child without jeopardizing his or her government benefits (see ablenrc.org).
Or help young workers earning a paycheck get a jump on saving for retirement by giving them money to invest in a tax-friendly Roth IRA. (Workers can contribute the amount they earn from a job, up to $6,000 in 2019.)
Help a kid learn about investing with a gift card from Stockpile.com, an online brokerage that offers more than 1,000 stocks plus a kid-friendly app to track their performance. Or put a young adult on a good financial path by paying for a session with a financial planner. Find fee-only planners through the Garrett Planning Networkor the XY Planning Network. Garrett planners usually charge $180 to $300 per hour; fees for XY planners run $150 to $200 an hour.
17/21
Invest in Others: Give Locally
For local nonprofits, such as your area animal shelter or food bank, $1,000 can make a big difference. Smaller charities often aren't rated by groups such as Charity Navigator and Charity Watch, so look on the organization's website for financial information and insights about the impact it has on your community. Or look up the group's Form 990 (an annual report charities file with the IRS) on guidestar.org. Don't have an organization in mind? Check out Donorschoose.org, which posts funding requests from public school teachers nationwide. Many of the projects are looking for a few hundred dollars to, say, create a reading corner or to buy books, crayons and small musical instruments—so $1,000 can fund projects for several classrooms.
18/21
Self-Improvement: Dress to Impress
Take the opportunity to upgrade your look and dress for the job you want, even if it's not the job you have. Classic white shirts, a blazer and tailored trousers or a skirt—along with a good pair of pumps or, for men, dress shoes—never go out of style. Men, for instance, can send their measurements to Indochino.com and get a custom suit for as little as $400. Indochino also sells custom dress shirts—three for $199. Men and women can cobble together some classic looks (and make their clothing budget go further) at luxury online consignment shops such as The RealReal and Tradesy. We recently found a pair of black patent leather Prada pumps for $125 on The RealReal. Leather pumps on Prada's site start at $675 a pair. Or grab an $89 monthly subscription to Renttherunway.com. You can pick four designer items to be shipped to you each month, and you can swap them out (or buy them at a discount) when you're finished.
19/21
Self-Improvement: Supercharge your Fitness Routine...
A gym membership averages $58 a month nationally, or $696 a year. Or add $1,000 to your existing gym budget and treat yourself to a real upgrade. "Luxury" gyms often offer unlimited fitness classes, discounted personal training and other perks. (Expect to pay $150 to $200 a month—not cheap, but neither are the gyms' "eucalyptus towels.") You can also set up a home gym with a treadmill ($500 to $700), door-frame pull-up bar ($30 to $60), adjustable dumbbell weights ($300) and a sit-up bench ($100 to $250).
20/21
...Or Bring in Reinforcements
Personal trainers aren't just for celebrities looking to round out their entourage. Recruiting a professional to design a fitness routine around your interests, needs and schedule can make it easier to get into the habit of health. Plus, you'll likely have a harder time blowing off the gym when you're paying a trainer with a name, face and set of expectations. An hourlong session typically costs $70 to $150, depending on the trainer's expertise, where you train and if you can get a discount through a gym membership.
21/21
Self-Improvement: Give Your Home Office a Health Makeover
If eight hours at your desk aren't helping your lower back pain, sink your grand into office-related upgrades. Consider an adjustable standing desk ($500 to $1,000), ergonomic desk chair ($230 to $500), foot rest ($30 to $70), adjustable lighting ($30 to $75), an insulated thermos for water, coffee or tea ($30 to $60), and an ergonomic keyboard ($80 to $200).