Online Grocery Shopping in the Coronavirus Era: 8 Things You Must Know
The coronavirus outbreak has forced many consumers to rethink how they'll carry out everyday household errands without putting themselves in harm's way.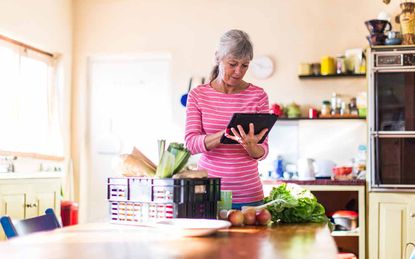 (Image credit: Getty Images)
The coronavirus outbreak has forced many consumers to rethink how they'll carry out everyday household errands without putting themselves in harm's way. In recent weeks, grocery stores have been wiped out by frantic shoppers stocking up on essential items such as toilet paper and disinfectant wipes. But as more consumers adhere to shelter-in-place recommendations and more stores limit access, online grocery shopping is fast trending up.
In fact, GroceryDive.com reports that Instacart, Walmart Grocery and Shipt have all seen surges in average daily app downloads in the last month. Instacart led the way with a 218% increase, followed by Walmart at 160% and Shipt at 124%.
Suddenly, the dynamics of online grocery shopping have changed dramatically -- even for longtime customers. We've talked with industry insiders and smart shopping experts about what consumers can expect these days when ordering groceries online. Here's what they had to say.
1/8
Expect Delays, Delays, Delays
Consumers frantically stocking their pantries in recent days have shared horror stories about orders canceled without warning due to high volume. The sudden uptick has resulted in popular online grocers, such as Peapod and Fresh Direct, experiencing technical and logistical issues that have caused delays, according to GroceryDive.com. Simply put: These services, especially those in major cities, are struggling to meet the demand, says Jeff Wells, a senior editor for the website. As of March 18, a Kiplinger colleague scheduling a Peapod order faced a 10-day wait for his groceries.
Unfortunately, consumers looking to avoid in-store crowds don't have much recourse in a situation like this, says Saundra Latham, a staff writer for Cheapism.com. Recent mishaps have even forced some grocery delivery services to post disclaimers on their websites warning shoppers about delays (some lasting several hours or days) and limited inventory. Customers who opt to shop for groceries online will need to temper their expectations and be prepared to try a few different services to secure needed items, she advises.
2/8
First-Time Shoppers Can Score Deep Discounts
In-store shoppers who've registered for their favorite grocer's loyalty program know they can rely on weekly sales to score deals. You can also save the same way online, and many grocery delivery services offer extra discounts exclusively for newbies. For example, on Safeway.com first-time shoppers get $20 off their order, plus free shipping. The site usually charges a $9.95 delivery fee for orders under $150, in addition to a service fee that ranges from $3.95 to $4.95 depending on your location. These discounts can be beneficial if you're testing out different services for the first time to find the best online grocery delivery service for your household, says consumer-savings expert Andrea Woroch.
3/8
Get Used to Someone Else Choosing Your Produce
If you've decided to use an online grocery delivery service for the first time due to the coronavirus outbreak, you'll need to get comfortable real quick with someone else doing your grocery shopping for you. This means you won't be able to carefully examine your own fresh produce or pick the gallon of milk with the expiration date that's farthest away, Cheapism.com's Latham reminds shoppers. So you run the risk of receiving a couple bad apples or a carton of eggs with a few that are broken.
This is why you'll want to take a quick look at your ordered items before the delivery driver pulls off. (That's a lot easier said than done if you choose to have your order left at your front door to maintain your "social distance.") Some online grocers allow you to return items you're dissatisfied with on the spot for a full refund. Others provide a customer-service hotline where you can file a complaint. Pro tip: To avoid potential mishaps altogether when ordering produce and the like, consider ordering frozen versions where possible. If you're particularly health-conscious, many stores including Safeway and discount grocer Lidl offer frozen organic fruits and vegetables with no added sugar or salt.
TOOL: Stimulus Check Calculator
4/8
Take Precautions to Help Prevent the Spread of Germs
The groceries you'll order online and get from a packing facility are no cleaner than the groceries you'd pull from the store's shelves yourself.
If you prefer fresh produce but are concerned about germs (because who knows how many hands touched the tomato that made it into your shopping bag), thoroughly rinse your delivered fruits and vegetables with soap and water before stashing them in the refrigerator, ConsumerReports.org recommends. The site also urges shoppers to do the same for other items that might be stored in non-porous containers before placing them in your cabinets. You'll also want to wipe down any countertops or surfaces where you unpacked your grocery items.
5/8
Budget for Additional Online Fees
Most online grocery delivery services tack on fees at checkout. You'll pay a delivery fee, which covers the cost of transporting your items to your home. And there's a service fee, which covers processing and preparing your order for delivery.
For example, at Kroger, which doesn't have a minimum order amount, the delivery fee ranges from $9.95 to $11.95 depending on your location. On Instacart.com, which has a $10 minimum order amount, the delivery fee varies depending on the size of your order. Using Instacart, we added a bottle of minced garlic, a one-gallon jug of organic milk and a carton of organic brown eggs from a Washington, D.C.-area Wegmans to our virtual shopping cart. The groceries themselves cost $18.07, plus a $7.99 delivery fee and a $2.00 service fee, which brought the final total to $28.06.
You'll also need to factor in a tip for the driver. When checking out online, most online grocers have a field designated for the tip. Etiquette experts recommend tipping at least 10% of your grocery costs (fees not included).
6/8
Be Prepared to Substitute for Your Favorite Brands
With the onslaught of online grocery orders in recent days, many delivery services are scrambling to keep popular items in stock. You'll need to be flexible. You might end up having to swap out your favorite brand of organic milk or chocolate-chip cookies for another version if the one you love is not available, says Cheapism.com's Latham.
7/8
Get Your Groceries Dropped Off at Your Doorstep
In the midst of this global pandemic, online grocery delivery services are making an effort to prevent the spread of the virus. A few grocery delivery platforms, including Instacart and Amazon Fresh, allow customers to have their orders dropped off at their front door. In other words, you won't ever have to interact with the delivery driver, which could potentially lead to the spread of the virus.
On Instacart, you simply select the "leave at my door" delivery option, which is available in select cities, at checkout. When the driver arrives at the designated time, he'll leave the groceries at your front step. You can even leave instructions for him to send a photo confirmation once the order has been delivered. Amazon Fresh's doorstep delivery option is available in all cities where the service operates. To find out if Amazon Fresh delivers to you, go to Amazon.com/Fresh.
8/8
Don't Overlook Local Grocers
We've entered uncharted territory. Online grocery delivery services that we would normally recommend without pause are experiencing major hiccups due to the overwhelming number of new customers. If you're struggling to get your favorite and necessary groceries delivered, consider supporting your neighborhood supermarket or co-op, advises Kyle James, founder of Rather-Be-Shopping.com. "Many local grocers are offering curbside pickup for those more at risk who need help," he adds.
To find out if your favorite mom-and-pop grocer is offering such services, call and ask. Going this route still allows you to adhere to social distancing and limit your interaction with large groups in a public space. And with so many small businesses being forced to shut their doors, it'll give you an opportunity to support local businesses in your community.

Browne Taylor joined Kiplinger in 2011 and was a channel editor for Kiplinger.com covering living and family finance topics. She previously worked at the Washington Post as a Web producer in the Style section and prior to that covered the Jobs, Cars and Real Estate sections. She earned a BA in journalism from Howard University in Washington, D.C. She is Director of Member Services, at the National Association of Home Builders.