GREAT WAYS TO USE YOUR REBATE CHECK
The stimulus checks from the IRS are rolling into American households.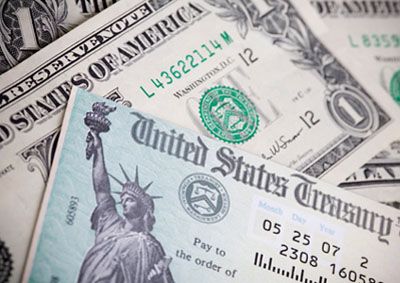 (Image credit: iStockphoto)
The stimulus checks from the IRS are rolling into American households. Generally, single taxpayers are getting $600, couples $1,200 and two-parent families $1,500 and up. (Find out how much you can expect and when it will arrive (opens in new tab).)
Whether you want to spend the money to boost the nation's economy or set it aside to help your personal economy, we have practical, smart and fun ideas for everyone, no matter the size of your windfall. Take a look. The slide show begins with the navigation bar at the right.
1/10
$600 PRACTICAL:BUILD AN EMERGENCY FUND
You don't want to be forced to lean on your credit card when an unexpected cost arises, or you could be paying for that "rainy day" for years to come. Set aside the money into an emergency savings account -- your lifeline to cover short-term surprises, such as car trouble, medical bills or even job loss.
See Why You Need an Emergency Fund (opens in new tab) to learn more.
2/10
$600 SMART:SEED YOUR ROTH IRA
A Roth IRA is like an acorn: Over time, small things grow into big rewards. Contribute just a little money now, and it'll compound into big bucks for your retirement. Plus, the money grows absolutely tax-free. And unlike a 401(k), you can take your contributions out at any time to spend however you please, tax- and penalty-free (though you can't touch the account's earnings until retirement without penalty). Learn more (opens in new tab).
Another smart use for your money is to pay down debt. After all, it does no good to earn an 8% return on your money in a Roth IRA when you're paying 18% in interest on your credit cards.
3/10
$600 FUN:TAKE A CLASS
Whether its pottery, pilates or whiskey appreciation, a class or workshop can be a great way to have fun and learn something new while meeting people with similar interests. Your $600 rebate check should easily cover a course (or two or three) at the local community college, art league or dance studio.
Rather not mingle with others? Travel solo to these cheap destinations.
4/10
$1,200 PRACTICAL :UPDATE YOUR WARDROBES
If you spend your mornings staring into your closet and wishing you had something better to wear to work, now is your chance to revamp your wardrobe.
Think $1,200 won't go far for two people? The key is to make strategic purchases: classic items that can be mixed and matched and that won't go out of style. Also, shop at the right time (during sales) and at the right places (outlet malls, discount retailers and even eBay). See Dress for Success -- for Less (opens in new tab).
5/10
$1,200 SMART: MAKE SURE YOU'RE COVERED
The recent floods in Iowa underscore the necessity of having the right kind of insurance, and enough of it. If you live in a low-risk area and don't have a basement, you can get flood insurance (which isn't part of homeowners coverage) for as little as $348 a year. Don't stop with your home, though. Consider life insurance if your spouse depends on your income.
If you're older, your rebate would be wisely spent on a long-term care policy. For example, if you're 55 years old, your check will cover about half the annual premium for a shared-care policy with a five-year benefit period. Learn more (opens in new tab).
6/10
$1,200 FUN:UPGRADE YOUR TV
For $1,200 or less, you can get a good-quality 36- to 40-inch HDTV. For instance, we found the Samsung LN40A550 40-inch 1080p LCD HDTV for $1,166 on Amazon.com with free shipping. When shopping for a TV, look for one with a USB port at easy access for your digital camera or MP3 player.
Another idea for your money is to upgrade to a king-size mattress. You'll wonder how you ever slept on anything smaller.
7/10
$1,500 PRACTICAL:BUY A NEW APPLIANCE
Swap out your old washing machine for a new energy-efficient front-loading model. Front-loaders, which tumble clothes into a small pool of soapy water in the bottom of the wash drum, use 30% to 60% less water than a top-loader and 50% to 70% less energy. Check out Kenmore's HE2t and Bosch's Nexxt 500 Series.
Other practical uses for your rebate: Set it aside for back-to-school shopping or for this year's holiday gifts. Or put it toward a down payment on that fuel-efficient car you've been eyeing.
8/10
$1,500 SMART:CONTRIBUTE TO A 529 PLAN
If you already have paid off high-interest debt and have been funding your retirement account, you could get a good start on college savings by funneling your rebate check into a 529 plan. Money you put in grows in an investment of your choosing and can be withdrawn tax free for qualified college expenses. And more than half the states now offer tax write-offs for contributing to their 529 plans.
See which plan is best for you. (opens in new tab)
9/10
$1,500 FUN:GET OUT OF TOWN
You don't have to spend a fortune to have a great family vacation. You can fit a trip into a $1,500 budget by staying close to home, picking inexpensive lodging and choosing destinations with cheap entertainment.
Get more tips (opens in new tab) for traveling on a budget and see our slide show for cheap vacation ideas.
10/10
BONUS IDEA:GIVE IT AWAY
Whether you received $600, $1,200, $1,500 or more from the IRS, it's always a good idea to give to those less fortunate.
A tighter economy has forced people to scale back on philanthropy. Couple that with the recent string of disasters, and charities are feeling the strain. For instance, the Red Cross has depleted its disaster relief fund and is taking out loans to pay for food, shelters and other necessities for the flooded Midwest. Search for other worthy organizations in need at CharityNavigator.com.