Worst Things to Buy on Amazon Instead of Jet.com
Jet.com is the new kid on the e-commerce block, but it's already being pegged as a serious challenger to Amazon.com.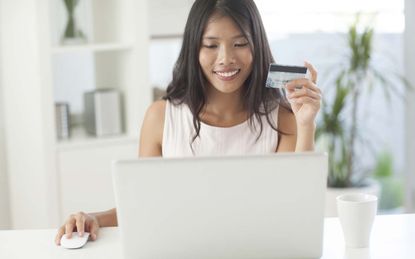 (Image credit: Thinkstock)
Jet.com is the new kid on the e-commerce block, but it's already being pegged as a serious challenger to Amazon.com. Jet operates like an online warehouse club, yet membership is free. Amazon charges $99 a year for a Prime membership.
But Amazon justifies Prime's price tag by offering more perks than Jet. While members of both sites can get free shipping, Amazon promises a bigger selection of products and faster delivery (two days on all eligible items versus up to five days for Jet). Amazon also offers free shipping regardless of order size; Jet orders must total $35 or more to qualify for free shipping. And Prime members get exclusive access to other benefits, such as free streaming of movies, TV shows and music.
(For more on the pros and cons of a Jet membership, read 7 Things You Need to Know Before Joining Jet.com (opens in new tab).)
Surprisingly, considering that Amazon is known for undercutting the competition, Jet might have the edge when it comes to the lowest prices. A recent report by Profitero, an e-commerce research firm, found that Jet's prices in seven product categories were 9% lower than Amazon's, on average. We did our own comparison shopping on everyday items in the seven product categories to see just how much you can save on Jet versus Amazon.
All prices were for identical new products and were checked on September 30, 2015. Price comparisons excluded taxes and shipping costs. Profitero's pricing research was conducted prior to Jet.com's decision on October 7 to eliminate its annual membership fee.
1/7
Baby Products
Amazon has been a longtime favorite of parents who like to stock up on essentials, such as diapers and baby wipes. (See our story: Are Amazon's Diapers a Good Deal?) However, you can find better prices on identical items on Jet.com, according to Profitero. On average, baby products cost 10% less on Jet than on Amazon.
For example, a pack of 192-count Huggies diapers costs $33.60 on Jet. On Amazon, that same box of diapers costs $42 – a difference of $8.40, or 20%. A 384-count box of Seventh Generation baby wipes rang up for $14.06 on Jet.com, 12% less than the same box of wipes available to Amazon shoppers for $15.99.
Small price differences on baby products can quickly add up, especially for parents with more than one child. This is why comparison shopping is so important. "Smart shoppers should always compare prices before deciding where to purchase," says Trae Bodge, senior lifestyle editor at RetailMeNot.com, a coupon site. Use a price-comparison app such as PriceGrabber, Bodge says, and search online for coupons and promo codes. You can find Jet.com discount codes on RetailMeNot (opens in new tab).
2/7
Beauty Products
The growth of online shopping has made it easier than ever for consumers to avoid brick-and-mortar stores, including drugstores, altogether. But that doesn't mean you shouldn't practice the same due diligence online as you would at the pharmacy or supermarket when it comes to getting the most bang for your buck on beauty products.
Profitero found that Jet.com offered the lowest prices on beauty products by 10% versus Amazon. We found a 23.7-ounce bottle of Herbal Essences 2-in-1 Shampoo and Conditioner for $5.75 on Jet. On Amazon, that same bottle costs $7.49. On Jet.com, an eight-ounce bottle of Aveeno lotion is priced at $5.70, one-third less than the $8.53 you'd pay on Amazon.
Since Jet's launch in July, the site has grown at such a brisk clip that ChannelAdvisor.com, a publisher of e-commerce sales data, now ranks it as the number-four online marketplace, ahead of established e-retailers such as Best Buy and Sears.
3/7
Electronics
Although Jet.com's selection is noticeably limited compared with Amazon's, the company has its reasons for stocking fewer products: "We've spent a lot of time researching the most common items purchased by online shoppers and have focused our inventory around those areas," says Liza Landsman, Jet's chief customer officer.
Not surprisingly, electronics are popular with online shoppers. Jet stocks everything from tablets to televisions, with average prices falling 6% below Amazon's prices. That's the smallest savings percentage among the seven product categories analyzed by Profitero. We found a Logitech surround sound speaker system for $370.43 on Jet. Over on Amazon, it costs $395.53. That's a $25 difference, or about 6%. An LG 60'' Class 1080p Smart LED HDTV goes for $888.11 on Jet; it's $897.99, or nearly $10 more, on Amazon.
While the average savings are less on electronics, Jet offers its members additional ways to save on purchases, says Virginia Morris, vice president of consumer strategies and insights for Daymon Worldwide, a consulting firm for retailers. For example, Jet discounts certain products designated as "smart items" when they are purchased together. (Think discounts on ink cartridges when you buy a printer.) These items cost more when bought separately. "There's an instant gratification when you add items to your cart and see the final cost go down," Morris says.
4/7
Groceries
Jet.com's grocery offerings are limited to prepackaged and canned foods, as well as bottled and canned beverages. Amazon, on the other hand, sells a much wider assortment of groceries, including fresh produce and meats. However, Profitero's analysis of identical grocery items carried by both Jet and Amazon found that Jet's groceries are priced 7% cheaper, on average, than groceries on Amazon.
For example, a 24-count package of Donut House flavored Keurig Cups is $11.16 on Jet, 39% less than the $18.19 charged on Amazon. A three-pack of Keebler's 14.2-ounce packages of Vienna Fingers sandwich cookies is considerably cheaper on Jet.com at $5.57. On Amazon, you'd pay $13.99 (almost $8.50 extra).
You'll likely receive your groceries faster from Amazon. Prime members are entitled to free two-day shipping on most orders, and the AmazonFresh grocery service offers same-day delivery in selected cities (extra charges apply). Jet orders over $35 should get to you in two days if the items ship directly from Jet's fulfillment center. Items fulfilled by third-party vendors can take up to five days.
5/7
Household Products
Shoppers who like to stock up on household products, such as bathroom cleaner, soap and dish detergent, should like Jet.com. Profitero's report showed that household products on Jet cost 11% less, on average, than on Amazon. We found a two-pack of Dove Bath Bars for $5.48 on Jet.com, versus $6.83 on Amazon – a savings of almost 20%. A 24-ounce bottle of Lysol Toilet Bowl Cleaner is $3.76 on Jet. The same cleaner was priced nearly $2 higher, at $5.70, on Amazon.
Part of Jet's unique appeal is its buy more/save more model. The more items you add to your shopping cart, especially so-called smart items, the more discounts you'll receive. RetailMeNot's Bodge thinks the model will attract online shoppers who like to buy household and other products in bulk. "Jet might appeal to the homemaker with more than one child or people who do purchasing for small organizations," she says, "or someone with a small family who derives some level of comfort knowing they don't have to worry about whether there are enough rolls of Bounty in the basement."
SEE ALSO: Worst Things to Buy in Bulk
6/7
Office Supplies
For busy parents and small-business owners who don't have time to pick up school and office supplies at a brick-and-mortar store, shopping online is the best alternative. And Jet.com is a good place to look. Everyday supplies, such as pens, printer paper and notebooks, cost 7% less on Jet than on Amazon, Profitero found.
A six-pack of Top Flight marbled composition books costs $15.49 on Jet, compared with $18.80 on Amazon (a nearly 18% savings). On Jet, a Universal stand-up stapler costs $4.99. You'd have to shell out $7.42 for the same stapler on Amazon.
While Jet might not be a household name yet, don't let the site's newbie status fool you. ChannelAdvisor.com found that since its launch in July, Jet has a repeat buyer rate of 23%. Amazon's repeat buyer rate for the same time period was 11%.
7/7
Pet Supplies
Jet.com is turning out to be a bargain lover's dream for pet owners. Of the seven product categories analyzed by Profitero, pet supplies, including food and toys, afforded the biggest savings. Jet members pay 12% less, on average, for the same pet supplies than Amazon shoppers.
We found a large JW Pet brand anti-skid pet feeding bowl for $4.95 on Jet. For $8.38, you can order the identical bowl on Amazon. The price difference: over 40%. A case (12 cans) of Newman's Own organic beef and liver dog food is priced at $24.70 on Jet, while Amazon has it listed at $25.99.
While Jet's free membership is enticing, does it make financial sense to replace your $99-a-year Prime membership with Jet? Much depends on whether you make use of Prime's non-shopping perks, such as streaming video and music, and unlimited storage of digital photos. If you'll need to sign up for a separate Netflix account (a standard plan is going up to $9.99/month), Spotify account ($9.99/month) and iCloud account ($2.99/month for 200 gigabytes of storage) after you dump Prime, then you aren't saving money.
SEE ALSO: Worst Things to Buy Online
Online Editor, Kiplinger.com
Browne Taylor joined Kiplinger in 2011 and is a channel editor for Kiplinger.com covering living and family finance topics. She previously worked at the Washington Post as a Web producer in the Style section and prior to that covered the Jobs, Cars and Real Estate sections. She earned a BA in journalism from Howard University in Washington, D.C.