7 Fashion Brands Still Made in USA
The 2012 U.S.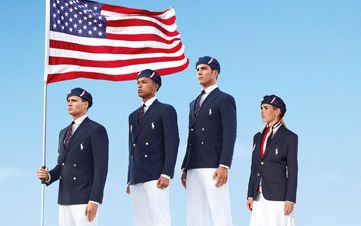 (Image credit: Thinkstock)
The 2012 U.S. Olympians aren't the only ones clad in "Made in China" labels. According to a 2011 report from the Federal Reserve Bank of San Francisco, 36% of clothing and shoes purchased by U.S. consumers were manufactured in China, while only a quarter were made in the U.S. The silver lining: 55 cents of every dollar spent on products made in China actually goes to U.S. companies and workers. So the patriotic battle cries against Olympic designer Ralph Lauren, who promised to make Team USA's 2014 Opening and Closing Ceremony uniforms in America, should perhaps be tempered.
Still, pushing for a "Made in America" renaissance is admirable. "As much as we'd all love to see our athletes dressed in uniforms made in the U.S., I'd love to see American consumers want to wear American-made clothes, too," says Doug Williams, chief executive of HMX Group, owner of domestically manufactured men's suit brand Hickey Freeman.
Williams admits that certain articles of clothing -- uniforms not being one of them -- would be cheaper to produce overseas, so some American-made products may cost a bit more. But how can you put a price on patriotism?
While far from exhaustive, the following list of seven companies that manufacture fashions domestically offers you a stylish way to express your national pride.
1/8
Hickey Freeman
Based in: Rochester, N.Y.
Founded in: 1899
Specialty: Men's tailored suits
Available at: Nordstrom, Saks Fifth Avenue and other retailers
A century ago, founders Jacob Freeman and Jeremiah Hickey built the brand's 77,000-square-foot factory in upstate New York. Today, the so-called "Temple" continues to house tailors as they stitch together high-quality men's suits, which sell for $1,195 to $1,895. "We make a better-quality garment here than you can make anywhere else in the world," says Williams, of HMX Group. (HMX also owns Hart Schaffner Marx, another brand of American-made men's suits, based in Chicago.)
Following the U.S. Olympic team's "Made in China" scandal, representatives from HMX offered to remake the uniforms right here in the good ol' U.S.A. Sen. Chuck Schumer, a New York Democrat, seconded the Olympic manufacturing redux: "Great American companies and their workers stand ready and able to quickly produce the U.S. Olympic uniforms," said Schumer in a press release, "and who better to produce the formal wear than the best American suit maker, Hickey Freeman." The U.S. Olympic Committee has not taken HMX up on the offer.
2/8
New Balance
Based in: Boston
Founded in: 1906
Specialty: Athletic footwear
Available at: The Athlete's Foot, The Walking Company, other retailers and standalone stores
From humble beginnings as a manufacturer of arch supports and orthopedic shoes, New Balance has grown into a global brand distinguished as the only -- yes, only -- athletic shoe company that makes footwear in the U.S. Its Web site touts its commitment to domestic manufacturing: "As a company, we are proud to invest in American workers, who provide some of the greatest working spirit, commitment to advancement and ingenuity known in the industrial world." And the icing on the patriotic apple pie: New Balance is an official footwear and apparel provider for the U.S. military.
But not all New Balance shoes are made in America. Just 25% of the sneaks sold in the U.S., or about seven million pairs a year, are made or assembled domestically. In honor of the Olympic Games, the company is offering custom red, white and blue shoes, made in the USA, of course, that cost $115 to $175.
3/8
Nanette Lepore
Based in: New York
Founded in: 1992
Specialty: Women's apparel
Available at: Bloomingdale's, Neiman Marcus, other retailers and standalone stores
The designer and her eponymous brand may be popular worldwide, but Nanette Lepore likes to keep manufacturing close to home. She produces 85% of her clothing line in New York City and is an outspoken supporter of local manufacturing. "We need to encourage established American designers to bring some manufacturing back from overseas," she wrote in a recent op-ed for MetroFocus, a local New York City magazine. "By buying American and asking your favorite brands to manufacture more in the USA, and New York City, you can help ensure a future for jobs in American fashion." Dresses typically retail between $300 and $500.
4/8
True Religion
Based in: Vernon, Calif.
Founded in: 2002
Specialty: Designer jeans
Available at: Neiman Marcus, Nordstrom, other retailers and standalone stores
brandjeans.com
Fancy pants have never been so hot… or denim. With retail prices ranging from $168 to $398 per pair, True Religion jeans are the casual dresser's luxury item, making them a perfect fit for celebrity types. For years, the likes of Beyonce and Britney have flashed the brand's double-horseshoe logo on red carpets and gossip pages. And legions of star-struck fans followed suit to become True Religion believers. What's more American than that?
All of the company's adult denim jeans and knit products, as well as some fleece products, for men and women are made in the U.S. Everything else is made in Mexico, Sri Lanka, China and India.
5/8
Alden Shoe Company
Based in: Middleborough, Mass.
Founded in: 1884
Specialty: Men's dress shoes
Available at: Barney's, other retailers and standalone stores
Alden shoes have marched a long and bumpy road. The company prospered during a 19th-century shoe boom in New England, following the invention of machines able to produce higher-quality footwear at a more rapid pace. Through the Great Depression, two World Wars and a rapidly changing global economy, while hundreds of nearby shoe companies fell, Alden persisted.
Today, the company continues to produce all of its high-quality men's dress shoes, belts and leather goods, as well as its orthopedic and medical footwear, in its Massachusetts factory. Alden's men's dress shoes go for $415 to $645 a pair.
6/8
Pendleton
Based in: Portland, Ore.
Founded in: 1909
Specialty: Wool blankets, shirts and other apparel
Available at: Nordstrom, other retailers and standalone stores
For more than a century, Pendleton has woven together not just an American tradition, but a Native American one, as well. The brand's blankets, with their vivid colors and intricate designs, were originally made for trading with the local Nez Perce nation, later expanding to the Navajo, Hopi and Zuni nations. Today, the brand's designers continue to create authentic designs by collaborating with Native American artists. And the company shares its blankets' profits with the American Indian College Fund.
All of the brand's woolen fabrics are woven in two 100-year-old mills in the Pacific Northwest. The blankets and Portland Collection apparel are 100% made in America. But other apparel is sewn in factories around the world. Men's woven shirts retail from $40 to $115.
7/8
All American Clothing Co.
Based in: Arcanum, Ohio
Founded in: 2002
Specialty: Jeans
Available at: Online only
clothing.com
Owner Lawson Nickol offers a unique component with his otherwise standard brand of American denim: traceability. Each pair of jeans comes with a certificate of authenticity and a traceability number you can enter into the company's Web site. The identifier allows you to track the journey of your pants from cotton to closet.
The company name is no front. All of its products are made in Georgia, Illinois, Kansas, Kentucky, Texas and Wisconsin. And many items are union-made to boot. Jeans range from $44 to $70. In a message on the company Web site, Nickol says, "Our mission is to support USA families and jobs by producing high-quality clothing in the USA at an affordable price. By keeping our production in the USA, we provide jobs and a tax base that supports our communities."
8/8

Online Editor, Kiplinger.com
Rapacon joined Kiplinger in October 2007 as a reporter with Kiplinger's Personal Finance magazine and became an online editor for Kiplinger.com in June 2010. She previously served as editor of the "Starting Out" column, focusing on personal finance advice for people in their twenties and thirties.
Before joining Kiplinger, Rapacon worked as a senior research associate at b2b publishing house Judy Diamond Associates. She holds a B.A. degree in English from the George Washington University.