7 Fashion Brands Still Made in USA
The 2012 U.S.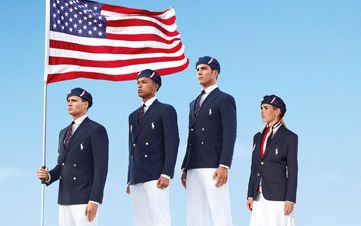 (Image credit: Thinkstock)
The 2012 U.S. Olympians aren't the only ones clad in "Made in China" labels. According to a 2011 report from the Federal Reserve Bank of San Francisco, 36% of clothing and shoes purchased by U.S. consumers were manufactured in China, while only a quarter were made in the U.S. The silver lining: 55 cents of every dollar spent on products made in China actually goes to U.S. companies and workers. So the patriotic battle cries against Olympic designer Ralph Lauren, who promised to make Team USA's 2014 Opening and Closing Ceremony uniforms in America, should perhaps be tempered.
Still, pushing for a "Made in America" renaissance is admirable. "As much as we'd all love to see our athletes dressed in uniforms made in the U.S., I'd love to see American consumers want to wear American-made clothes, too," says Doug Williams, chief executive of HMX Group, owner of domestically manufactured men's suit brand Hickey Freeman.
Williams admits that certain articles of clothing -- uniforms not being one of them -- would be cheaper to produce overseas, so some American-made products may cost a bit more. But how can you put a price on patriotism?
While far from exhaustive, the following list of seven companies that manufacture fashions domestically offers you a stylish way to express your national pride.
Online Editor, Kiplinger.com
Rapacon joined Kiplinger in October 2007 as a reporter with Kiplinger's Personal Finance magazine and became an online editor for Kiplinger.com in June 2010. She previously served as editor of the "Starting Out" column, focusing on personal finance advice for people in their twenties and thirties.
Before joining Kiplinger, Rapacon worked as a senior research associate at b2b publishing house Judy Diamond Associates. She holds a B.A. degree in English from the George Washington University.