10 Things NOT to BuyFor Christmas
Is there still a big-screen TV, computer or camera on Santa's list this year?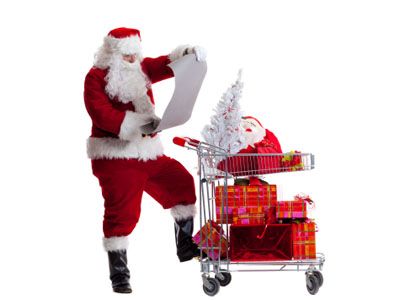 (Image credit: iStockphoto)
Is there still a big-screen TV, computer or camera on Santa's list this year? Hold on there, Saint Nick. These gifts and many others can be bought at other times of the year for huge savings. Yes, you can still land some deals during the holidays, especially if sales are sluggish and retailers are willing to bargain. But here are ten items that are even cheaper before or after Santa makes his annual visit.
By John Miley
December 2010
1/11
Computers
If you bought your computer on Black Friday, the day after Thanksgiving, this year, smart move. Black Friday has become a deep-discount day for computer makers and retailers. You also can't go wrong with buying in August. College students' need for laptops has made this a great time to buy, with retailers offering discounts of 10% to 20%. Better yet, look for deals that include free extras, such as a printer.
2/11
Televisions
Prices have plummeted over the last five years for some amazing flat-screens and big-screens. But if you really want to give that special someone the gift of HDTV, you might want to wait until January or February. Retailers will start lowering prices on last year's models before new models start hitting the stores in March. You could save a few hundred dollars.
3/11
Linens
Wait for "white sales" in January before buying sheets, blankets, towels and more. The tradition of department stores discounting linens in January started back in the 19th century. Now, even some catalog retailers follow suit, offering deals in their issues that come out at the beginning of the year. Look for discounts ranging from 10% to 60%.
4/11
Tools
Dad probably has some tools on his wish list, and we're not suggesting that you let him down. Just consider giving tools as a gift for Father's Day in June -- when prices will fall by 25% -- instead of Christmas. Frugal Dad will be happy you saved the cash.
5/11
Snow Blowers
The Winter Solstice is the worst time to buy a snow blower. In cold, wet climates, March is the month for purchasing this big-ticket item, says Mark Di Vincenzo, author of Buy Ketchup in May and Fly at Noon: A Guide to the Best Time to Buy This, Do That and Go There. The man of the house might really appreciate a back-saving snow blower before winter's heaviest storms arrive, but he'll appreciate even more the 30% to 40% savings you'll find as winter ends.
6/11
Cameras
Sure, it would be nice to give your spouse a new camera to take pictures of the kids as they open their presents. But you might want to wait until February. The biggest electronic trade shows of the year happen in January and February, when new models are announced. By late February, older models are being sold at discounts of 30% or more. Look for Presidents' Day to be an especially good day to shop for sales.
7/11
Outerwear
February and March are the ideal months to pick up winter outerwear, such as coats, hats and gloves. Retailers realize that most people have already bought their winter clothing by then, so you can take advantage of discounting to fill your closet.
8/11
Skis
Skis under the tree may seem festive. But the best deals can be had in March and April as the ski season winds down, says Stephen Regenold, editor of GearJunkie.com. Look for sales on models from the past winter. Can't wait? Online is your best bet for a last-minute deal.
9/11
Furniture
Maybe you want to impress visiting relatives over the holidays by sprucing up your living room. But hold off on buying that new sofa. New furniture inventory hits showrooms in February, so look to save 10% to 50% if you buy in January as retailers push to clear the showroom. Old models tend to be just as good, using the exact same frames as the new.
10/11
Cars
Don't think of a car in the driveway on Christmas morning. Think New Year's Eve (during business hours, of course) to get the best deal. Car dealers want to clear their inventory before the end of the year. TrueCar, which collects automobile data, estimates prices on all vehicles nationwide will average 8.2% below sticker price -- the steepest discount of December. Some models have already been discounted. For example, the 2011 Nissan Sentra 2.0 is selling for 18% below sticker and the 2011 Ford Flex SEL has been going for 24% off.
11/11
More From Kiplinger
SLIDE SHOW: 15 Toys With Timeless Value
SLIDE SHOW: 15 Gifts That Keep on Giving
SLIDE SHOW: 10 Online-Shopping Traps to Avoid
SPECIAL REPORT: Smart Holiday Spending (opens in new tab)