6 Fabulous Freebies For Your Health
Each year we round up a list of fabulous freebies, valuable offers with few or no strings attached.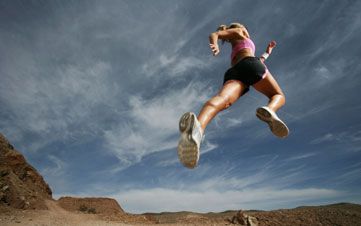 (Image credit: Thinkstock)
Each year we round up a list of fabulous freebies, valuable offers with few or no strings attached. This year's list is packed with more something-for-nothing deals than ever. Here are our six favorite health and fitness freebies, including free workouts, free recipes and even free prescription drugs.
For our complete list, see Fabulous Freebies 2012 (opens in new tab).
1/7
Free Healthful Recipes
Not sure what's for dinner? The Web is your oyster. Allrecipes.com (opens in new tab) and Epicurious.com (opens in new tab), which offer thousands of free recipes, are perennial cook favorites. Both sites have sections dedicated to healthy meals, or you can search by occasion, ingredients, ethnicity or user ratings. You can even watch cooking demonstrations and save your favorite meals in virtual recipe boxes. Why spend money on cookbooks?
2/7
Free Workouts
Don't sweat enrollment fees and gym memberships. It doesn't cost a penny to put on your sneakers and go for a walk or jog in your neighborhood, or to join a pick-up game of basketball at your local park. To encourage public health, more communities are installing free outdoor gyms for adults at public parks. Residents of Los Angeles, New York, Miami, San Antonio and others can use free equipment for strength training, flexibility and cardio workouts.
Prefer to work out at home? Check out a fitness DVD from your local library.
Or with companions and instructors? You may be able to find free fitness classes taught by experts in your area. For instance, Lululemon Athletica stores offer free yoga classes weekly. Many communities host free workouts in public parks or libraries, too. For instance, we found free yoga classes in Miami, New York and Los Angeles; free tai chi sessions in San Francisco, Omaha and Washington, D.C.; free Zumba classes in Chicago; and more.
3/7
Free Diet and Fitness Help
Need help sticking to a diet and exercise plan? At Fatsecret.com (opens in new tab), MyFitnessPal.com (opens in new tab) and SparkPeople.com (opens in new tab), you can craft meal plans and count calories, put together a fitness plan and track your progress, and get support and advice from other users.
Some employers offer free diet and fitness help to their employees. These programs may include free gym access, weight-loss support groups and smoking cessation programs. Some will even pay you for your progress. Ask if your workplace has a wellness plan.
4/7
Free Health Care
Under the new health care law, many insurance plans now provide preventative-care screenings without charging deductibles or co-pays. This rule may apply to blood-pressure, diabetes and cholesterol tests, mammograms and colonoscopies, flu shots, routine vaccines, well-baby and well-child visits and other services (opens in new tab). Medicare also covers certain cancer screenings and preventative care tests. Get more info at Medicare.gov (opens in new tab).
5/7
Free Rx Drugs
Bring in your prescription, and you can get free antibiotics at some pharmacies, including those at Giant Eagle, Meijer, Publix, Schnucks, ShopRite and Wegmans. You can also get free prenatal vitamins at Meijer and Schnucks. Publix, Price Chopper and ShopRite stores give out free diabetes medications and supplies.
6/7
Free Brain Games
Keep your mind active and healthy with free brain games (opens in new tab) here at Kiplinger.com. The New York Times and USA Today also offer an impressive array of free games, crossword and Sudoku puzzles on their Web sites.
7/7