6 Ways Retirement Has Changed Over the Past 25 Years
Twenty-five years ago, Kiplinger's Retirement Report launched to help readers enjoy a richer retirement.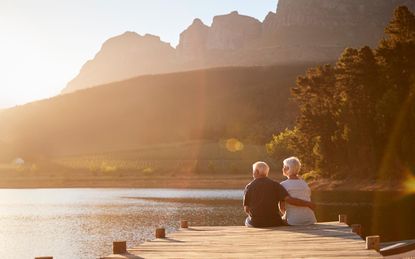 (Image credit: Getty Images/Kiplinger)
Twenty-five years ago, Kiplinger's Retirement Report (opens in new tab) launched to help readers enjoy a richer retirement. Our first issue, published in February 1994, offered guidance on timely issues of the day, such as how to take advantage of the home-sale-profit exclusion (then $125,000) and how to comply with new rules that for the first time required a receipt for charitable donations of $250 or more. Some advice, such as how to figure tax on Social Security benefits, proved to be evergreen.
In celebration of our 25th anniversary, we asked some top financial and retirement experts to share their thoughts on how retirement has evolved in the past 25 years and how it might change in the years ahead.
1/6
'We're expected to manage our money on our own.'
Olivia Mitchell, Wharton School professor and executive director of the Pension Research Council: Twenty-five years ago, almost no financial information was available online. Today, there's automatic enrollment and escalated saving rates in 401(k)s and portfolio glidepaths embedded in target-date funds. Yet I have seen very few automated engines intended to help retirees manage their money throughout their retirement period. Unfortunately, for most of us, as of the day we leave our main job, we're expected to manage our money on our own.
2/6
'The average retiree has a lot more stress today.'
Robert Keebler, partner with Keebler & Associates, a tax advisory firm: One of the biggest differences is that no one really worried about health care in 1994, and everyone cares about it today. A lot of people were retiring between the ages of 50 and 60 back then. Everybody wanted to retire early. Now that's the exception, and not the rule. Clients used to ask me all the time about how to get money out of an IRA before age 59½ without paying any penalty. Under the law, you can do this if you take the money out in substantially equal periodic payments. It used to be a totally normal part of retirement planning, and hardly anyone talks about it anymore.
I think the average retiree has a lot more stress today than they did 25 years ago. Today, I have some clients who are glued to what their 401(k) does on a daily basis, and they're trying to figure out how much money they are losing and whether to change their spending habits. With the recent stock market volatility, some of them lost 3% of their net worth in one day.
3/6
'Things just move so much faster now.'
Jeffrey Levine, chief executive officer, BluePrint Wealth Alliance: There are so many more retirement decisions to make today. If you have a 401(k), you have to decide what to invest in, when to take out money and how much money to take out. The Roth IRA didn't even exist in 1994. It came about as part of the Tax Relief Act of 1997, and it was first implemented in 1998.
Beyond that, the world is just dramatically different than it was 25 years ago. You were seeing globalization, but not at the same scale as today. Things just move so much faster now. Portfolio rebalancing is so much easier. With the click of a button, trades are sent to multiple custodians. A robo-adviser is something you could never even have fathomed back then. Digital estate planning is now a bigger part of retirement planning. The boundaries will continue to be pushed.
I think the trend toward passive management will continue. There's been a huge change in access to information and investing. Back in 1994, you might have told your financial adviser, "Call me when you think Exxon is going to go through the roof." But information isn't hoarded anymore. You just can't justify the cost of paying a premium for anything less than premium advice. People understand the impact of fees a lot more, and they are more fee conscious today than 25 years ago.
4/6
'Living longer changes everything.'
Annamaria Lusardi, founder, George Washington School of Business Global Financial Literacy Excellence Center: Retirement is a very narrow word for what we are talking about these days. Living longer changes everything. We are in charge of a lot more planning for our futures. For example, we do know that the probability of getting dementia increases quite a lot with age. We won't be able to make important financial and other decisions at advanced stages of cognitive decline. We need to plan early on who we want to make those decisions for us.
We really need, more than ever before, to have some basic financial literacy. Seniors have always been vulnerable to frauds and scams, and older people with well-funded retirements are ideal targets.
In the same way we are taking care of health by eating well, or by walking or exercising, we'll see our personal financial health as another step to help us live better.
5/6
'The biggest change to Medicare in the last 25 years: Part D.'
Julie Carter, senior federal policy associate, Medicare Rights Center: I would consider the Part D prescription-drug plan to be the biggest change to Medicare in the last 25 years. The biggest competitor would be the rise of Medicare Advantage plans. Both have really changed the landscape for the Medicare program.
By 2006, advances in drugs that were available were really starting to pick up and bringing drug coverage eligibility to the Medicare program was huge. Drugs had become more and more important to people dealing with complex conditions like high blood pressure, diabetes or heart disease. People having access to these kinds of drugs has just exploded.
When Part D originally launched, there was the doughnut hole, a huge gap in coverage. But drug prices were lower then. Drug prices since 2006 have increased rapidly. So there's a trade-off. Drug prices were lower, but you had the doughnut hole. Now the doughnut hole is almost closed, but drug prices are higher.
There's also more complexity to Medicare Advantage plans. The plans are adding new benefits, but they don't have to be uniform across plans. We know people focus on premiums, which is another way to get confused, instead of the out-of-pocket costs coming from actual expenses. Going forward, it's going to be really, really difficult for the consumer to pick the plan that's right for them.
6/6
'We need to rethink retirement solutions.'
Karen Friedman, executive vice president and policy director, Pension Rights Center:Obviously there's been a huge trend away from defined benefit plans into 401(k) plans. I think in 1994, you were still dealing with a bull market. Everybody loved 401(k) plans. People thought 401(k)s were going to be their road to riches. In the 1990s, you could invest in anything and be doing well.
At the beginning of the 2000s, Enron crashed. All these huge companies had 401(k) plans filled with company stock, so when the company failed, everybody's 401(k) failed. That was a huge red flag. When the economy really tanked in 2008, people started to see that balances don't just go up, they go down.
"For us, it is key that those with pension plans honor the promises made to workers and retirees. Lots of employers now have contract workers, and this raises a lot of new questions. We need to rethink retirement solutions. There are new ideas and a lot of people saying, "Let's get to a new system."
Associate Editor, Kiplinger's Retirement Report
Mary Kane is a financial writer and editor who has specialized in covering fringe financial services, such as payday loans and prepaid debit cards. She has written or edited for Reuters, the Washington Post, BillMoyers.com, MSNBC, Scripps Media Center, and more. She also was an Alicia Patterson Fellow, focusing on consumer finance and financial literacy, and a national correspondent for Newhouse Newspapers in Washington, DC. She covered the subprime mortgage crisis for the pathbreaking online site The Washington Independent, and later served as its editor. She is a two-time winner of the Excellence in Financial Journalism Awards sponsored by the New York State Society of Certified Public Accountants. She also is an adjunct professor at Johns Hopkins University, where she teaches a course on journalism and publishing in the digital age. She came to Kiplinger in March 2017.