ZAP THE CLUTTER
Is your home feeling a little tight?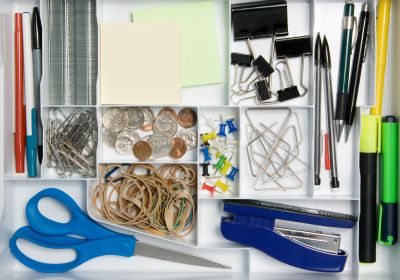 Is your home feeling a little tight? Want to break free from your clutter? You can free up space in your drawers, closet, basement or garage and earn extra cash -- or a tax break. Take a look at this slide show and see how to clean house and make bank while doing it. The navigation begins to your right.
1/9
TECH: SELL IT
Tech devices need special handling because they contain landfill-unfriendly materials. Gazelle.com buys com­puters, cell phones, GPS devices and other electronics. You'll receive a postage-paid box in which to ship your item, and payment arrives soon after via check or PayPal.
Before you sell (or donate or recycle), clear your devices of personal information. Take advantage of free downloadable programs, such as Eraser (available at www.cnet.com), to wipe clean your computer beforehand.
2/9
TECH: DONATE IT
Your used tech gadgets can get a second life. At Cristina.org, you can donate your computer to the National Cristina Foundation. It places your donation with a school or nonprofit that picks up your equipment.
You can donate cell phones to CallToProtect.org, which will sell the phone and donate the proceeds to groups that combat domestic violence.
3/9
TECH: RECYCLE IT
If you just want to get rid of some of your technology, other option is to recycle it. Visit MyGreenElectronics.com and check out the map of local recycling locations. Staples stores accept most devices; for larger items (monitors, printers and the like), you'll pay a $10 fee.
4/9
PAPER: FILE IT
Create a system to sort, label and store the papers you need, and ditch the rest. To simplify future tax filing, keep purchase and year-end statements for stocks and mutual funds for at least three years after you sell the investment, and hang on to home-purchase and improvement info for six years after you sell your house.
Keep records of nondeductible IRA contributions until you withdraw the money.
5/9
PAPER: TRASH IT
Although it's best to keep tax returns forever, you can ditch supporting tax documents after three years–that's how long the IRS has to initiate an audit (six years if you're self-employed).
Shred anything with account and personal information. Signing up for online banking can tame the paper tiger, but keep backup electronic records.
6/9
STUFF: SELL IT
Your "stuff" can fetch a pretty penny. You can sell items on eBay or Craigslist. To dispense with the hassle of dealing with customers, hire a group such as iSold It (www.877isoldit.com) to handle your sales (it has a $75 minimum and charges a commission of 33% to 40%). Or devote a Saturday to an old-fashioned yard sale.
You can increase the appeal by joining forces with neighbors. Or peddle your castoffs at a consignment shop.
7/9
STUFF: FREECYCLE IT
Post your old stuff on Freecycle.org. The site is especially convenient for large furniture and appliances. No money changes hands, but users usually pick up the items.
8/9
TECH & STUFF: DONATE IT
The Internet has made it easier to clean house of everything from clothing to a couch. Call the Salvation Army (800-728-7825) for a pickup, or go to www.satruck.com to find the nearest drop-off site.
You can mail smaller items to charities that will give them away. For books, visit BooksFirst.org; for shoes, Soles4Souls.org; for sports equipment, SportsGift.org.
9/9
TECH & STUFF: DEDUCT IT
When you donate, ask for a receipt. If you itemize deductions on your tax return, you can write off the fair value of your items.
Visit TurboTax's free site, ItsDeductible.com, to find out how much your donations are worth.