SIX GREAT KITCHEN MAKEOVERS
Whether you give your kitchen a new look with a few tasteful upgrades or rip it out and start over, being creative where you cook is the key.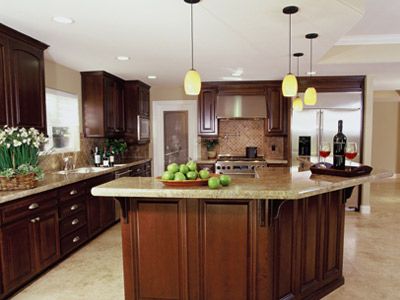 (Image credit: Jessica Cannon)
Whether you give your kitchen a new look with a few tasteful upgrades or rip it out and start over, being creative where you cook is the key.
We asked kitchen remodeling and design pros for examples of what can be done, and at what cost. Here are six projects that cost between $37,000 and $100,000. For each kitchen, we show a BEFORE and AFTER view, with details of the work done and the materials and appliances used.
The good news: Kitchen remodels are among the most cost-effective home projects, recouping 80-85% of their cost when a home is sold, according to Remodeling magazine. So take a look. Your tour begins by clicking on the navigation bar to the right:
By Amy Pollak
7 Ways to Enhance Your Kitchen on the Cheap
1/12
From Snug...
BEFORE: This outdated kitchen in Sacramento, Calif, needed more than a face-lift. The counter height and lack of space made it nearly impossible for the resident, who used a wheelchair, to prepare a meal.
2/12
...to Spacious
PRICE: $75,000
Designer: Darius Baker, an award winning California contractor
AFTER : The widened doorways, lower counters and open floor plan make this kitchen highly accessible. There are roll-out shelves, lazy susans, and a sink that is wheelchair accessible. The finishing touches: stainless steel appliances and granite counter tops.
3/12
From Bleak...
BEFORE
As part of an addition onto the back of the house, the homeowner wanted a bigger kitchen with a breakfast area. This Houston (Tex.) home was built as a 1930s-style English Cottage, and the homeowner felt the kitchen wasn't reflective of the home's original design.
4/12
...to Sleek
PRICE: $100,000
Designer: William L. Shaw Jr., Winner of 5 Texas 2007 Star Awards for kitchen design
AFTER: By adding space, the kitchen area was truly transformed. New cabinetry, granite counter tops and layout make the kitchen feel more organized and functional.
This was an expensive renovation, but some of the stainless steel appliances were reused, and the original oak floor planking was restored.
5/12
From Cheap...
BEFORE: The homeowners of this kitchen in Tallahassee (Fla.) wanted a complete overhaul. Besides the washer and dryer being located in the kitchen, the 1960's feel and layout left much to be desired.
6/12
... to Chic
PRICE:$37,000
Designer: Rachel & Michael Stiles, owners of Kitchen Solvers
AFTER: By arranging the kitchen against the far wall, thereby flipping the layout, this renovation gained a lot of space. New cabinets and Corian countertops complete the picture, making for an attractive, economical overhaul.
The tile floors, backsplash, and new appliances added a more modern element.
7/12
From Outdated...
BEFORE:This kitchen in Houston (Tex.) needed some help. The layout and size were fine, but the owners wanted a face-lift.
8/12
...to Out of This World
PRICE: $60,000
Designer: Amber Paulk; a well-known Fort Worth kitchen designer.
AFTER: By removing the fluorescent light box, wallpaper and appliances and replacing them with recessed lighting, a fresh coat of paint and new GE appliances, this kitchen was transformed.
As a simple rehab, the kitchen kept its original floors but went from outdated to updated seamlessly.
9/12
From Drab...
BEFORE: This homeowner in Dallas (Tex.) wanted to dress up the boring, sterile cabinetry and change the wallpaper. Just as important: Creating more countertop space for buffet service as well as a brick niche for the cook top area.
10/12
...to Fab
PRICE: $81,500
Designer: Corinne Danicki; well-known Dallas Area kitchen designer
AFTER: By reorganizing the layout of the kitchen, the designer added a large buffet island. New quartz countertops, cherry cabinets and KitchenAid appliances add to the new feel and decor of the kitchen.
The new focal point is the custom copper hood and the brick curved niche over the stove.
11/12
From 80s...
BEFORE: This kitchen must have looked great in the 1980s, but the homeowners wanted an update as well as a second oven and new sink.
12/12
..to Elegant
Price: $70,000
Designer: Jessica Cannon, of Fairfax Va., a kitchen designer from Expo Design Center.
AFTER: After a complete gut of the kitchen, there was room to accommodate all of the homeowners' requests. New tile floors, new cabinetry, new appliances, recessed lighting, and breakfast bar are among the new additions. A second oven, as well as warming drawer, cast iron under mount sink and granite countertops were also added.
For $70,000, these homeowners got a lot of value for their investment.