GREAT ROOM MAKEOVERS YOU CAN AFFORD
We all have one.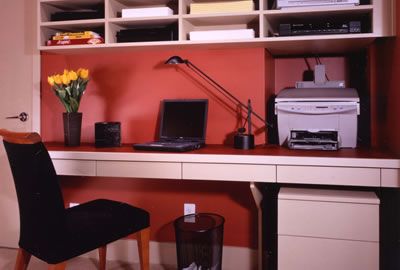 (Image credit: Courtesy LJS Interior Redesigns)
We all have one. That spare bedroom where all the junk ends up. The bathroom desperately in need of an update. The chaotic home office. Living with such spaces day after day can become overwhelming. But you don't have to spend overwhelming amounts of cash to make them vibrant, pleasing living spaces again.
In this slideshow, we look at how professional designers tackled five common problem spaces, using little money but plenty of creative techniques. The price for each project includes costs of materials only, except where noted. See if the transformations inspire you to take on a your own daunting project.
By Lisa Dixon
1/10
Office Clutter...
Before: This room in the lower level of a condo "felt small, cramped and cold," says designer Christine Suzuki. Books and photos spilled out of boxes on the floor. The tall, skinny closet, which was opened infrequently, hogged valuable space.
The owners needed more room for storing books, papers and other items, plus a large writing desk.
2/10
...To Functional Home Office
After: Voila. Custom cabinetry worked wonders here. Designer Suzuki removed the white closet door and incorporated the depth of the closet into the home office design. The extra-deep space neatly accommodates a TV, printer and filing cabinet.
The shelving takes full advantage of the height of the ceiling, providing storage for office supplies and books. The red paint creates warmth and dramatically sets off the neutral color of the cabinetry. A leather writing surface offers an extra touch of elegance.
3/10
From Junk Room...
Before: This little-used loft had become a dumping ground for boxes, Christmas wrapping paper and other items. Out of sight, out of mind, or so the saying goes. But the owners wanted to transform this space into a relaxing sitting room for guests, with a small office area for their own use.
4/10
...To Cozy Retreat
Cost of redesign: About $2,500
Design firm: LB Designs, Salisbury, Mass.
After: Designer Lori Brasseur paired dark woods with deep colors to make the space feel warm and inviting. A new comfy chaise and bookcases create a nook for reading and relaxing. Breezy sheers topped with a smart valance take full advantage of the large windows. The existing sofa, fitted with a slipcover, is grouped with a coordinating chair on the other side of the room. A new wooden desk, not shown, fits neatly under a dormer window.
5/10
The Powder Room
Before: This space badly needed an update. Time to say goodbye to the floral wallpaper, yellow sink, white vanity and mirror. Could more sophisticated colors, updated accessories, and a clear design make a difference?
6/10
The Powder Room Reborn
Cost of redesign: $748
Design firm: LJS Interior RedesignsAfter: What a difference! The renovation didn't cost much, either. A gallon of light-green paint and a new vanity go a long way toward spiffing up this bathroom. Designer Lisa Skelley also added a wood-framed mirror with coordinating accessories. The white toilet and tile floor remain the same, but in their updated context, these bathroom essentials take on a brand-new look.
7/10
From Ho-Hum...
Before: The den in this newly purchased house featured a wall-length cabinet with large bookshelves and plenty of promise. But "the walls were white and the woodwork stained a boring, dark brown, making for too much contrast between the walls and bookcases," says designer Connie Thomas.
8/10
...To Appealing Focal Point
After: Notice how the combination of three complementary shades of paint makes the cabinetry a more integral part of this room. Thomas primed and painted the woodwork a light ivory color, which contrasts gently with the walls, now a warm taupe. A coat of dark chocolate-colored paint sets off the back of the bookcases and provides a warm backdrop for the homeowner's accessories.
9/10
From So-So...
Before: The owner of this home wanted to make her living room more inviting and more amenable to entertaining. "Her home was loaded with beautiful furnishing and accessories," says designer Lisa Skelley. So the task was to assemble various pieces from around the house into a more cohesive and welcoming space -- without purchasing extra items.
10/10
...To a Great Living Room
Cost of the redesign: $0.
Design firms: LJS Interior Redesigns Encore Decor (opens in new tab), New York.
After: That's right -- this redesign cost nothing more than the creativity of the designers. Out went the white leather sectional, replaced by a smaller, more plush sofa, set at an angle. A comfy chair brought in from the guest room helps promote conversation, and a glass side table adds interest. A console table, originally in the upstairs hall, goes behind the sofa. A change of artwork and lamps, plus a large green plant, help pull it all together. (A footnote: This room was redesigned for the HGTV cable channel.)