5 Affordable Bathroom Renovations
The cost of a bathroom makeover can be daunting, but there are ways to save.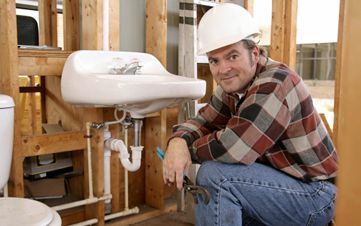 (Image credit: Thinkstock)
The cost of a bathroom makeover can be daunting, but there are ways to save. One smart strategy is to focus your renovation efforts on a smaller, more commonly used bathroom rather than an expansive master.
A typical midrange bathroom update, which can include installing a new tub, tile surround, toilet, vanity counter with sink, recessed medicine cabinet, vanity light and ceramic tile floors, runs about $16,600, according to Remodeling magazine's annual "Cost vs. Value" report (opens in new tab). A full-blown master bathroom renovation averages about $52,200. When you sell your home, you'll also recoup a higher share of the cost of a midrange remodel (62.2%) vs. a master (55.5%).
Make your midrange remodeling project even more affordable by selecting good-quality-but-lower-priced fixtures and materials, advise the experts we've talked to. Pick an American Standard over a Toto toilet, for example, or laminate over granite countertops. Also minimize layout changes. The less the need to relocate plumbing and electrical, the lower the final renovation bill. Here's a before-and-after look at five affordable midrange bathroom projects that cost less than $15,000.
1/11
From Poorly Designed...
Designer: Patrick Hurst, owner of Hurst Design-Build-Remodel, in Middleburg Heights, Ohio
Before: The vanity in this small powder room took up the length of an entire wall in an already cramped space. When you entered the bathroom, there was very little clearance to close the door once you were inside, making it uncomfortable to use, Hurst says. The existing materials, including the wallpaper and fixtures, were long overdue for an update, too.
2/11
...To Roomy and Refined
Cost of renovation: $13,000
After: In order to get optimal functionality out of such a tiny space, Hurst replaced the old vanity with a freestanding contemporary one about half the size. He installed a new high-efficiency, water-saving toilet and moved it to the same wall as the vanity to help create more space. The reconfiguration of the layout opens up the entry and allows more room to maneuver once you're inside the bathroom.
How to control costs: When you're working with a small budget, you should have an idea of what you really want to invest in before getting estimates from contractors, Hurst says. "Don't go into a project like this with a huge wish list only to be disappointed." So if your heart is set on a ceiling-mounted rain shower head, compensate for that expense by picking less costly tile, flooring, fixtures or accessories.
3/11
From Dark and Damp...
Designer: Lyn Gilbert, president of L.M. Gilbert Remodeling, in Orlando, Fla.
Before: The previous design work in this space had a variety of problems, Gilbert says. Most notable was a drop ceiling over the tub and vanity area, which restricted air circulation, and the open partition connecting the tub and vanity area, which caused water to splash directly through the open wall and onto the vanity.
4/11
...To Functional and Bright
Cost of renovation: $12,000
After: Gilbert's main objective was to improve the bathroom's overall aesthetics and functionality. He stripped out the dated wallpaper and chose pale blue paint for the walls. The low-hanging lights and column partitions in the vanity area also had to go. A full-length tiled wall now separates the shower from the vanity area. Finishing touches, such as a dresser and nightstand recycled from another room in the home, were added to provide more storage.
How to control costs: Don't be afraid to reuse and repurpose items during a bathroom renovation. Keep the tub, mirrors or lighting in place as long as they're in good shape and match the new décor. Salvaged tiles can add a vintage look at a fraction of the cost. Where you don't want to skimp on price or quality are plumbing fixtures, Gilbert says. "If they fail to work properly, you may have to tear out the wall."
5/11
From Dated and Damaged...
Designer: Eric Fennekohl, president of E.F. Remodeling, in Baltimore
Before: When the homeowners noticed cracked grout joints and loose floor tiles in a corner, close to where the floor meets the tub, they called Fennekohl. Upon further inspection of the 22-year-old bathroom, Fennekohl found "significant water damage to the subfloor, which had to be addressed."
6/11
...To Updated and Safe
Cost of renovation: $9,000
After: Fennekohl and his crew gutted the entire bathroom and were able to fix the water-damaged flooring. Once that was complete, they rebuilt the bathroom from the ground up with all new fixtures, including the tub and toilet. Fennekohl was able to stay under the homeowners' budget of $10,000. That allowed them to add on extras, such as a built-in soap niche, safety rails and a custom sink.
How to control costs: If you plan to stay in your home indefinitely, especially into your older years, it'll pay off in the long run to install safety features now while the bathroom is gutted and under renovation, Fennekohl says. Consider hand rails and non-skid surfaces in the shower/tub area. If mobility is a future concern, think about a wider door and taller toilet, too. It'll cost more to get a contractor to retrofit these items in the future.
7/11
From Stark and Unappealing...
Designer: Lou Ann Burgess, kitchen designer for iKitchens Etc., in Falmouth, Mass.
Before: The homeowner wanted to give the space an overhaul but keep the look quaint and not over-the-top, Burgess says. Installing a larger shower with a glass door, adding a pedestal sink, and coming up with storage space somewhere other than in the vanity were key requirements for this project. Burgess also wanted to get rid of the bathroom's one-dimensional white color palette.
8/11
...To Colorful and Contemporary
Cost of renovation: $13,500
After: Burgess relocated the "wet" wall, which houses the bulk of the plumbing, to help expand the bathroom and allow for a larger shower stall, and she added a pedestal sink. She installed a cabinet opposite the sink to address the homeowner's need for storage. To introduce some color into the space, Burgess painted the walls a muted yellow, but she kept the classic white fixtures, including the toilet and sink, to provide a timeless look and feel.
How to control costs: Renovation delays can cost you time and money. Compare prices between local kitchen and bath stores in your area and chain retailers such as Home Depot or Lowe's, Burgess suggests. If they're comparable, go with the local store. "The likelihood of getting a product in good shape is much better at a local store than at one of the bigger chains," she says. Also, place orders well in advance to avoid shipping delays and to allow for reshipping if parts are damaged or missing.
9/11
From Outdated and Unexciting...
Designer: Chis Beasley, president of Aspen Builders, in Highlands Ranch, Colo.
Before: This bathroom -- from the cabinetry to the polished brass plumbing fixtures to the globe lighting atop the vanity -- was dated and in serious need of an upgrade, Beasley says. The homeowners wanted to give the space a more contemporary look, as well as expand the shower area.
10/11
...To Rich and Inviting
Cost of renovation: About $15,000
After: This remodel started with a full demolition, Beasley says, because the shower, sink and tub all were getting replaced. Because the bathroom's layout remained practically the same, no major (read: expensive) plumbing or electrical work needed to be done. Once the homeowners chose new materials and finishes, it was just a matter of installing the upgraded fixtures, which included a his-and-her vanity area with recessed lighting and a storage cabinet with a shelf for a small TV.
How to control costs: With a limited budget for a bathroom renovation, there are certain things that homeowners probably won't be able to afford to do, such as rearranging the entire layout of a bathroom, Beasley says. Instead, focus on the areas that will get you the most bang for your buck. This can include updating carpeted flooring to tile, upgrading tile counters to a solid surface, changing plumbing fixture finishes, and replacing dirty or damaged shower pans and glass enclosures, he suggests.
11/11
Online Editor, Kiplinger.com
Browne Taylor joined Kiplinger in 2011 and is a channel editor for Kiplinger.com covering living and family finance topics. She previously worked at the Washington Post as a Web producer in the Style section and prior to that covered the Jobs, Cars and Real Estate sections. She earned a BA in journalism from Howard University in Washington, D.C.