8 Remodeling Projects That Pay Back
Uncertainty about the falling housing market has left many homeowners hesitant to spend money on home improvements.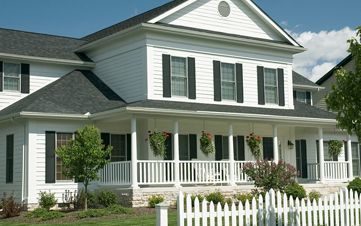 Uncertainty about the falling housing market has left many homeowners hesitant to spend money on home improvements.
Yet, it could be a good time to remodel for many homeowners. Contractors are hungry for work and willing to bargain. With the right project, your returns could be substantial in a few years when the market rebounds and you want to sell.
Here are eight small to mid-range remodeling projects that could pay for themselves when the housing market improves.
See how you might recoup these remodeling bucks -- without a lot of banging.
1/9
Reface Your Kitchen Cabinets
Rather than redoing the entire kitchen for $25,000-$50,000, resurfacing your cabinets is an easy, cost-effective upgrade. Having your cabinets repainted will cost you between $4,000-$6,000, but handy homeowners might tackle the project themselves.
A slightly pricier option ($6,000 to $15,000 in most markets) is to have professionals refurbish your wood cabinets with a new look, giving them a darker finish (shown here) or lightening them up. While you're at it, upgrade the cabinet hardware. Small kitchen upgrades like these can recoup about 83% of the cost when its time to sell.
2/9
Replace the Sinks and Faucets
Kitchen sinks may get no respect, but they sure get a lot of use. Sinks have come a long way in design and function. The current trend is toward under-mounted sinks (shown here), which looks great and are easier to clean. Such cast-iron and stainless steel sinks cost around $1,000.
If you replace a sink, you'll probably want to spring for a new kitchen faucet, too. Luxury high-neck faucets like the one shown here can cost upwards of $1,000. But the investment will likely pay off when you go to sell.
3/9
Replace Your Countertops
Have your kitchen countertops seen better days? Natural stone counter tops, such as granite, have dominated the market for some time, but cheaper, traditional materials are now making a comeback.
Improved laminate countertops are the more affordable options at $25 to $50 per linear foot and silestone carries a $50-$125 per linear foot price tag. For a more expensive designer look, concrete or recycled glass might be attractive options.
4/9
Say Hello to New Toilets and Tubs
Toilets and tubs fit over present plumbing, and are fairly easy to install. Local home improvement outlets usually provide installation at an additional cost. You could hire a plumber separately. Brave souls might even try to do it themselves.
Toilets cost between $200-$600. Tub prices run between $350-$1,000. A big catch: removing the old units generally costs between $300 and $550. But a midrange bathroom upgrade like this will typically recoup 78% when you sell your home. In considering a new toilet, shop for modern units that conserve water.
5/9
Replace Your Bathroom Cabinets and Sinks
Bathrooms sinks and vanities have become home fashion statements of late, with the rising popularity of sleek stand-alone bowl sinks or sturdy, undermounted vanities like the one shown here. Replacements can cost anywhere from $1,000-$3,000, plus installation.
Faucets range in price from $200-800. If you can afford the extra cost, consider going for it. When you sell your home, your upscale bathroom remodel should return around 70% of your investment.
6/9
Re-Roofing Your Home
Roofing is labor-intensive, so it's not cheap. The typical cost of laying a new roof on a mid-sized house is between $12,000-$15,000. Slate and tin roof installation costs more.
But most roofing shingles now come with a 20-year warranty, and upgraded shingles often come with a 30-50 year warranty. A new roof can make a big difference in the curbside appeal of your home.
Most roofing upgrades will recoup around 63% of their cost when you sell, according to experts.
7/9
Replace Your Home's Siding
Most vinyl replacement jobs cost $10,000-$12,000 for a mid-sized home. But vinyl usually comes with a 20-year durability guarantee and it's quick and easy to install.
Fiber-cement is more expensive option at $13,000 for a typical job. The siding comes in numerous colors and textures, and has a 50 year durability guarantee. By replacing your siding you can expect to recoup up to 87% of the project's cost.
8/9
Replace Your Old Windows
Besides keeping you warmer (the energy-efficiency of modern windows has soared compared to the windows of 20 years ago), new windows can be a major selling point. You can expect to recoup around 78% of an investment in window replacement. The average cost for replacement on a typical home: $10,000-$18,000.
On note of caution: Depending on your choice, you might have to replace the window frame as well as the trim, and that will cost you more.
9/9
More From Kiplinger
SLIDE SHOW: 8 Easy Projects to Add Value to Your Home
SLIDE SHOW: 10 Energy-Efficient Moves to Do in a Weekend
SLIDE SHOW: Your Spring Maintenance Checklist
QUIZ: How Smart a Home Owner Are You?