TEN COLLEGE TOWNS FOR GROWNUPS
Remember all those things you wish you enjoyed more in college -- you know, learning and personal growth?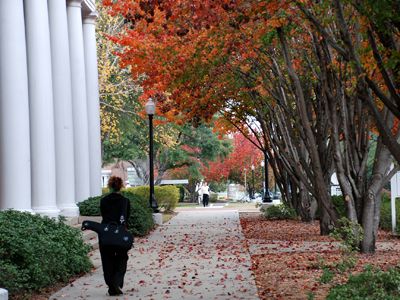 Remember all those things you wish you enjoyed more in college -- you know, learning and personal growth? Well, many people find that retiring to a college town allows them to fully enjoy those things at a time in their lives when they truly can savor the value.
Here are ten college towns we recommend for retirees. They all combine a rich academic and cultural environment with great health care, reasonable costs of living and natural beauty.
Our slide show begins with the navigation bar to the right.
And for more great college towns for retirees, check out our other slide show, Retiring to a College Town.
Compiled by Robert Frick
Photo: Courtesy Steve Rouse/University of Southern Mississippi
1/10
Chapel Hill, North Carolina
Home of: University of North Carolina at Chapel Hill
Town Population: 51,574
(2007 Census est.)Student Population: 27,500
Chapel Hill is the smallest of our favorites. But so what? It attracts music and arts from all over the U.S., while holding a place in its heart for all the mom and pop stores that still grace Franklin Street. Scholars of all ages form a community melting pot that leaves the young and the young-at-heart better for it.
Photo: Courtesy Chapel Hill/Orange County Visitors Bureau
2/10
Tallahassee, Florida
Home of: Florida A&M University and Florida State University
Town Population: 168,979
Student Population: 50,639
The capital city of the Sunshine State is a tapestry of beautiful parks with oversized live oaks dripping in Spanish moss. FSU is a major driver of local culture. Football fans pack 82,000-seat Doak Campbell stadium for Seminoles games. One of the top cultural events that FSU sponsors annually is the Seven Days of Opening Nights, which is an extravaganza of music and dance performances, art exhibits and literary events that draw world-renowned artists.
Photo: Courtesy www.tallahasseenewsroom.com
3/10
Athens, Georgia
Home of: University of Georgia
Town Population: 112,760
Student Population: 33,660
Campus and town life blend easily in this quintessential college town. You'll find a great music scene, good java joints and restaurants. The Grit, on Prince Avenue, serves tasty vegetarian dishes in generous portions: Try, for example, the Grit Staple, a combination of pinto beans, rice, melted cheese and onions. It'll cost you less than five bucks. Athens also embraces retirees as volunteers at the Georgia Museum of Art, the Classic Center and many other organizations.
Photo: Courtesy Athens Convention and Visitors Bureau
4/10
Hattiesburg, Mississippi
Home of: University of Southern Mississippi
Town Population: 50,233
Student Population: 14,810
Arts and culture for retirees here all take place on campus. Southern Miss has a great symphony orchestra that attracts world-class performers such as Itzhak Perlman, Placido Domingo and Yo-Yo Ma. The Osher Lifelong Learning Institute offers many of the privileges that students receive, such as membership in a credit union, access to health services, library cards and discounts for arts events.
Photo: Courtesy Steve Rouse/University of Southern Mississippi
5/10
Fayetteville, Arkansas
Home of: University of Arkansas
Town Population: 72,208
Student Population: 17,929
The hot spot of Northwest Arkansas is Dickson Street, Fayetteville's revitalized entertainment district filled with local shops and night spots. Up the street at the university, anyone 60 and older can take classes for free. In town, you can mix with the college crowd over coffee at Arsaga's, or for a more refined rendezvous, meet for a drink at Ella's in the historic, wonderfully restored Inn at Carnall Hall.
Photo: Courtesy Fayetteville Visitors Bureau
6/10
Columbia, Missouri
Home of: University of Missouri
Town Population: 99,174
Student Population: 28,253
Columbia has everything a retiree could ask for, starting with an unusually high number of physicians per capita and a world-class health-care system. Mizzou's pedestrian-friendly flagship campus -- its signature columns on the quad are pictured here -- flows into a walkable downtown, with parks and trails close by. Those 65 and older can audit classes free at the university, but the 50-and-up crowd may prefer classes at the Osher Lifelong Learning Institute.
Photo: Courtesy University of Missouri-Columbia
7/10
Eugene, Oregon
Home of: University of Oregon
Town Population: 149,004
Student Population: 20,388
Eugene's natural beauty and cultural events make it seem like a crime to stay at home. Absorb the downtown scene at Fifth Street Public Market. Drama buffs can enjoy productions by Willamette Repertory Theatre, Lord Leebrick Theatre Company and dozens of other local acting troupes. Education is cheap and plentiful. Seniors can audit university classes for free.
Photo: Courtesy Timm O'Cobhthaigh/Convention and Visitors Association of Lane County Oregon
8/10
Flagstaff, Arizona
Home of: Northern Arizona University
Town Population: 59,746
Student Population: 13,443
Outdoor recreation rules in Flag -- as residents call it -- and a bohemian undercurrent runs strong. The atmosphere is cozy and artsy. Attractions include a symphony orchestra, two museums and ten art galleries. The town's charm lies in the fact that the people wholeheartedly embrace its lifestyle.
Photo: Courtesy Northern Arizona University
9/10
Corvallis, Oregon
Home of: Oregon State University
Town Population: 51,125
Student Population: 19,362
If you're looking for Bedford Falls, you need to check out Corvallis. A visit feels like you're living in Frank Capra's It's a Wonderful Life. Highlights include small-town affordability, a well-educated and friendly populace, plus a charming park that overlooks the Willamette River.
Photo: Courtesy Corvallis Tourism
10/10
Fort Collins, Colorado
Home of: Colorado State University
Town Population: 143,899
Student Population: 25,000
Fort Collins is an outdoor enthusiast's dream. This sunny, four-season college town is located in the foothills of the Rocky Mountains. It's surrounded by lakes, parks and forests, and it's within a two-hour drive of top-notch ski and hiking destinations. Bike trails snake throughout this laid-back college town that boasts an eclectic mix of restaurants and cultural activities including a symphony, a ballet company and live theater.
Photo: Courtesy Fort Collins Convention & Visitors Bureau