10 Value Stocks to Buy for 2018 and Beyond
The stock market was unkind to Warren Buffett disciples in 2017.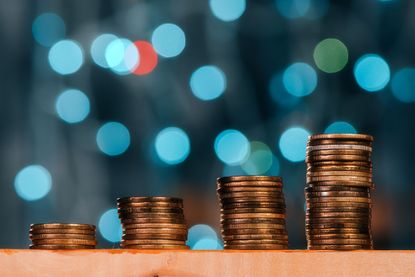 (Image credit: Getty Images)
The stock market was unkind to Warren Buffett disciples in 2017. Value investors missed out as their "cheap" stocks lagged growth miserably – by as many as 16 percentage points depending on the yardstick.
But that's going to change in 2018. It's shaping up to be the year Buffett's minions may finally rejoice. "Value will have its day in the sun," predicts John Buckingham, a veteran value investor and chief investment officer at AFAM Capital Asset Management.
Here are five reasons why – followed by 10 value stocks to buy for 2018 and beyond.
What goes around comes around. A basic investing rule is that unusual aberrations tend to vanish in time. Known as "reversion to the mean," this rule suggests value could do well. The reason: Because growth trounced value last year, the valuation gap between the two is wider than it's been since 2000. "Outperformance by growth is long in the tooth," says Todd Lowenstein, director of research at HighMark Capital Management. "This will mean-revert."
History favors value. One reason Buffett does so well is he's in the right neighborhood. Value vastly outperforms growth. Since 1927, value has posted 13.3% annualized gains vs. 9.3% for growth, points out Buckingham, who pens the Prudent Speculator stock letter, which gets high marks from Hulbert Financial Digest. Being in value means you have a tailwind – sooner or later.
The FANGs may fall. In 2017, investors fell in love with Facebook (FB (opens in new tab)), Amazon.com (AMZN (opens in new tab)), Netflix (NFLX (opens in new tab)) and Alphabet (GOOGL (opens in new tab)). Now they look pricey. The love affair looks ominous because it resembles investor infatuation with highflying tech names in 2000, Buckingham says. Since then, value has trounced growth, posting 7.2% annualized gains vs. 4.2%.
Conditions are ripe. Beaten-down value stocks are lean and mean. They have low debt. So as the rising tide of stepped up economic growth lifts all boats, more of their newfound revenue will fall to the bottom line, says Brad Evans, who manages Heartland Value Plus (HRVIX (opens in new tab)). Value also outperforms during times of rising interest rates.
Value may be "safer." If the market finally does pull back, value names may be "safer" since their multiples are already compressed. This means you're less likely to get shaken out by a scary selloff. The Standard & Poor's 500-stock index trades for around 20 times forward earnings while the S&P 500 Pure Value Index goes for 14.3 times.
Here are 10 value stocks to buy for "the year of value":
Data is as of Jan. 11, 2017. Dividend yields are calculated by annualizing the most recent quarterly payout and dividing by the share price.
Contributing Writer, Kiplinger.com
Michael Brush is an investor and market commentator for MarketWatch who also publishes a stock newsletter called
Brush Up on Stocks
. Brush is a graduate of the Columbia Business School Knight-Bagehot Fellowship Program, and the Johns Hopkins School of Advanced International Studies in Italy. He has also covered business and investing for The New York Times, The Economist Group and MSN Money, and he has won several journalism awards. He is the author of Lessons From the Front Line, a book about investing published by John Wiley.