Landmark Buildings You Can Invest in
The owners of the Empire State Building are creating a $1 billion real estate investment trust out of the crown of the New York City skyline.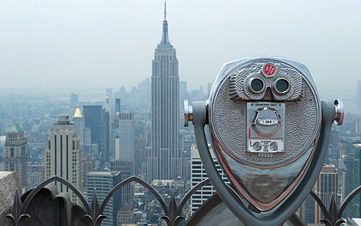 (Image credit: Thinkstock)
The owners of the Empire State Building are creating a $1 billion real estate investment trust out of the crown of the New York City skyline. Empire State Realty Trust will begin trading later this year on the New York Stock Exchange. If you buy shares in the REIT, which will also include a dozen lesser New York properties, you'll essentially be a part-owner of what is arguably the world's most famous office tower.
Empire State won't be a sure winner. The building is in the midst of hundreds of millions of dollars in critical, overdue renovations. It is currently only two-thirds filled, mostly with small and midsize tenants, whose rents are far below the average for midtown Manhattan. The building houses no notable corporate headquarters or major investment companies.
Still, from a bragging-rights perspective, the opportunity to say you own a piece of this legendary building is intriguing. Turns out that there are a bunch of other landmarks, foreign or American, that you can own through REITs, regular stocks or the American depositary receipts of overseas-based companies. Here, besides King Kong's cinematic aerie on 34th Street, are 11 investor-owned landmarks, listed by property name and in alphabetical order.
1/12
Churchill Downs
Location: Louisville, Ky.
Own it by investing in: Churchill Downs Inc. (symbol CHDN)
Price: $56.02
Yield:1.1%
The company owns the namesake racetrack that's hosted the Kentucky Derby since 1875. Churchill Downs is the cornerstone of a gambling and racing mini empire that includes tracks in Chicago, Miami and New Orleans, and a casino in Mississippi. The stock doesn't keep pace with the faster horses, but the Churchill Downs company did just raise its annual dividend by 20%, to $0.60. The company is trying to persuade the state of Kentucky to let it install a casino at its hometown horse track, which might turn a buck or two given that 150,000 people show up every May for the Derby. Churchill Downs already has slots at tracks in Florida and Louisiana.
(share prices and yields are as of March 15)
2/12
Coors Brewery
Location: Golden, Colo.
Own it by investing in: Molson Coors Brewing Co. (symbol TAP)
Price: $42.87
Yield: 3.0%
The world's mass-market brewers are busily swallowing one another (or chugging them, we should say), with the combination of Coors and Molson now owning 42% of a joint venture with Miller's brands in the U.S. The mass beer business has been flat, but brewers are scrambling to raise prices and cut costs, so Coors's stock could be a good, though speculative, investment. The Coors complex in the historic town of Golden, west of Denver, is both a landmark and a tourist mecca. Plus, if you are a certain age, you might recall when baby-boomer college kids crossed the country in Pintos and Chevelles to haul cases out of Colorado, when Coors was a cult beverage with only local distribution.
(share prices and yields are as of March 15)
3/12
Country Club Plaza
Location: Kansas City, Missouri
Own it by investing in: Highwoods Properties (symbol HIW)
Price: $32.54
Yield: 5.2%
In the 1920s this warren of Spanish-style architecture and high-class shopping and dining emerged as America's first car-oriented suburban shopping center. Many early retail hubs fell victim to urban decay and suburban sprawl, but not the Plaza, which is still both an icon of city planning and a thriving business district. Highwoods is a North Carolina–based REIT that mainly owns office buildings in the South. It merged with the Plaza's former owners in 1998 and takes good care of this treasure. Highwoods has just acquired another unique urban gem, PPG Place in Pittsburgh.
(share prices and yields are as of March 15)
4/12
Disney World and Disneyland
Location:Orlando, Fla., Anaheim, Cal., and other locations
Own it by investing in: Walt Disney Co. (symbol DIS)
Price:$43.47
Yield: 1.4%
If you visit a Disney theme park, you'll eventually tire of the endless promotions for Disney films and other Disney brands, such as ABC and ESPN, plus the overwhelming displays of sweatshirts and stuffed animals. But there's no gainsaying the fact that the smiling visitors who pay a pretty penny or euro or yen to hang out with Mickey and pals can get additional satisfaction by buying a piece of the whole enterprise instead of just souvenirs. Helped by ESPN and movies, Disney generates solid long-term growth and lately has been raising its dividends sharply -- by 50% last year. Plus, the company has little debt.
(share prices and yields are as of March 15)
5/12
8 Spruce Street (aka New York by Gehry)
Location: New York City
Own it by investing in: Forest City Enterprises (symbol FCE)
Price: $14.86
Yield: 0%
At 76 floors and 870 feet, this new building in lower Manhattan is America's tallest residential structure. Monthly rents range from $3,725 for studios to $12,050 for three-bedroom units 55 stories up or higher. Besides the view and the location, the building has the cachet of having been designed by architect Frank Gehry, whose remarkable works include the Disney concert hall in Los Angeles and the Guggenheim art museum in Bilbao, Spain. Forest City is a development company (not a REIT) with an affinity for tall buildings, including its headquarters building, the Terminal Tower in Cleveland, a 1920s tower that's the one of the tallest in the Midwest outside Chicago.
(share prices and yields are as of March 15)
6/12
First Canadian Place
Location: Toronto
Own it by investing in: Brookfield Office Properties (symbol BPO)
Price: $17.62
Yield: 3.2%
Frank Gehry was born in Toronto (he also designed the city's striking art museum), but he sure didn't create this pedestrian-looking bank tower. Nevertheless it ranks as Canada's tallest building (not the tallest structure; the nearby CN Tower is higher) and recently underwent a $100 million renovation to make it greener and cover the old marble exterior that reportedly made Torontonians nervous about lethal falling slabs. Brookfield Properties is a Toronto-based firm with major downtown office towers in the U.S., Canada, and Australia, and joint ventures in the United Kingdom. There's not much of a dividend, but the stock is still depressed after plunging to $4 from $22 during the 2008 financial crisis.
(share prices and yields are as of March 15)
7/12
General Motors Building
Location: New York City
Own it by investing in: Boston Properties (symbol BPO)
Price: $104.74
Yield: 2.1%
This white marble tower at the southeast end of Central Park is one of Midtown's most recognizable structures. There was a huge GM showroom in its lobby when the building opened in 1968, and, in an allegory about what's happened to big business in America, New York's flagship Apple store now occupies the site. The building has changed hands many times, with Boston Properties on the deed since 2008, in with investors from Dubai, Kuwait and Qatar. Boston Properties, one of America's biggest REITs, also owns Boston's massive Prudential Tower.
(share prices and yields are as of March 15)
8/12
Gherkin Building
Location: London
Own it by investing in: IVG Immobilien (symbol IVGHY)
Price: $104.74
Yield: NA%
The Gherkin, nicknamed for its shape, is that conspicuous rounded blob in London's financial district that steals your glance from the Victorian and Dickensian treasures nearby and the newer sprawl of Canary Wharf. The Gherkin, formally called 30 St. Mary Axe, is the London office of the global insurance company Swiss Re. It highlights the magnificent architectural collection of IVG, a German REIT with holdings all over Europe. IVG also developed and owns The Squaire, a half-mile-long office building at the Frankfurt airport that resembles an all-glass bullet train perched atop a railway station.
(share prices and yields are as of March 15)
9/12
International Commerce Centre
Location: Hong Kong
Own it by investing in: Sun Hung Kai Properties (symbol SUHJY.PK)
Price: $15.19
Yield: NA
Sun Hung Kai, a Hong Kong–based REIT, owns this giant, the fourth-tallest building in the world. The building, completed in 2010, is a massive and, frankly, boring slab, but it's famous for the highest bar on earth, Ozone, on the 118th floor. It also has the highest swimming pool in the world. The 1,588-foot building was originally supposed to be 300 feet higher, but regulators didn't want it to be taller than nearby mountains, perhaps to make sure someone flying a plane from that direction would clear it.
(share prices and yields are as of March 15)
10/12
Madison Square Garden
Location: New York City
Own it by investing in: MSG (symbol MSG)
Price: $32.92
Yield: 0
Madison Square Garden hasn't been on Madison Square since 1925, but the name clings to the world's most famous arena, the fourth structure with the name. The present Garden, located above Pennsylvania Station, is 44 years old and about to see major renovations (the author remembers riding trains from New Jersey as a kid and ascending by escalator to see the Knicks without even stepping outside). The Garden is best known for basketball and hockey, but it also has a monumental history of concerts, boxing matches and political conventions. Madison Square Garden, which started trading at $20 per share in 2010 after being spun off from Cablevision, also operates Radio City Music Hall, located a few blocks from the Garden. Besides the arena, the company owns the New York Knicks and the New York Rangers. This is exciting, but it doesn't make MSG a profit machine. Moreover, the shares aren't cheap, having run up during the excitement over Jeremy Lin, the undrafted Harvard grad who, for a time, helped the Knicks turn around their disappointing season. But both Lin and the Knicks have cooled off, so you can't count on Linsanity boosting the shares further.
(share prices and yields are as of March 15)
11/12
Tokyo Midtown
Location: Tokyo
Own it by investing in: Mitsui Fudosan (symbol MTSFY.PK)
Price: $53.85
Yield: NA
Tokyo is known more for mass and sprawl and frenetic movement and bright lights than architectural landmarks. But this development deserves a mention because, besides being the highest building in Tokyo (which has above-average risks for earthquakes), this is a new mixed-use city center rising from land that once housed occupying U.S. military forces. There's green space -- a rarity in this concrete city -- and several art museums. Mitsui is Japan's largest real estate company, and it recruited a bunch of Japan's largest financial institutions to invest in this mega-project.
(share prices and yields are as of March 15)
12/12
Senior Editor, Kiplinger's Personal Finance
Kosnett is the editor of Kiplinger's Investing for Income and writes the "Cash in Hand" column for Kiplinger's Personal Finance. He is an income-investing expert who covers bonds, real estate investment trusts, oil and gas income deals, dividend stocks and anything else that pays interest and dividends. He joined Kiplinger in 1981 after six years in newspapers, including the Baltimore Sun. He is a 1976 journalism graduate from the Medill School at Northwestern University and completed an executive program at the Carnegie-Mellon University business school in 1978.