10 Best ETFs to Buy for Beginners
If you're just starting to invest your money, exchange-traded funds (ETFs) are one of the best places to begin.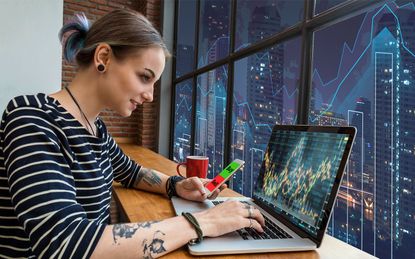 (Image credit: Getty Images)
If you're just starting to invest your money, exchange-traded funds (ETFs) are one of the best places to begin. Like mutual funds, these instruments allow new investors to easily invest in large baskets of assets – stocks, bonds and commodities among them – often with lower annual expenses than what similar mutual funds charge. But what qualifies a fund to be among the best ETFs for beginners? Target these qualities:
Low fees. Young people just now starting to invest have decades to work with. Thus, they have a lot of time to benefit from the cost savings of low annual expenses. For instance, over the course of 30 years, a $10,000 investment in a fund that charges 0.1% in fees and gains 7% annually will make over $17,500 more than a fund with the exact same performance but a full 1% in fees.
Wide exposure. As a novice investor, it's best to spread your bets rather than risk all of your money on a single, narrow investment. So, for instance, you may want to start out with a broad international fund that invests in several countries until you learn how to identify opportunities in a specific country. Once you gain experience, you can make more informed decisions about devoting some of your savings to concentrated investments.
Stable growth. Beginning investors may be more prone to making moves out of fear – such as when an investment suddenly moves lower, more quickly than the rest of the market. No fund is guaranteed to never experience a significant drop, and trying to avoid volatility altogether can keep you from significant gains. However, beginners should try to stick to "buy-and-hold" funds meant to integrate safety and stability without sacrificing too much growth.
The 10 best ETFs for beginners, then, will have some or all of these traits. Let's explore:
Data is as of March 19, 2018. Yields represent the trailing 12-month yield, which is a standard measure for equity funds. Click on ticker-symbol links in each slide for current share prices and more.
Senior Investing Editor, Kiplinger.com
Kyle is senior investing editor for Kiplinger.com. As a writer and columnist, he also specializes in exchange-traded funds. He joined Kiplinger in September 2017 after spending six years at InvestorPlace.com, where he managed the editorial staff. His work has appeared in several outlets, including U.S. News & World Report and MSN Money, he has appeared as a guest on Fox Business Network and Money Radio, and he has been quoted in MarketWatch, Vice and Univision, among other outlets. He is a proud graduate of The Ohio State University, where he earned a BA in journalism.