6 Best Dividend ETFs for Blue-Chip Income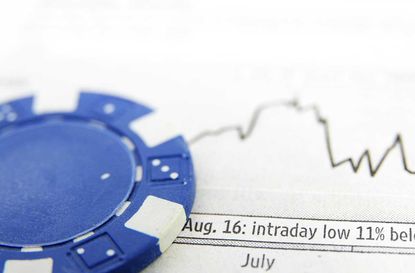 (Image credit: Thinkstock)
Large-cap dividend ETFs are a popular way to invest for income, with these exchange-traded funds providing access to hundreds if not thousands of dividend-paying blue chip stocks, often at extremely low annual costs.
What makes these ETFs particularly attractive is that they focus on high-quality yield, rather than on the highest (and often riskiest) yield.
The large-cap nature of these ETFs' holdings means you're investing mostly in companies that have attractive balance sheets and ample cash flow. That, in turn, means you're getting stocks that are more likely to hold up in market downturns thanks in part to their income, but also because the companies they represent are less likely to collapse than smaller businesses with shallower financial resources.
In fact, some of these ETFs even use dividends as a measure of quality, relying on the idea that a company that has made regular cash payouts for several years is more financially stable than those that do not.
Looking to fortify your dividend portfolio? Here's a look at six large-cap dividend ETFs that provide ideal blends of income and durability.
Data is as of Oct. 3, 2017. Click on ticker-symbol links in each slide for current share prices and more. Yields represent the trailing 12-month yield, which is a standard measure for equity funds.
Kyle Woodley is the Editor-in-Chief of Young and The Invested, a site dedicated to improving the personal finances and financial literacy of parents and children. He also writes the weekly The Weekend Tea newsletter, which covers both news and analysis about spending, saving, investing, the economy and more.
Kyle was previously the Senior Investing Editor for Kiplinger.com, and the Managing Editor for InvestorPlace.com before that. His work has appeared in several outlets, including Yahoo! Finance, MSN Money, Barchart, The Globe & Mail and the Nasdaq. He also has appeared as a guest on Fox Business Network and Money Radio, among other shows and podcasts, and he has been quoted in several outlets, including MarketWatch, Vice and Univision. He is a proud graduate of The Ohio State University, where he earned a BA in journalism.
You can check out his thoughts on the markets (and more) at @KyleWoodley.