7 Ways to Save on Prescriptions
Spending on prescription drugs has reached stratospheric levels, topping $457 billion in the U.S.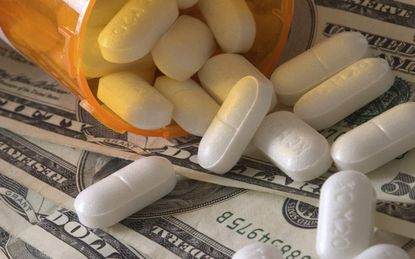 (Image credit: Thinkstock)
Spending on prescription drugs has reached stratospheric levels, topping $457 billion in the U.S. last year, according to the Department of Health and Human Services. Most large employers point to the cost of specialty medications as the single biggest impetus for rising health care costs, with no relief in sight.
In the latest survey by the National Business Group on Health, large employers predict the cost to provide health benefits will rise by 6% in 2017, but they expect a 16.8% increase in spending for specialty medications.
Why are costs rising so fast? More people are living longer with chronic conditions, and drug companies have been introducing new specialty medicines that are expensive to manufacture and administer. They've also been hiking prices for other brand-name drugs—with some eye-popping examples grabbing headlines. Finally, fewer patents have expired recently, slowing the introduction of new and cheaper generics.
Even with a generous insurance policy, you could end up paying hundreds of dollars a month for your medications, but you will probably have an opportunity to reassess your coverage soon. If you have health insurance through your employer, you generally pick a plan in October or November. Open enrollment runs from November 1 to January 31 for Obamacare exchanges and from October 15 to December 7 for Medicare Part D and Medicare Advantage The following strategies can help you cut your drug costs. Keep them in mind as you compare plans during open-enrollment season.
SEE ALSO: 11 Costly Medicare Mistakes
1/7
Find a Lower-Cost Alternative
Prescription drug costs can vary widely, and doctors may have no idea how much you're paying. Switching to a similar, equally effective drug could save you hundreds of dollars. Always ask your doctor if there's a generic version, which can cost up to 85% less than the brand-name version.
If no generic is available, ask whether other therapies that do the same thing are available in a generic, says Jon Maesner, chief pharmacy officer for the insurer Cigna. Crestor, for example, a statin that lowers cholesterol levels, can cost $265 per month, and it did not have a generic version until earlier this year. But several other statins have generics, and they cost a lot less. For example, Zocor's generic version, simvastatin, can cost $8 per month for 40 mg tablets; Lipitor's generic, atorvastatin, can cost $11.36 per month for 20 mg tablets, says Michael Rea, a pharmacist who founded Rx Savings Solutions (opens in new tab), which compares options for employers' plans.
If there's no generic, you may be able to use another brand-name drug that costs less or has a lower co-payment, says Dr. Jeffrey Rice, CEO of Healthcare BlueBook, which helps people compare costs for medical care and drugs. These "therapeutic alternatives" are in the same class of drugs but vary a bit chemically.
Your insurer or employer may have online tools to look up alternatives and see how much you can save (some doctors are incorporating such tools into their electronic medical records). Cigna, United Healthcare and Humana all have apps that show how much medicines cost under your plan.
2/7
Fill Your Prescriptions In Smart Quantities
Another option is to order a 90-day supply, which may cost only 2.5 times more than a 30-day supply, says John Lee, senior director of Medicare Part D for Walgreens. Or you might be able to pay less by switching from two tablets at a lower strength to one tablet at a higher strength, says Maesner.
3/7
Use a Preferred Pharmacy
The pharmacy you choose can also make a big difference in your out-of-pocket costs. Most Medicare Part D plans (and some other plans) now have preferred pharmacies, where you'll pay a much lower portion of the costs.
The Humana/Walmart Part D plan, for example, usually charges a $10 co-pay for preferred generics (those with lower co-payments than other generics). But you'll have a $1 co-pay at Walmart and Sam's Club and a $0 co-pay from the Humana Pharmacy mail-order network. Generics that are not on the preferred list have a $4 co-pay at Walmart and Sam's Club (compared with a $20 co-pay at other pharmacies), and a $0 co-pay from Humana's mail-order pharmacy. For nonpreferred brand-name drugs, you'd usually pay 45% to 50% coinsurance, but at Walmart and Sam's Club or through Humana mail order, that drops to 35%.
If your plan doesn't have a preferred pharmacy, or if you're paying full price until you reach your deductible, you could save a lot of money by shopping around. Compare costs at local and mail-order pharmacies at GoodRx.com. (opens in new tab) (Don't assume that mail order will be the best deal, says Rice.)
Some generics cost less if you pay cash rather than use your insurance, such as the $4 deal at Walmart and Costco, says David Belk, of TrueCostofHealthcare.org (opens in new tab). You can get discounts on 8,000 drugs if you use cash with the Walgreens card.
More plans now offer specialty pharmacies for complex conditions. You may save money, and you'll work with specially trained nurses and pharmacists who can complete paperwork for coverage and may know about resources for financial support, says Thom Stambaugh, vice president of specialty pharmacy for Cigna.
SEE ALSO: 11 Costly Medicare Mistakes
4/7
Use Coupons From Drug Manufacturers
Even if your insurer covers the drug, you could face big out-of-pocket costs. And you will have to shoulder the full cost yourself until you reach your insurer's deductible. But you might be able to piece together several sources of extra help. Ask your doctor and pharmacist about programs to help reduce the costs.
Many drug manufacturers offer coupons that lower the cost of their drugs by hundreds of dollars. You can find coupons by looking up your drug at GoodRx.com or by searching the drug manufacturer's website. Your doctor may also have coupons.
The manufacturer programs aren't available to Medicare beneficiaries, and some coupons and programs are not available if you use private insurance, either. But if you haven't met your deductible, you could pay cash for the drugs using the coupon, then submit the receipt after you are closer to meeting the deductible.
5/7
Save With Pharmacy Assistance Programs
Or you may be eligible for a pharmacy assistance program offered by the drug manufacturer or a private foundation. Some of these programs are based on income, but the income requirements may be as high as 500% of the federal poverty level (which works out to nearly $80,000 for a couple). Other assistance programs may kick in if you've spent more than a certain percentage (such as 3%) of your income on out-of-pocket costs for your drugs, says Honora Gabriel, vice president of the Lash Group, which administers many assistance programs. Look up programs at www.needymeds.org (opens in new tab). Low-income Medicare beneficiaries can get extra help, too; see www.benefitscheckup.org (opens in new tab).
Local or state nonprofits may offer assistance. You can find them through advocacy groups for your condition. Finally, check out free prescription savings cards, such as FamilyWize.org (opens in new tab) and GoodRx.com.
6/7
Make the Most of Tax Breaks
Take advantage of tax breaks that can help with your out-of-pocket expenses. You can withdraw money tax-free from a health savings account or a flexible spending account to pay for prescription drugs (insulin is eligible without a prescription). And you can use your account for over-the-counter drugs with a prescription (see a list of eligible expenses at FSAstore.com).
Any other drug costs can count toward the tax deduction for medical expenses, if you itemize. You can deduct eligible medical expenses that exceed 10% of your adjusted gross income (or 7.5% of AGI in 2016 if you're 65 or older).
SEE ALSO: The Most-Overlooked Tax Deductions
7/7
Know the Rules and Fight Back
If your plan denies coverage for a drug your doctor prescribes, ask why. You or your doctor may only need to complete more paperwork. Almost all large employers now require prior authorization before covering certain expensive medications (requiring your provider to fill out forms about your medical condition) or use step therapy (requiring you to try other, less-expensive drugs first, if possible).
Sometimes coverage is denied because the drug is not on the plan's formulary. "More often than not, when something is not covered, there is an alternative that is covered," says William Fleming, president of Humana Pharmacy Solutions.
You can file an appeal if your doctor wants to use the drug that isn't covered. Get the doctor to explain why the drug is necessary, says David Lipschutz, senior policy attorney for the Center for Medicare Advocacy. And find out about the appeal rules before you pick a plan, especially if you have a complex medical condition, says Sloan, of the American Cancer Society.
Contributing Editor, Kiplinger's Personal Finance
As the "Ask Kim" columnist for Kiplinger's Personal Finance, Lankford receives hundreds of personal finance questions from readers every month. She is the author of Rescue Your Financial Life (McGraw-Hill, 2003), The Insurance Maze: How You Can Save Money on Insurance -- and Still Get the Coverage You Need (Kaplan, 2006), Kiplinger's Ask Kim for Money Smart Solutions (Kaplan, 2007) and The Kiplinger/BBB Personal Finance Guide for Military Families. She is frequently featured as a financial expert on television and radio, including NBC's Today Show, CNN, CNBC and National Public Radio.