5 Insurance Policies You Don't Need
You can buy insurance that covers nearly any risk you can think of -- including alien abduction and excessive rain -- but that doesn't mean it's a good deal.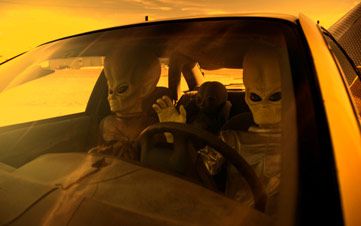 (Image credit: Thinkstock)
You can buy insurance that covers nearly any risk you can think of -- including alien abduction and excessive rain -- but that doesn't mean it's a good deal. To see if insurance is worth buying, Robert Hunter, director of insurance for the Consumer Federation of America and former Texas insurance commissioner, screens for what he calls the two C's: catastrophic loss and comprehensive coverage.
First, is the potential financial loss the kind you'd experience with the death of a breadwinner, a fire that destroys your house or a bad auto accident? "If it's not catastrophic, don't buy the insurance," Hunter says. Second, you don't want to buy "little pieces of insurance," says Hunter. That's where the comprehensive test comes in. Some coverage protects you against legitimate risks, such as death or disaster, but not in the most cost-effective way. And some policies have so many exclusions that they may not pay out if the risk you're most worried about actually happens.
Here are five widely sold coverages that you probably don't need -- plus better ways to protect yourself.
1/6
Credit Life and Disability Insurance
When you get a car loan or open your credit card statement, you may get a pitch for insurance that pays off your loan if you die or become disabled. The coverage looks cheap, but it's also skimpy -- it pays only the loan balance. You should have enough disability insurance (usually through your employer) and life insurance to help pay all of your expenses, not just debt.
The same goes for another, similar coverage: accidental death and dismemberment insurance. These policies are also sold through lenders and credit card companies. They often cost just $1 to $1.20 per $1,000 of coverage, and they may pay more than the amount of your debt. But they pay out only if your death or injury is caused by an accident. Only people with health issues that make it difficult for them to get regular life insurance should consider these policies.
2/6
Mortgage Life Insurance
Mortgage life policies are a form of credit life insurance. If you die with an outstanding mortgage, the policy pays off your loan. Mortgage life policies tend to be expensive for the coverage you get, and the value goes down every year as your mortgage balance decreases. Also, it pays only your mortgage and doesn't give your heirs the flexibility to use the money for anything else. If you have a low-interest mortgage, your family may have more pressing needs rather than paying off the home loan. You are better off with term life insurance. A healthy 40-year-old man, for example, can find a $500,000, 20-year term insurance policy on AccuQuote.com for about $350 to $450 per year, and his heirs can decide how to use the money.
3/6
Dental Insurance
Most policies pay for cleanings and checkups every six months and annual x-rays. But annual premiums commonly run $180 to $600 for policies that generally cap coverage at $2,000 per year for most other expenses. Many policies also make you wait six months before covering fillings and 18 months before paying for a root canal, says Carrie McLean, consumer specialist with eHealthInsurance.com.
If your employer offers a subsidized plan as a fringe benefit, it could be a good deal. But you still need to weigh your out-of-pocket cost for premiums against the potential benefit. If you're shopping for a policy on your own, check several insurers, make sure your dentist is in the network, watch waiting periods and compare the premiums with the maximum coverage. You may find it's more cost-effective to add pretax money to your flexible spending account to cover dental expenses.
4/6
Car-Loan Gap Insurance
Gap insurance pays the difference between the amount you owe on your car loan and what your auto insurance company will pay if you total your car. That can be a hefty amount if you have a long-term loan (48 months or longer) and pay less than 20% as a down payment. Lenders often charge a flat fee of $500 to $700 for gap coverage, says Des Toups, managing editor of CarInsurance.com. You may be able to add gap coverage to your auto policy for less than the lender charges for stand-alone protection. You'll typically pay 5% to 6% of the cost of your collision and comprehensive coverage for gap insurance, says Toups -- or $50 to $60 per year if collision and comprehensive cost $1,000. You can drop gap coverage when your loan balance is close to your car's value.
5/6
Wedding Insurance
These policies pay for nonrefundable deposits if the wedding (or other special event) is canceled because of a natural disaster, death, illness, vendor bankruptcy or other problems. Policies generally cost $155 to $550, plus about $185 for up to $1 million in liability coverage, says Katherine Hutt, of the Council of Better Business Bureaus. You may have liability protection through your contract with the vendors, and you may already have coverage for some of these risks through your homeowners insurance. "Read the fine print, and make sure you understand exactly what you're buying, especially the policy's definition of 'acts of God' and 'natural disasters,' " says Hutt. Most wedding policies exclude the biggest risk of all: cold feet.
6/6
Contributing Editor, Kiplinger's Personal Finance
As the "Ask Kim" columnist for Kiplinger's Personal Finance, Lankford receives hundreds of personal finance questions from readers every month. She is the author of Rescue Your Financial Life (McGraw-Hill, 2003), The Insurance Maze: How You Can Save Money on Insurance -- and Still Get the Coverage You Need (Kaplan, 2006), Kiplinger's Ask Kim for Money Smart Solutions (Kaplan, 2007) and The Kiplinger/BBB Personal Finance Guide for Military Families. She is frequently featured as a financial expert on television and radio, including NBC's Today Show, CNN, CNBC and National Public Radio.