10 Great Part-Time Jobs for College Students
Throughout college, I found myself torn between growing up and saving the whole "adult thing" for after graduation.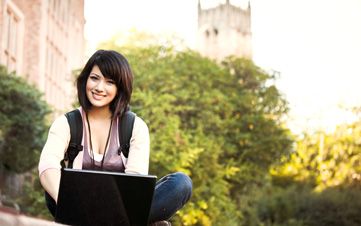 (Image credit: Shutterstock)
Throughout college, I found myself torn between growing up and saving the whole "adult thing" for after graduation. One factor in this mental balancing act was working part-time. I needed the money, but I didn't want a job to take up all of my free time.
Ultimately, with a bit of time management and the right attitude, a part-time job actually enhanced my college experience. I felt more in control of my finances -- and I didn't have the guilt of spending my parents' money on Friday and Saturday nights. I also started to slowly build up my own savings, a habit that I'm happy I acquired. Above all, it pushed me to step outside the "campus bubble" and get to know other people and parts of my community.
From working as an on-campus tutor to mowing the lawn on weekends, here are ten great part-time jobs for college students. Wage data is from the U.S. Bureau of Labor Statistics, and hourly pay is based on the rates in the 25th and 75th percentiles, unless otherwise noted.
1/11
Restaurant Server
Hourly wage estimate:
$8-$11, including tips
Bonus: Free or discounted food
Perhaps one of the most common and popular jobs for college students, waiting tables generally fits well into a student's schedule. Take all of your classes during the day, and you can easily work a few weeknight shifts. Or you could serve breakfast and lunch and save your evenings for schoolwork.
You'll typically wind up having to work weekends, but you are more likely to rake in the big bucks on Friday and Saturday nights. Wages and tips will vary greatly depending on the restaurant and its geographic location. But all students can appreciate a universal bonus: discounts on good food.
Bartending is also a solid job for students (as long as you're of legal age). However, you should be prepared to work mostly nights and into the early morning.
2/11
Tutor
Hourly wage estimate:
$9-$39, according to Payscale.com
Bonus: Flexible scheduling
If you're already an expert in a subject, why not use your knowledge to help others and make money at the same time?
Tutoring is a great option for college students, whether you're looking to make a few extra bucks or you want to turn it into a steady source of income. Your hourly pay will depend heavily on your experience, but you'll have the benefit of maximum flexibility.
If you choose to go solo and set your own hours and pay, you will have to work harder to get your name out there as a trusted source of knowledge. Or you can apply to work through an on-campus tutoring center (most universities have them), where you can take advantage of resources such as study space, books and manuals, and fulfill work-study requirements. (Work study is a federal program that gives students with financial need the opportunity to work a part-time job -- usually on-campus -- and the money earned goes directly toward college expenses.) At George Washington University, new tutors are paid $12 an hour and must be available to work 20 hours per week; returning instructors make $15 an hour.
3/11
Baby Sitter
Hourly wage estimate: varies widely; typically $7-$20
Bonus: Free food and a surrogate family
Although it's not as structured or steady as working at a restaurant or retail outlet, you can make "a ton of money" by baby-sitting, says Richardson, of SnagAJob.com.
Hourly pay can be as high or higher than other part-time jobs, depending on your location, years of experience and the number of kids. If all the stars align, you could make $20 per hour, but typically you'll pocket a little less. According to Care.com, for two kids in Boulder, Colo., you can expect to be paid $11 per hour; in Washington, D.C., you can bump up your price to $13 per hour. You can also score holiday bonuses or extra money for staying overnight if the parents go out-of town, for example.
Baby-sitting is also a great way to get to know your adopted community and meet families who can become a source of comfort and support in an unfamiliar place. My roommate baby-sat for two families all through college, both of which she could turn to if she needed help and who provided her with great networking opportunities once she was looking to start her career.
4/11
Retail Sales or Cashier
Hourly wage estimate:
$9-$13 for retail sales; $8-$10 for cashiers
Bonus: Product discounts
You'll find plenty of opportunities to work in retail because the industry typically experiences a high turnover of workers each year, according to the Bureau of Labor Statistics.
Particularly as the holidays approach, stores look to hire more workers with flexible hours, a void that college students can easily fill. Many retail stores also have multiple locations, so you can work at a location near your school during the year and another near your home over the winter and summer holidays.
You can also pick from among the various retailers, with employers ranging from Target to Verizon Wireless to Urban Outfitters. Consider your passions and interests, and apply for jobs where you think you'll enjoy the environment. Often, you will receive discounts at the store.
Another plus to retail jobs? Stores usually aren't open too late at night, so you can go home and study or meet up with your friends after work.
5/11
Fitness Trainer or Sports Instructor
Hourly wage estimate:
$9-$22
Bonus: Opportunity to stay fit and healthy
Avoid the "freshman 15" and make money at the same time with this fun part-time job. Although most jobs in the fitness industry require some sort of certification, if you're looking to work just on campus, the process can be relatively cheap and painless. Some universities offer their own certification classes, while others give credit to students who pass the American Council on Exercise certification exam.
Teaching a group fitness class or working in the weight room on campus is also a great way to meet other students (and, yes, I'm talking about finding your next hot date, too). You also have the freedom to be creative and make up your own routines. Another major bonus for busy college students: It's a great stress reliever.
By gaining personal-training experience in college, you could also set yourself up for a great career or second job later in life. Employment for fitness instructors is poised to grow "much faster" than the average for all occupations, according to the BLS.
6/11
Usher
Hourly wage estimate: $8-$11
Bonus: Free admission to sporting events, concerts and guest lectures
SnagAJob.com voted this job the best part-time gig for college students because of the "huge" perks that come with it, such as attending events free and sometimes getting backstage access to athletes and celebrities. The pay isn't bad, either.
You may choose to work on campus for university admissions (a potential work-study job), or you can check out major venues in the area. Try to find a place that suits your interests: If you're a soccer fanatic, look for sports arenas; if you're a film buff, a movie theater may be right up your alley. Be prepared to work weekend nights, and understand that you might have to forgo hanging with your friends at big games or concerts.
7/11
Freelance Writer
Hourly wage estimate: $14-$75
Bonus: Potential career experience and flexible scheduling
You can fill your portfolio with bylines that will impress future employers (trust me, they will ask for them) and meet contacts in journalism who can offer career-related advice and even help you find a job later on. You'll also get a taste of what it's like to work with editors, and you may even improve your writing along the way.
Freelance assignments can include anything from writing grant proposals to press releases to movie or music reviews. Find what interests you, and look for companies that could use your expertise. Publications such as Patch.com and Yahoo's Associated Content are almost always looking for freelancers, and several Web sites, such as FreelanceWriting.com and MediaBistro.com, maintain lists of companies looking to hire freelancers. Another benefit of freelancing is flexibility: You can take on as many or as few assignments as you can handle and still leave time for your schoolwork.
Not into writing? You can find freelance jobs in almost any field; graphic designers and programmers will find plenty of opportunities. Pay will depend on the field, the complexity and length of the assignment, and your experience.
8/11
Caregiver
Hourly wage estimate: $8-$11
Bonus: Personally rewarding experience and downtime to do homework
As the U.S. population ages, the demand for in-home aides will continue to grow. In fact, the BLS rates home health aides as the third-fastest growing occupation. While some jobs are more demanding and require more qualifications than others, college students can find many great opportunities.
Seek out clients that need you only a few days a week, or for just a few hours each day. As a part-time caregiver, you may be responsible for cooking and light housekeeping, transportation to doctors' appointments and other errands, medication reminders, bathing and dressing assistance, and most important, companionship, according to Home Care Assistance. You may also find that you have time to do homework while your client is taking a nap or watching TV.
Caregiving can be a particularly great part-time job for students interested in pursuing a career in health care. You'll gain some practical experience to put on your resume, and potential clients may feel more comfortable leaving their loved ones in the care of someone with some medical knowledge.
9/11
Seasonal Worker
Hourly wage estimate: $7-$12, according to Glassdoor.com
Bonus: No long-term commitment
Suddenly have the need for some extra cash, but don't want to make a long-term job commitment? Many jobs come and go with the seasons.
You may find a job at a costume store, pumpkin patch or haunted house at Halloween, or you could dress up as Santa Claus at Christmastime. These are all temporary gigs that hire employees with flexible schedules. In mid September, for example, a pumpkin patch in upstate New York listed a job that needed to be filled for about six weeks, including weekends and a few weekdays, that paid $8 an hour. Who better than a college student to fill the position?
Also, keep in mind that many retail outlets hire seasonal employees over the holidays in order to keep up with the influx of shoppers. Check out large stores such as Toys 'R' Us, Target, Macy's or party-supply giant Party City, which recently announced that it will be hiring 14,000 employees for Halloween. Wages are typically slightly less than those for year-round employees, but, hey, it's still cash in your pocket.
Finally, depending on where you are, yard work can be another flexible and profitable way to rake in the money. From mowing lawns to shoveling snow, your services will always be in demand.
10/11
Paid Intern
Hourly wage estimate: $10-$20
Bonus: Career experience
A paid internship is the crème de la crème of college part-time jobs. Not only are you making money to spend in school, but you're increasing your future net worth by gaining career-related experience.
However, because these gigs are so highly coveted, landing one takes time, dedication and often a little bit of luck.
While you can find paid internships in almost every industry, they are more common in fields such as finance, technology and communications. Fortune 500 companies, such as ExxonMobil, Chevron and General Electric, offer high-paid internships that often turn into jobs, says Lauren Berger, CEO of Intern Queen Inc. Internet moguls like Google and Facebook also offer well-paying positions, with interns making about $20 an hour, according to Glassdoor.com.
Consider unpaid gigs, too. Despite the lack of pay, they're still extremely beneficial in helping you build your resume, create contacts and gain hands-on skills. Plus, according to the National Association of Colleges and Employers' 2010 student survey, students who graduate with internship experience tend to receive higher starting salaries. So even if you can't find a paid internship in college, you could very well make up for that free labor later in life.
11/11