9 Ways to Get the Best Deal on Your New Car
Most people have a love-hate relationship with car shopping.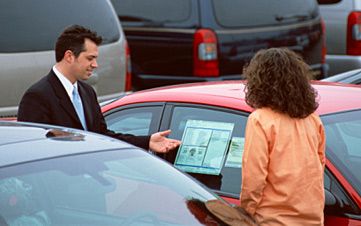 (Image credit: Thinkstock)
Most people have a love-hate relationship with car shopping. New wheels are great, but there's always that nagging feeling during the negotiations that you are in a game you can't win.
Despite industry reports that car buyers are increasingly satisfied with their showroom experience, nearly one buyer in five still walks out complaining of poor treatment.
You might think the deck is stacked against you, but simply knowing how the game works can help you sidestep potential pitfalls, command better treatment and get a fair price.
Here are nine tips that can put you on the road to satisfaction.
1/10
1: Do Your Research Ahead of Time
Like a Boy Scout, you must be prepared.
Before you set foot in a dealership, find out what the car really cost the dealer and what other buyers are paying. You can find invoice prices, cash incentives, financing deals and average transaction prices at TrueCar.com.
Call several dealers in advance and ask for an Internet salesperson or manager to negotiate prices over the phone.
Get firm offers via e-mail. When you go to the showroom, take printouts of the pricing details, especially if dealerships are touting special offers. When presented with an ad come-on, salespeople can't claim ignorance of a deal.
2/10
2: Be Willing to Haggle
Yes, buying a car is a game. But you win by coming to a fair agreement.
Get your poker face on. Never tip your hand that you really, really want a particular car -- and never forget that there are many exactly like it at other dealers. A dealership may gang up on a customer by bringing in two salespeople, or a salesperson and a manager, to tag team the deal. So bring along someone who's got your back -- say, a friend or relative who knows cars.
It rarely helps to be confrontational during negotiations. "If your negotiation is numbers-based, not personality-based, dealers are going to respond to the numbers," says Philip Reed, senior consumer advice editor for Edmunds.com.
Haggling just not your thing? Try a car-buying service, such as CarBargains or TrueCar(formerly known as Zag).
3/10
3: Don't Let Your Trade-in Go for a Song
If you choose to get rid of your old ride by trading it in at the dealer, you have to keep track of two transactions at once. Dealers often try to lower the price of the trade-in if they've given up any ground on the new-car price.
Used cars -- particularly smaller, fuel-efficient ones -- are in short supply these days, so you're in a great position to get a prime price.
Bill Adkins, academy instructor at NADA (National Automobile Dealers Association) University, suggests selling your old car yourself and using the money for a down payment, rather than trading it in at the lot. But even if you don't want that hassle, consider getting a couple of quotes before you go to the dealer. Check used-car prices on AutoTrader.com, and stop by CarMax to gauge the market
4/10
4: Figure Out Your Financing First
First of all, never take the bait if a salesman asks you what your target monthly payment is. There are many ways that dealers can lower the monthly payment -- extending the loan term, for example, or switching to a lease -- but that will cost you more over the long haul. Don't go there. Keep the discussions focused on the total price.
That said, do some work in advance to determine how you're going to pay for the car. The dealer has access to manufacturer financing and may be able to offer you rates that are quite low -- if you have an excellent credit score. But, first, line up backup financing at your bank or, even better, your credit union. You'll be in the driver's seat during negotiations.
5/10
5. Rebate vs. Loan Rate: Know the Tradeoffs
As a rule of thumb, the rebate is a better choice if you plan to trade in the car within three years (and retire your auto loan).
For loans longer than three years, it's often better to take the lowest rate to reduce your overall interest charges. But it also depends on the size of the rebate and rate on the loan. Before you decide, try this calculator to run the numbers.
6/10
6. Ask for Discounts
Be sure to ask for a "loyalty" discount if you're buying a vehicle that's the same brand as your last. If you're new to the brand, ask for the "conquest" discount.
Both of these come from the manufacturer and range from $500 to $2,000. This money goes straight into the dealer's pocket if you don't ask for it.
And don't be fooled when the salesperson steps into another room to "get my manager's approval" for the price you've offered and comes back saying "we can't do it." Stay firm on a fair price and be ready to walk out the door.
7/10
7. Avoid Extras You Can Get for Less Elsewhere
Dealers make a lot of money in what they call the financing and insurance (F&I) office -- which sells high-profit-margin extras. These are often pitched by a comely salesperson who notes how little each would add to your monthly payment, distracting you from the actual price of the item.
Not everything you'll be offered as a dealer-installed accessory is a bad deal, but be wary.
If you think you're going to want aftermarket accessories such as mud flaps, cargo protectors, roof racks and the like, do some research ahead of time into what those items would cost if you bought them elsewhere.
Unlike manufacturer-installed options, these can be added later, so don't feel you have to bite to close the deal.
8/10
8. Avoid Extras You Don't Need
To some pitches from the friendly F&I folks, you'll just want to say "no thanks." These include:
-- Rust-proofing and undercoating. Cars these days are much more rust-resistant than they used to be (and carry warranties for it), so this isn't worth your money. Likewise, undercoating -- a layer of asphalt sprayed all over the bottom of your car -- is largely outmoded.
We could consider an exception if you live in, say, Buffalo, but in that case, check the aftermarket for a price comparison.
-- Paint sealant. Sold under a variety of brand names, these coatings (known as "mop and glow" to the dealer crowd) promise to repel everything from acid rain to tar spots and usually go for several hundred dollars.
There's nothing wrong with the products themselves; they work just fine. But you could apply a good-quality sealant yourself for about $20, or have an auto body shop do it.
-- Fabric sealant. Same story as the paint sealant.
9/10
9. Don't Pay Unnecessary Fees
The last time you bought new shoes, did the salesperson charge you to ring them up? To pull the crumpled paper out of the toe? No?
So what are all those preparation fees, floor plan fees, advertising fees, administrative fees, fees only referred to by acronym, etc., on your dealer paperwork?
Ask to see the factory invoice sheet. If the fees are not listed on there (meaning they come directly from the manufacturer), refuse to buy the car unless they remove the charge.
One you may not prevail with is the "documentation fee" -- or the cost of processing the paperwork, including interactions with your motor vehicles department.
Some states regulate this fee; others don't. Find out whether your state does on your Department of Motor Vehicles' Web site. If so, make sure the dealer's fee conforms to state regulation. If not, find out what other dealers in your area are charging and negotiate.
10/10