Buying a Burial Plot Is a Grave Decision
Thinking about buying a burial plot can be uncomfortable but making this purchase ahead of time has its advantages, including potentially saving you money.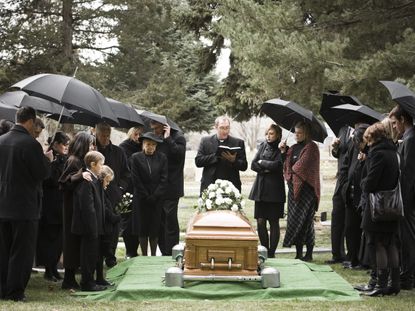 (Image credit: Getty Images)
Grave plots are not the type of real estate anyone wants to check out, much less purchase before they're needed. But buying a plot ahead of time has its advantages. For one thing, the price is unlikely to fall the longer you wait, and for another, it's hard to think clearly about these things when they're most needed, right after you've lost someone you love, or your loved ones have lost you.
When you buy a grave plot, you are purchasing the right to designate who can be buried there, rather than the land itself, which remains the cemetery's property. Your ability to sell or transfer the grave will depend on the cemetery, so before buying a plot, be sure to ask about those rules. You don't want to be saddled with a plot you can't unload if you later decide you want to be buried somewhere else.
You also don't want to spend more than necessary, and prices of burial plots vary considerably. Plots at corporate-owned and religious cemeteries tend to be more expensive while municipal cemeteries are often the cheapest, says Joshua Slocum, executive director of communications for the Funeral Consumers Alliance. Plots generally cost more where land values are higher. The FCA estimates that a rural grave, plus interment, can cost as little as $800, while an urban grave or mausoleum space can run $5,000 to $10,000.
Subscribe to Kiplinger's Personal Finance
Be a smarter, better informed investor.
Save up to 74%
Sign up for Kiplinger's Free E-Newsletters
Profit and prosper with the best of expert advice on investing, taxes, retirement, personal finance and more - straight to your e-mail.
Profit and prosper with the best of expert advice - straight to your e-mail.
If you're a veteran, you may be eligible for special burial benefits through the Veterans Administration. Along with a spouse and any unmarried children, a veteran who resides in one of 42 states with a national cemetery may be entitled to a free burial there. Some state veteran cemeteries may offer similar burial benefits.
Most cemeteries are regulated by the state, but the FCA says oversight is often lax. "It's definitely a buyer beware situation," says Slocum. Depending on the type of cemetery, prices aren't always transparent. In Virginia, for example, state-regulated for-profit cemeteries must provide consumers with a general price list. Religious, family-owned and municipal cemeteries are often exempt from state regulation.
Prepaid plots typically include perpetual care of the grave, but not the cost of opening and closing it, nor the burial vault or liner. Cemeteries often require a vault or liner to protect the grave surface from collapsing. Burial vaults, typically made of concrete or fiberglass, are sturdier but more expensive, costing $1,000 to $2,000. A cheaper option, if allowed, is a grave liner, which costs $500 to $600 on average.
Make sure your family knows which costs aren't included. "People are psychologically primed to think everything will be taken care of," Slocum says. A shock for many families is getting two bills later on, one from the funeral home and another from the cemetery, which the family thought was already paid for.
Couples who want to be buried alongside each other have reason to buy more than one plot, but family plots are a waning idea. Plus, parents who buy extra plots will need to specify in writing who they are meant for. "It's a really important thing to do in the will," says Poul LeMasters, general counsel for the International Cemetery, Cremation and Funeral Association. "Most cemeteries don't allow automatic transfers." Family plots may also go unused. Kids often move away and may prefer to be buried elsewhere, or not at all in the case of cremation.
Space for urns is "a huge thing to think about ahead of time," says LeMasters. A common scenario is keeping a relative's ashes in an urn on a mantel, but eventually, "families want to do something else with them," he says. "I see a lot of families struggling with it."
Some solutions include a niche in a columbarium, a small grave for one urn, or a full-size grave for multiple urns. Some cemeteries even have an urn garden. Although an urn plot can be half the price of a burial plot, you will still incur costs for opening and closing it (approximately $500 to $1,000).