The Odds Say Long-Term Care May Be in Your Future: Are You Prepared?
There are options other than long-term care insurance, so it's a good idea to examine your options sooner rather than later.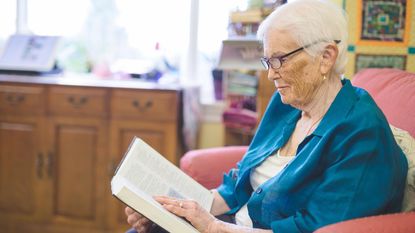 (Image credit: Getty Images)
Someday, as your body, your mind or both begin to fail you, you could require some form of long-term care, whether that means a home health aide, an assisted living facility or a nursing home.
Yet, understanding the problem is not the same as preparing for it. Too often, people set aside thoughts about long-term care and aging's potentially debilitating effects. They figure they will make plans for how to address it some other day, but that day always gets shoved further into the future.
The reticence is understandable. Even some financial professionals are not that fond of talking about long-term care, because they know it is an expensive proposition that can affect someone's retirement nest egg. They skim over it quickly or don't address it at all.
Subscribe to Kiplinger's Personal Finance
Be a smarter, better informed investor.
Save up to 74%
Sign up for Kiplinger's Free E-Newsletters
Profit and prosper with the best of expert advice on investing, taxes, retirement, personal finance and more - straight to your e-mail.
Profit and prosper with the best of expert advice - straight to your e-mail.
You should neither skim over the subject nor continue to procrastinate because as you age, the odds can increasingly be against you. About 70% of Americans who reach age 65 will require long-term care at some point in their lives, according to 3in4 Need More (opens in new tab), a national awareness campaign that dedicates itself to educating people about long-term care.
So, what should you do to prepare? Here are a few suggestions to get you started:
Look at the risk exposure in your portfolio
One of the first and simplest things you can do to prepare yourself to handle long-term care costs is to review your investment strategy and assess your risk exposure. As you approach retirement, you should consider moving a portion of your portfolio into less-risky investment options. You don't want to be flattened by a sudden market drop right at the same time you are facing health issues that could drain your savings.
Check out alternatives to traditional long-term care insurance
One of the downsides of traditional long-term care insurance is that, if you never use it, your beneficiaries get nothing when you die. Instead, you could consider some of these possibilities:
There are asset-based life insurance products that allow you to put money aside for long-term care. Some products may double or triple the monies that are used to fund the policy, and if you don't need the money for care, your premium is paid to your heirs.
Another example: These days many people are converting their traditional IRAs into a Roth IRA because of the potential tax savings involved. You can also convert an IRA into an indexed life insurance policy that has long-term care benefits attached. That allows you to access the benefit while you are still living, if you are diagnosed with a chronic illness and in need of long-term care. If you never use the chronic illness rider, your heirs receive the life insurance benefit tax-free.
Similarly, some annuity products have long-term care benefits that can be added as a rider. Once again, if you need the benefit, you can access it immediately. If you never need it, you can leave it to your heirs.
Be aware of resources in your community
Look around and you may find free resources in your community that can help with long-term care needs. In my home county in Florida, for example, our firm supports a not-for-profit group, Transitions of Marion County (opens in new tab). They provide assistance to people with serious illnesses, such as Alzheimer's and dementia, by helping them stay in their homes. Military veterans should also find out what services are available through the VA.
The cost of long-term care can seem so overwhelming that it is tempting to continue to ignore the problem and leave everything to fate. That is no solution. You need to plan as best you can with what you have, and if you are worried about going it alone, seek out a financial professional who can help you consider all the options.
Create a written plan that lays out how you want things handled, what assets you have set aside to pay for long-term care, and what community resources are available to help you out. If that plan ever needs to be put into action, it can help both you and your family feel more confident as you navigate a difficult time together.
Ronnie Blair contributed to this article.
Pinnacle Retirement Advisors LLC is an independent financial services firm that utilizes a variety of investment and insurance products. Investment advisory services offered only by duly registered individuals through AE Wealth Management LLC (AEWM). AEWM and Pinnacle Retirement Advisors are not affiliated companies. All investments are subject to risk, including the potential loss of principal. No investment strategy can guarantee a profit or protect against loss in periods of declining values. Any references to guarantees or lifetime income generally refer to fixed insurance products, never securities or investment products. Insurance and annuity product guarantees are backed by the financial strength and claims-paying ability of the issuing insurance company. Neither the firm nor its agents or representatives may give tax or legal advice. Individuals should consult with a qualified professional for guidance before making any purchasing decisions. Pinnacle Retirement Advisors is not affiliated with the U.S. government or any governmental agency. 850036 - 05/21
The appearances in Kiplinger were obtained through a PR program. The columnist received assistance from a public relations firm in preparing this piece for submission to Kiplinger.com. Kiplinger was not compensated in any way.
This article was written by and presents the views of our contributing adviser, not the Kiplinger editorial staff. You can check adviser records with the SEC or with FINRA.
Co-Founder, Pinnacle Retirement Advisors
Gary W. Crawford, co-founder of Pinnacle Retirement Advisors, is a dually licensed investment adviser representative. He is certified in long-term care (CLTC) and has been a vital resource for aging clients and families looking for long-term care resources in the community. Crawford and his team believe that retirement is a journey; you should have a written plan on how you will handle extended health care costs as you age.