Start the Elder Care Conversation
Many people don't have a plan set where an elderly parent will go. Do you?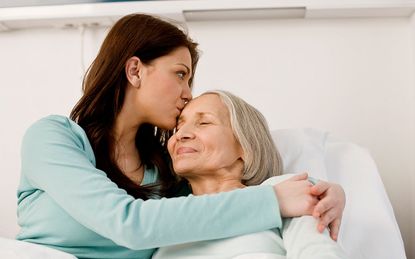 (Image credit: Thinkstock)
Judging from the e-mails I receive, it's reasonable to assume that a fair number of retired Kiplinger's readers are involved in the physical and/or financial care of a spouse, parent or other family member. And it also appears likely that many of them didn't factor the caretaker role into their planning.
Reader Ira Worden writes that after his father became mentally incompetent, he took over his father's duties as trustee of a family trust and managed his mother's finances. "But my father had been faking being okay for a while, which I learned after I managed to figure things out," says Worden. "This was not an easy or planned handoff!"
When preparing for retirement, "we make decisions about pursuing a hobby or moving to a new place, but we rarely make decisions about elder care," says Suzanne Asaff Blankenship, author of How to Take Care of Old People Without Losing Your Marbles.
Subscribe to Kiplinger's Personal Finance
Be a smarter, better informed investor.
Save up to 74%
Sign up for Kiplinger's Free E-Newsletters
Profit and prosper with the best of expert advice on investing, taxes, retirement, personal finance and more - straight to your e-mail.
Profit and prosper with the best of expert advice - straight to your e-mail.
If you're a caregiver, or you are concerned that you may become a caregiver in the future or that you may someday need care yourself, it's critical that you broach the topic with your parents or your adult children. Yet when it comes to talking about a parent's future wishes, the communication gap between parents and their adult kids is stunning.
Research by Fidelity Investments found that while 72% of parents expect one of their children to assume long-term caregiving responsibilities if necessary, 40% of the kids cited as filling this role weren't aware of that. Similarly, nearly 70% of parents expect one of their children to help manage their investments and retirement finances, but 36% of the kids involved didn't know that.
Furthermore, one-third of families disagreed as to whether children knew where to find important family documents, such as wills, powers of attorney and health care proxies. And 43% of parents indicated they have not had detailed conversations with family members about long-term care and elder care—and an additional 23% have not had any conversations at all.
A Family Affair
Ira Worden and his wife have no children, but to avoid the kind of confusion he faced after his father's death, they hold an annual family meeting that includes grown nieces and nephews. "We discuss anything and everything, including financial and health topics," he says.
"In some families, being up front is worthwhile," says Blankenship. In a survey by The Conversation Project, 95% of respondents said they are willing or want to talk about end-of-life wishes; 53% said they'd be relieved if a loved one started a conversation.
For families who require a more subtle approach, asking questions can break the ice. "If you're the adult child, you could ask, 'How do you think you've been doing with X?' or 'How would you feel about Y?' " says Meredith Stoddard, vice president for life events planning at Fidelity (for more conversation starters, see www.fidelity.com/caregiving). Everyone gets a voice in the discussion, but parents should get the last word as long as they're able, says Stoddard.
One key part of the conversation is to make sure all siblings and adult children play a role in elder care. A study by Northwestern Mutual found that the responsibility for caregiving most likely falls on the shoulders of one sibling, rather than being shared among all the children. "This is not a solo affair," says Blankenship. "Nobody gets a get-out-of- jail-free card." If one child is handling Mom or Dad's personal care, others can be taking care of home maintenance, ordering medications online, handling the bills and paperwork, or giving the primary caregiver a much-needed respite.
As you start the conversation, keep expectations low, advises Stoddard. "Overthinking can be your enemy, and you can always come back later."

Janet Bodnar is editor-at-large of Kiplinger's Personal Finance, a position she assumed after retiring as editor of the magazine after eight years at the helm. She is a nationally recognized expert on the subjects of women and money, children's and family finances, and financial literacy. She is the author of two books, Money Smart Women and Raising Money Smart Kids. As editor-at-large, she writes two popular columns for Kiplinger, "Money Smart Women" and "Living in Retirement." Bodnar is a graduate of St. Bonaventure University and is a member of its Board of Trustees. She received her master's degree from Columbia University, where she was also a Knight-Bagehot Fellow in Business and Economics Journalism.