The Stresses of Being a Caregiver
One study shows that caregiving takes a greater toll on retirees' mental health than on their finances.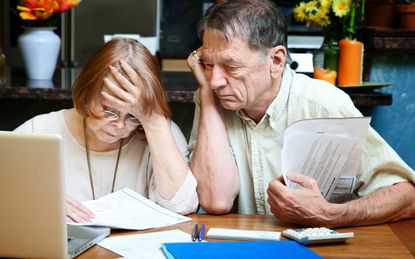 (Image credit: Getty Images)
Readers of this column send me dozens of e-mails describing the inspiring things they are doing in retirement. Some of the most inspiring—and sobering—come from those of you who are acting as caregivers for a spouse, parent or other family member. "Both of my parents have had medical issues," writes Edwin Diaz. "My father passed away during the pandemic, and my mother had to be taken care of. So although my wife and I are comfortable in retirement, this situation can alter plans completely."
After she retired, Wendy Weill "had the time to help my mom move to assisted living, clear out her home and put it on the market," says Weill. "This allowed me to spend time with her that I would never have had the opportunity to do."
"When my wife and I picked our retirement date, we were prepared both emotionally and financially," writes Joe M. Then his wife was diagnosed with a debilitating disease. "I am not sure I was ready to be a caregiver 24/7, but I learned a lot," he says. The biggest obstacles: "the loneliness and inability to do things we had planned."
Subscribe to Kiplinger's Personal Finance
Be a smarter, better informed investor.
Save up to 74%
Sign up for Kiplinger's Free E-Newsletters
Profit and prosper with the best of expert advice on investing, taxes, retirement, personal finance and more - straight to your e-mail.
Profit and prosper with the best of expert advice - straight to your e-mail.
Mental stress. In its American Caregivers study, Fidelity Investments found that caregiving takes a greater toll on the mental health of retirees than on their financial health. And 41% of retiree caregivers said there isn't enough time to focus on their own responsibilities and mental health. "People who aren't in this situation don't understand how stressful it can be," says Meredith Stoddard, vice president for life events planning at Fidelity.
"Often you don't know where to get help, and you don't have the time to ask," says Suzanne Asaff Blankenship, author of How to Take Care of Old People Without Losing Your Marbles.
Start with websites such as www.aarp.org/caregiving or the association that targets the illness you're dealing with, such as the Alzheimer's Association (www.alz.org). Or you can hire a geriatric care manager, especially if your family member doesn't live nearby. Blankenship also recommends looking for legal, financial and health professionals who are accredited as certified senior advisers. Reader Kathy Kemper says that "hiring an elder-care-certified lawyer was the best move we made" when she and her sisters moved their mother to assisted living. And don't neglect resources closer to home through elder-care agencies, churches and senior centers.
To plan for an emergency, Blan­kenship recommends putting all of the critical information for your loved one—medications, insurance, power of attorney, phone numbers for contacts—into a plastic storage bag and attaching it to your fridge, where family members or medical personnel can find it easily.
And don't neglect your own mental health. Take advantage of adult day programs if you need time on your own to run errands or just take a breath.
Reader Lynne Derry recently returned from a long weekend at a wedding, the first time in four years she had left her mother for that long. "I had a caregiver stay overnight, and my neighbors checked in a couple of times a day," she says. "Mom survived, and the caregiver expense was a small price to pay for some temporary sanity."
Above all, says Blankenship, "Set aside any guilt about taking care of yourself. Aim to do a good job of caregiving, not a perfect one."

Janet Bodnar is editor-at-large of Kiplinger's Personal Finance, a position she assumed after retiring as editor of the magazine after eight years at the helm. She is a nationally recognized expert on the subjects of women and money, children's and family finances, and financial literacy. She is the author of two books, Money Smart Women and Raising Money Smart Kids. As editor-at-large, she writes two popular columns for Kiplinger, "Money Smart Women" and "Living in Retirement." Bodnar is a graduate of St. Bonaventure University and is a member of its Board of Trustees. She received her master's degree from Columbia University, where she was also a Knight-Bagehot Fellow in Business and Economics Journalism.