PODCAST: Estate-Planning Your Stuff with T. Eric Reich
What to do with the house, the vacation house and the china? We talk with a financial adviser who's got some wise counsel. Also, who makes up the so-called Generation I?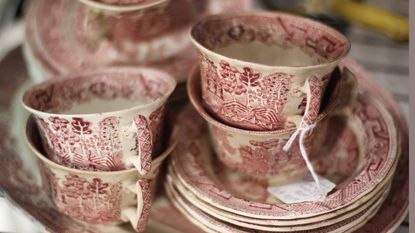 (Image credit: Getty Images)
Listen now:
Subscribe FREE wherever you listen:
Links mentioned in this episode:
Transcript
David Muhlbaum: When it comes to estate planning, money is usually front of mind. Makes sense, that's where decisions about wills, trusts and more can realize real tax savings. But it's stuff, tangible things like houses, china and collectibles that often generate drama and conflict. We talk with a financial advisor who's touched a nerve on this front. Also, meet Generation I. All coming up in this episode of your money's worth—stick around.
Subscribe to Kiplinger's Personal Finance
Be a smarter, better informed investor.
Save up to 74%
Sign up for Kiplinger's Free E-Newsletters
Profit and prosper with the best of expert advice on investing, taxes, retirement, personal finance and more - straight to your e-mail.
Profit and prosper with the best of expert advice - straight to your e-mail.
David Muhlbaum: Welcome to Your Money's Worth, I'm kiplinger.com senior editor David Muhlbaum, joined by my co-host, senior editor Sandy Block. How are you doing Sandy?
Sandy Block: I'm doing good.
David Muhlbaum: Well, good. Short of talking politics, there's probably no quicker way to generate angry feedback than waging intergenerational battles.
Sandy Block: But you're going to do it anyway?
David Muhlbaum: Sort of? I say that in part because while the study I'm going to discuss sounded like it was going to be kids versus the olds, it turns out there's more nuance than that. Anyway, I'm going to talk about Generation I, which isn't really even a generation but rather a handy little term that the Charles Schwab Investment firm cooked up for new investors. By that they mean people who are new to stock market investing.
Sandy Block: And those folks have been the source of some of the market drama we've seen this year like the GameStop bubble we talked about earlier this year.
David Muhlbaum: Yes, yes. There is overlap between the whole meme stocks crowd and Generation I. I stands for investor but since it's a new term, let's start with the definition. What Charles Schwab means by Generation Investor, Generation I, is people who started stock market investing in 2020—not before. So it doesn't matter what your actual age is. There are Generation I members who are Boomers, Gen X, Millennials. Obviously, the group skews younger than investors broadly, but what's striking is that Generation I, according to Schwab, accounts for 15% of all U.S. stock market investors.
Sandy Block: By population, not by dollars invested.
David Muhlbaum: Yes, by population. They don't have a figure for a Generation I's sum assets but I see what you're getting at. And yes, Gen I earns about $20,000 less in annual income, at $76,000 a year, than those who began investing before 2020. And here's another interesting number, half of Generation I says they live paycheck to paycheck.
Sandy Block: Okay. That sounds worrisome.
David Muhlbaum: Yeah, but here's the thing. Some of the so-called Generation I are people who downloaded Robinhood and are watching a handful of stocks for big moves, short term trading. And if they're doing that while missing payments on their car note, okay, that's bad. But at least according to the study, they say they're learning that investing is more about longer-term gains versus shorter-term wins. About learning to do research, diversification, capital market gains, taxes, risk tolerance, all that—the knowledge if you will.
Sandy Block: I'm hearing echoes of what Kyle Woodley was talking about when he joined us for the GameStop discussion about how it's possible for people who came in for this excitement might be convinced to stay around for the long term, grow your wealth, not double your money, kids.
David Muhlbaum: Yeah, I totally agree. However, the big factor here is that the sum of Generation I's market experience is this strong bull market. Will they stick around when things go south, which someday, sometime we'll have a bear market. Markets go up, markets go down.
Sandy Block: That's right, and I'm constantly reminded what our editor Anne Smith reminds us all the time, is that we've been here before, maybe not at these numbers. But in the 90s, when tech stocks were taking off, all kinds of people got in the market for the first time. And while you couldn't make trades for nothing on an app, it was cheaper to buy and sell stocks than it had been in the past. And a lot of these people piled in because they had heard that tech stocks would never go down and they didn't think they would ever lose money and they learned the hard way that they could.
David Muhlbaum: When we return for our main segment, we'll talk with a financial advisor with some insights about the estate planning for stuff. Not just the money, the stuff.
David Muhlbaum: Welcome back to Your Money's Worth. Joining us today is T. Eric Reich, the president and founder of Reich Asset Management in Southern New Jersey. Eric has a whole slew of professional certification acronyms after his name, including CFP. And the way we found him is that he's a contributor to Kiplinger's Wealth Creation Channel. That is an area of our website that has content from a range of financial professionals, CFPs, CPAs, tax lawyers and more. They're qualified and they're good writers. Plus, since they're dealing directly with clients, I'd venture to say that they often have a closer sense of what personal finance guidance people actually need than personal finance writers. So Eric wrote a piece for us called, Time to Face Reality, Your Kids Don't Want Your Stuff. And well, it was a hit. Welcome, Eric. We will get into what stuff and why, but since we've brought up how you professionals get to hear it directly from the clients, why don't you tell us a little bit about the reaction you've been getting? Because, I understand from your assistant that you've gotten a lot of feedback.
T. Eric Reich: We have. We got probably a few dozen emails across the country from different readers of Kiplinger's that saw it and then of course our own clients, of course, were calling us. They were writing or calling and letting us know their thoughts on it. And it's funny, I wrote it because it's such a recurring theme with a lot of people. They're always convinced that people want all of your stuff and they just don't. So I wanted to touch on why, but I knew it was going to get a strong reaction because I hear the same thing all the time from people. So if I hear locally on the ground, then I'm sure to a bigger audience, we were going to even get more opinion on that.
Sandy Block: Well, Eric, I immediately latched onto your piece because I am in the process of... My father passed away a couple of months ago and I'm in the process of distributing and cleaning out his house and it's a mammoth job. So many of the things that you talked about really resonated with me. Obviously, we're going to link to your piece so that people can follow up and read it in its entirety but we're going to hit on some highlights and my question is, what's the number one item people planning their estate think their kids want but the kids don't actually want?
T. Eric Reich: By far the biggest one is the house. And it's not that the kids don't want the house, it's that logistically it just doesn't work. My example: I have three children, I have a nice house and I have three young kids. Let's say my kids were in their twenties and something happened to me. My kids might want the house, but how's that going to work? None of them can afford it because they're just starting out in their careers. There's three of them, they're certainly not going to share it. And then one of them invariably wants to buy it, but they think they're entitled to a discount because they're my kid. But then the other two would be offended if they got a discount because they're my kids, so why should they get shortchanged in favor of another one? So everybody thinks that their kids want the house, but the reality is most often that the biggest misconception is that your kids just really don't want your house.
Sandy Block: So a follow-up question, Eric, if you aren't going to leave the kids your house, how should you plan your estate so that doesn't happen?
T. Eric Reich: So if you're not going to leave the house to the kids, I mean, you can leave it to them, but you can reference in there, "Hey, these are the parameters in which someone's going to keep it." So if you want to keep it, it has to be appraised by two different independent people or three different and you take the average of the three it's bought at fair market value. You have to specify the rules to which someone can keep it because if not, that's where all the fights start, is the more ambiguity you leave in it the bigger the fight. So all of those things should be spelled out ahead of time. If you want it to be sold, say you want it to be sold. If somebody wants to keep it, fine, but here are the rules under which someone gets to keep it.
David Muhlbaum: What about setting up a trust? Couldn't that help establish the rules you're talking about?
T. Eric Reich: It can, I mean, I think a trust in general can help with a lot of things. Again, this is for an estate planning attorney more but to me, I like using trusts in general. Simply because it's a way to control things and I hate to use this phrase, control from the grave, but that's exactly what it is. And sometimes that comes off as sounding like a control freak or overbearing, but sometimes it's for, honestly, just the protection of the beneficiaries themselves. If one's a spendthrift, if one's in a bad marriage, if one has a lot of creditors, you could be doing them a disservice by giving it to them outright instead of via trust.
Sandy Block: So, Eric, isn't the other advantage of putting your house and other items in a trust that it keeps it out of probate?
T. Eric Reich: It keeps it out of probate and the biggest part of that too, is, that's public record. I mean, I remember when a client had a family member pass away, they got a phone call a few months later from a guy wanting to buy the antique car that they just inherited. To which their response was, "Wait, who are you again?" Well, here they looked up in public records that one of the assets was this old antique Chevy and the guy wanted to buy it off him. And I always say, you see it in real life, you know,. Princess Diana's will was published in a magazine. Whereas I always say, "Well, what about, Frank Sinatra?" And they go, "Well, I never heard anything about that." Exactly, because everything was in a trust. So privacy is a big component of that as well. So avoiding probate and also what goes along with that is the privacy factor.
David Muhlbaum: The main family house is one thing but a vacation house can be even more emotionally loaded, no? I imagine someone working on their will thinking, wouldn't be great for everyone to get together at the lake house every summer, roast marshmallows and remember grandma and grandpa for having found this place. And actually the kids are like, "Eh, we like going to Europe."
T. Eric Reich: You're absolutely right. It's definitely bigger for the creator of the estate. It's not that the beneficiaries don't love the idea of the vacation home and everything else. The problem is, and again, I always go back to my example, I have three kids. Who gets to use it when? It's only fit to be used in the summer months. I live at the Jersey shore, so, super-popular here June through the end of August. So, who gets to use it during that time period and what weeks and what holidays? And as I get older and my kids get older, their kids get older,
If one family has five kids and the other has one, are they getting more usage out of it? How are the expenses being paid? Is everyone sharing in that equally? So it really starts to create a problem. One of the ways around that maybe is that if that were in a trust, then I could also put money into that trust for the maintenance of the house, to pay the taxes, it's going to pay everything it needs at least for the next decade. And then after 10 years, you guys have to come up with a solution based on x, y, and z of how we should deal with it going forward.
Sandy Block: Yeah. Eric, my experience with people who have inherited vacation homes, it sounds like a great idea at the time but very often they/ve moved and live many, many miles away. They don't live near the Jersey Shore, they live in California, so it becomes a huge hassle. And I think that's something probably you mentioned that people also need to think about, how close are your heirs to the actual vacation home that they could use it.
T. Eric Reich: Yeah, we actually just had a situation not too long ago. We had someone who owned a house on the beach, a very valuable house. They were kind of house poor; they had a phenomenal house, but not tons of money other than that. But the client really wanted to preserve that asset for a grandchild, the only grandchild, who lived hours and hours away. And I actually suggested, we call the grandchild and ask point blank, "Do you want this house?" The client was floored, like, "Well, of course they want the house, who doesn't want a house on the beach in Ocean City in New Jersey." Well, we called and it turned out the kid said, "That's wonderful but I'm in my 20s, I work 80 hours a week. It's three and a half hours away. I will absolutely never use that house. I'd much rather you sold it and got to use the money and enjoyed it. And if there's something left over, wonderful, leave it to me but otherwise, I really don't care."
David Muhlbaum: Well, sounds like conversations really come down to the core of doing estate planning, especially around stuff. But those could be pretty fraught conversations. It sounds like this one went okay, but I assume they don't always.
T. Eric Reich: Well, yeah, that's true. I mean, the reason we had to make that phone call was because they were adamant that, of course, they would want this. Who wouldn't want it? And the reality is there's a lot of people that wouldn't want it. The beauty of that is in the eye of the beholder, not so much somebody on the other end, but these are real world scenarios that people have to deal with. And of course the house being the biggest, but it's not always just the house.
Sandy Block: Now that leads me to my next question, Eric, because you also talk in the slideshow about your stuff, your collectibles. They may have great sentimental value to you but maybe not to your children. Should you start getting rid of them while you're still around?
T. Eric Reich: We do suggest that sometimes or at least explore it. Or, if not, educate the children on the value of it. A lot of times what we'll see is someone has a collection of stuff, whatever it might be, the owner, of course, knows how valuable it is. They've been collecting it for 20, 30, 40 years, but an heir doesn't necessarily have an idea of what that would be worth. And we ran into a scenario like that: We had someone that was going to basically just sell a bunch of stuff. And I think it was for like $1,000. And then we actually brought a specialist in to review it and turns out it was worth $45 to $50,000. So this poor guy was going to get ripped off because he didn't understand the value of what it was, and that's not uncommon at all.
Sandy Block: That's my Antiques Road Show nightmare, Eric, is that I will give something to Goodwill and be watching Antiques Road Show and it'll show up being worth $50,000 and I'll realize that I gave it away. So I think you're suggesting that you get that stuff valued and appraised while you're still around to help your kids is a really good one.
T. Eric Reich: If you're not a collector, you don't know. Either sell it and let it go ahead of time, or at least communicate that value—and an actual value, because sometimes we also think collectibles are worth a lot more than they really are. We think it's worth $50,000 and it's worth $1, that's more often the case. But nonetheless, an appraisal from an independent person will help.
David Muhlbaum: I'm glad you brought up the point about actual valuation, because my cats eat from some pretty fancy china bowls that someone thought had a lot more value than they did. And I think that sometimes these items that people have had for a long time or inherited from their predecessors, they really don't fetch that much today.
T. Eric Reich: No, because unfortunately some of the things and it's just a generational thing and I use china, actually as the example a lot of times. Because 50 years ago, 75 years ago, china was prized. I mean, for everybody, fine china was a real hallmark of things. Today, I probably have six or seven sets of fine china. Some of them apparently, extremely old, from great-great-great-grandmothers. But the reality is the generation today doesn't use it at all. If they do, they can't use five, six, seven sets of it. But the reality is that value from a long time ago doesn't necessarily translate today for those reasons. So a lot of times things you think are very valuable maybe aren't.
Sandy Block: Yeah. David Muhlbaum: and I have discussed this, and both of us are awash in china. And, I also have at least two sets of silver that again have been handed down from generations. As you said, young people—and this goes for even furniture—young people just don't use that stuff. So I guess, the best thing you can do is either get rid of it or have some instructions for what you'd like to have done with it.
T. Eric Reich: Yeah. And valuation is key for that as long as you have a good value placed on it and you have a sense of what it might be worth? My wife's family, they have a much, much larger family than I do. They'll go to everybody in the family, two and three removed and say, "Hey, does anybody want this piece?" Because it is a family piece. But if not, then what do they ultimately do with it? It sounds sad to have to part with it, if really nobody wants it, and you know you mentioned yourself and you're going through it personally, it's only adding to the problem, we'll call it, of settling an estate. And the less planning involved, the bigger the problem becomes.
David Muhlbaum: I imagine that in your line of work, Eric, you refer people out for valuations pretty often. How can our listeners get good qualified valuations for their stuff?
T. Eric Reich: So there are evaluation organizations. So you basically would want to find certified valuation type of people for that.
David Muhlbaum: Do they have acronyms like CFP?
T. Eric Reich: They probably do. I think I've seen one or two out there, definitely not an expert on it, but it is funny because from the article, I did have two different companies reach out to me and say, "Hey, this is what we do for a living. Feel free to pass our information along." So these companies are out there, they do understand what things are worth. I got lucky in the one example of the $1000 offer for $50,000 worth of stuff. I happened to know a person who had some expertise in that area. But we frequently do refer out to an appraiser, to an estate-planning attorney, to a CPA. And all of them can have pretty good contacts in that world as well.
Sandy Block: Eric, this wasn't in your slideshow, but you mentioned cars. Do you want to talk about cars?
T. Eric Reich: Cars are a big issue for a lot of people. My example: I have an old classic Corvette. I have a 1963 split-window coupe. So among the rarest of the rare. I have one of them and I have three kids. They all are convinced they're getting the, "Vette." Or the yellow car, as I like to call it, when I'm gone someday. Well, they can't all get it. They also probably have no idea what it's really worth. So for that reason just like the house or anything else, get a valuation. Get an appraisal of what is this thing really worth. And then again, if somebody wants to buy it at fair market value, that's fine.
T. Eric Reich: But if not, it has to be sold. So otherwise it's going to be unfair. Now, you can swap assets. You might say, if that car was worth $150,000, okay, well then if you're getting that, then you have to give up a $100,000 of something else. And so that 50 and 50 go to the other two siblings. That's fine you're welcome to do that but my trust would stipulate that. Would lay out the terms at which someone could buy something.
David Muhlbaum: Could people set up a corporation to manage it for them?
T. Eric Reich: They could, that's more of an estate lawyer question from that perspective. But you could, or you could probably do it all through a trust. It might just be too onerous to set up a corporation for that purpose. The logistics and maintenance of it might be a little too much.
David Muhlbaum: One interesting word you used in your article, Eric is "fun." It's a little surprising. Where's the fun?
T. Eric Reich: Well, that's just it, estate planning is never fun. Settling an estate is flat-out awful but the estate planning process and planning for your demise is never something that's fun. But If you don't deal with it, it is going to be a nightmare for the people behind you. So, why not deal with it today, when you're of sound mind and body, as the phrase goes, to make those decisions. And again, try to make it fun, try to involve the kids from day one. It's not like they're fighting over your stuff. If everything's out in the open and it's shared freely, you really can have fun with... You know, I have one kid who's clearly closest to my old Corvette than the other two.
T. Eric Reich: So the other two say, "We want it." But as soon as they leave the room, he says, "Well, of course you know I'm getting it." You can joke around with it that way but sometimes in those conversations, you will find that there are things of greater value to different family members. And it doesn't have to be monetary value, they just really want something special to them. And if that's what they really want, then maybe they get that and somebody else gets the car or the whatever, to be even.
David Muhlbaum: I see an opportunity for the younger generations to help here. As documentarians of a sort. They can take pictures, record, video, ask questions, discuss the things. What are the stories associated with the thing? And then you can decide, okay, we have a record of everything, now, these we're going to keep and these we're going to want to let go.
T. Eric Reich: That's a really good point. I mean, recording it that way. Someone had reached out to me after reading the article and said, what they did, was they took pictures and many, many pictures of all the different things that they had collection wise. Wrote about them and then sold them. So they still have the pictures, they still have the story, they still have the context and everything else. They just don't have the asset by itself, but they still have all the memories of it. They have the pictures, they have everything. So you did keep that meaning alive behind it, without actually worrying about who's going to maintain this asset.
Sandy Block: Eric, it sounds like bottom-line here, a lot of people might be very conscientious about having their beneficiary designations correct for all of their finances, but they really don't think about the solid items that they're going to leave behind. And I suspect this often comes with people—and this is the case in my situation—people who have been in the same home for many years. If you move into a retirement community, you are forced to downsize but a lot of people die in the homes that they lived in. And I can tell you from personal experience, that clean-out can be a real job, especially if you don't know what was the intention for some of these things.
T. Eric Reich: Yeah, it's really the case. You live in the same house, 40, 50, 60 years, you accumulate a lot of stuff. Some of that stuff probably is fairly valuable. And really it is key because, the longer you've been in that house, your reference point is also of that house, and you have special memories of things in that house, because you've been going even yourself to that same place all that time. And that's where a lot of that interest from heirs comes in, is there is a special piece or a special thing that reminds me of mom and dad or grandparents or whoever. And that sentimental value to that item is worth more than the financial value, and that's why that honest, open communication is really key. Have this conversation while you're alive and you're healthy. When you're in more advanced decline is where we see problems come in—or I promised that Corvette to all three kids at some point, because I forgot I promised it to the other two.
T. Eric Reich: Because I might be starting to slip a little bit or I've let things go or I let people take things out of the house over the years, things like that. So it really is important to not just focus on the, "yes, I've done estate planning, I set up a will or I set up a power of attorney." That's the bare minimum but even just writing out things like an ethical will, here's the things I want to happen. This is what I want to see you do with stuff. Or here's what I would love to see happen to the car, if you can't, fine, then do this. A lot of times heirs will try to honor those wishes, if you really put it down in paper. It's not something that would necessarily be part of a will. That's more just the direct transfer of the property but more what I would like to see happen with something.
David Muhlbaum: Write it down on paper, tell people what you want to happen, have honest open conversation, always good advice. And I think we've had a good conversation here today ourselves. Thank you so much for joining us, Eric. We're going to link up to your piece for people who want to dig a little bit deeper into what to do and not to do with your stuff. Thanks again.
T. Eric Reich: Thanks so much for having me.
David Muhlbaum: And that will just about do it for this episode of Your Money's Worth. If you like what you heard, please sign up for more at Apple Podcasts or wherever you get your content. When you do, please give us a rating and a review. If you've already subscribed, thanks. Please, go back and add a rating or a review if you haven't already, it matters. To see the links we've mentioned in our show, along with other great Kiplinger content on the topics we've discussed, go to kiplinger.com/podcast. The episodes, transcripts and links are all in there by date. And if you're still here, because you wanted to give us a piece of your mind, you can stay connected with us on Twitter, Facebook, Instagram or by emailing us directly at podcast@kiplinger.com. Thanks for listening.
Securities offered through Kestra Investment Services, LLC (Kestra IS), member FINRA/SIPC. Investment advisory services offered through Kestra Advisory Services, LLC (Kestra AS), an affiliate of Kestra IS. Reich Asset Management, LLC is not affiliated with Kestra IS or Kestra AS.
Subscribe FREE wherever you listen:

Senior Editor, Kiplinger's Personal Finance
Block joined Kiplinger in June 2012 from USA Today, where she was a reporter and personal finance columnist for more than 15 years. Prior to that, she worked for the Akron Beacon-Journal and Dow Jones Newswires. In 1993, she was a Knight-Bagehot fellow in economics and business journalism at the Columbia University Graduate School of Journalism. She has a BA in communications from Bethany College in Bethany, W.Va.