How Do I Stop Robocalls From Scamming Me?
The scammers have automated their efforts to separate you from your money. We have ways to make it stop.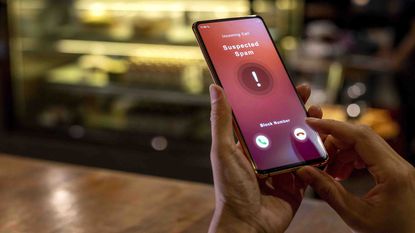 (Image credit: Getty Images)
Robocalls can be relentless: Is your car warranty about to expire? Can we make you a great offer to buy your house? Have you seen these irregularities with your Amazon account? Are you aware your utilities are about to be shut off?
In 2021 alone, phones in the U.S. were pummeled by more than 50 billion robocalls, according to YouMail, a robocall blocking and analysis company. That's more than 150 calls for every person in the country. In July, that number was 3.8 billion.
The result? Many of us just don't answer our phones unless we recognize the number.
Subscribe to Kiplinger's Personal Finance
Be a smarter, better informed investor.
Save up to 74%
Sign up for Kiplinger's Free E-Newsletters
Profit and prosper with the best of expert advice on investing, taxes, retirement, personal finance and more - straight to your e-mail.
Profit and prosper with the best of expert advice - straight to your e-mail.
The damage done can have serious consequences, intended and not. In addition to fraudulent marketing, ignoring unknown numbers could prove dangerous - take the hiker lost on a mountain in Colorado who was reported to have ignored repeated telephone calls from Lake County Search and Rescue because they didn't recognize the number. Consequently, the hiker didn't even know anyone was searching. It's a behavior common to most of us. A 2019 Consumer Reports survey found that 70% of Americans don't answer the phone if they don't recognize the number.
Are Robocalls Legal?
In general, unless a company has your written permission, it is against the law to contact you via robocall, especially if the caller is trying to sell something. There are some exceptions. According to the Federal Trade Commission, these types of robocalls are permitted by law:
Messages that are purely informational as long as the caller isn't also trying to sell you something.This includes calls about flight cancellations, for example, or reminding you about an appointment or letting you know about a delayed school opening.
Debt collection calls. A business contacting you to collect a debt can use robocalls to reach you. But robocalls that try to sell you services to lower your debt are illegal and are probably scams.
Political calls to landline phones, as long as they contain required identifying information.
Calls from some health care providers, such as from a pharmacy reminding you to refill a prescription.
Messages directly from charities. But if a charity hires someone to make robocalls on its behalf, unless you are a prior donor or member of the charity, the robocall is illegal. They also must include an automated option to let you stop future calls.
Efforts to Stop Robocall Scammers
To curb robocalls, the government has passed laws to hold phone carriers accountable, and created registries for people who don't want to be contacted. State prosecutors are also suing and prosecuting perpetrators, who still manage to scam enough people to make the endeavor lucrative enough to risk hefty fines.
"Our lives are plagued by robocalls like a swarm of flies," said Ohio Attorney General Dave Yost in July when his office sued participants in a scheme it said was responsible for making billions of calls, as many as 77 million a day. "It's time to get out the fly swatter."
The Federal Communications Commission Enforcement Bureau recently warned voice service providers that have apparently transmitted illegal robocalls on their networks to stop facilitating such efforts or the FCC would authorize network providers to block all their traffic,
The FCC last year fined telemarketers in Texas a record $225 million for making approximately 1 billion robocalls, many of them illegally spoofed to show false incoming numbers, to sell short-term, limited-duration health insurance plans. The FCC said the telemarketers falsely claimed to offer health insurance plans from well-known health insurance companies such as Blue Cross Blue Shield and Cigna.
Robocalls Keep Coming
Might these efforts be making a dent? Amy Nofziger, director of fraud victim support with AARP, said it's hard to tell. She said any government action to lessen the threat is welcome and helpful. But she added it's clear the robocall scams have not stopped.
"Criminals don't care about the law," she said. "They'll find a way to continue their practices to steal from people. Robocalls are cheap to the criminals; robocalls are effective to the criminals. They'll continue to find a way."
On a recent morning, for example, AARP heard from someone who had received a robocall claiming that his electricity was going to be turned off in 30 minutes. He called back and was told their system was down, and that he would have to use money transfer service Zelle to pay $450. He ended up sending $299.75 as a minimum payment.
That same morning, a woman contacted AARP to report receiving a large number of robocalls. One of the callers, she said, had all her information. It turned out, the caller, which claimed to be from Amazon and claimed that she had a charge on her account, already knew her Social Security number, and who she banks with as well as some contact information.
YouMail CEO Alex Quilici said the Ohio lawsuit may have had an effect. "It's too early to tell if overall robocall volume has been decreased by the Ohio AG action," Quilici said. "However, the volume of car warranty calls has dropped materially since that action." The calls coming from the operation that was the subject of the suit, he added, "have gone to zero." It's not clear yet whether "other calling campaigns that have been increasing will offset this," he added. "There are so many other robocall campaigns at scale going on all the time."
At the same time, spam texts are increasing, according to Robokiller, another company that analyzes and helps to block them. In July alone, there were more than 12 billion spam texts sent in the U.S., nearly 44 for each resident.
How Do Robocall Scams Work?
Let's look at the car warranty scams. In short, the scammers are looking to sell you non-existent or fairly useless car warranties that they lead you to believe are extensions of the original warranty on your vehicle. While few people take the bait, those who do typically don't realize they've been had until months or years later when they try to use their worthless warranties, Nofziger said.
The scammers may even know the make and model of your car, according to Nofziger, because this information is easily purchased. And while this is a notorious robocall scam, Nofziger noted this one is also committed using mail solicitation.
The lawsuit by the Ohio attorney general described a "complex robocall lead generation scheme designed to conceal both who is responsible for the generation of hundreds of millions of robocalls, as well as how money flows between defendants."
The lawsuit says the scammers disregarded consumers' enrollment in the National Do Not Call Registry, ignored requests to stop calling and regularly changed their caller ID numbers to evade call blocking efforts.
Among the phone numbers the robocallers spoofed were some assigned to a federal court in Ohio. The lawsuit says they also engaged in "neighbor spoofing," a way to increase the odds that a call will be answered by using caller ID numbers with the same area code or similar three-digit exchange of the people being called.
The lawsuit says the operation provided leads to marketers of vehicle service contracts that were deceptively marketed as car warranties. The marketers of the vehicle service contracts paid millions to the companies that generated the leads through relentless robocalls.
How to Avoid Robocalls
Quilici offered the following advice:
Get a robocall blocking app on your cell phone. This will filter a lot of the bad guy calls so you don't have to worry about them.
Let calls from unknown numbers roll to voicemail.
Do your homework before calling a number back – generally, if they claim to be a bank, say, go to the bank's website and call the number there, and do not just call back the number that called you.
Finally, if you do answer, never give out personal information and hang up if asked for it.
You can also forward suspicious text messages to 7726 (or SPAM). This free text exchange with your wireless provider will report the number, and you will receive a response thanking you for reporting it.
In addition, the FCC offers the following advice:
Don't answer calls from unknown numbers. If you answer, hang up immediately.
Be aware: Caller ID showing a local number does not necessarily mean it is a local caller.
If you answer the phone and you are asked to hit a button to stop getting the calls, hang up. Scammers often use this trick to identify potential targets.
Do not respond to any questions, especially those that can be answered with "Yes."
Never give out personal information such as account numbers, Social Security numbers, mother's maiden name, passwords or other identifying information in response to unexpected calls or if you are at all suspicious.
If you get an inquiry from someone who says they represent a company or a government agency, hang up and call the phone number on your account statement, in the phone book, or on the company's or government agency's website to verify the authenticity of the request. You will usually get a written statement in the mail before you get a phone call from a legitimate source, particularly if the caller is asking for a payment.
Be wary of pressure for information immediately.
If you have a voicemail account, be sure to set a password for it. Some voicemail services are preset to allow access if you call in from your own phone number. A hacker could spoof your home phone number and gain access to your voicemail if you do not set a password.
If you use robocall-blocking technology, tell that company which numbers are producing unwanted calls so they can block those calls for you and others.
To block telemarketing calls, register your number on the Do Not Call List. Legitimate telemarketers consult the list to avoid calling both landline and wireless phone numbers on the list.
The FCC has extensive information on stopping robocalls through apps and other measures offered by carriers, phone makers and third parties.
The agency says to contact your phone company about the solutions they may offer to unwanted and illegal calls. Your cell phone may also have built-in features in its settings that block unwanted calls from specific numbers.
Links to Call Blocking Tools
Here are links offered by the FCC to some of the call blocking and labeling tools available:
Wireless/Mobile Options
Landline/Wireline/VoIP
Third-Party Analytics Resources
Wireless Device Solutions
Apple iPhones have an opt-in "Silence Unknown Callers" call-screening and blocking feature.
Google Pixel phones have a "Call Screen" call-screening and blocking feature; Google offers several free, opt-in, call-blocking tool apps for Android phones; and Google Voice users can use a call management tool to block unwanted calls.
Samsung partners with Hiya to offer a call-blocking solution called Smart Call to label potentially unwanted calls.
If you do fall victim to a scam:
If it's an imposter scam, Quilici says to contact the business and see if they will help make up for the scam (for example, if you were scammed by someone claiming to be from a bank, call the bank's customer support and report it, and see what happens).
If it's local, you can report it to the authorities in your area, but they often are understaffed and ill-equipped to investigate.
Senior Retirement Editor, Kiplinger.com
Elaine Silvestrini has had an extensive career as a newspaper and online journalist, primarily covering legal issues at the Tampa Tribune and the Asbury Park Press in New Jersey. In more recent years, she's written for several marketing, legal and financial websites, including Annuity.org and LegalExaminer.com, and the newsletters Auto Insurance Report and Property Insurance Report.