Older Adults Battle Long-Term Effects of COVID-19
Seniors are more likely to suffer from long COVID, and it's unclear when, or even if, they will fully recover.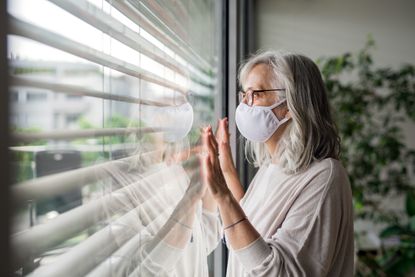 (Image credit: Getty Images)
Marina Oshana was previously diagnosed with a pulmonary condition that sometimes led to fever and fatigue, but the symptoms she started experiencing in July 2020 were completely different. Everything from daily activities to exercise became a struggle. "I couldn't walk around the block without chest pains," Oshana, 63, says. "My lung capacity declined if I engaged in any cardio activity."
Oshana, who was a philosophy professor at the University of California, Davis, before retiring two years ago, convinced her pulmonologist to give her a COVID- 19 antibody test last August. It came back positive. In the winter of 2020, she had been severely ill but tested negative for flu. Although she now believes that illness was COVID, it happened so early in the pandemic that her doctor didn't test for it.
More than a year later, Oshana still hasn't recovered. She has been using an inhaler since August and more recently was given a portable oxygen tank. Many older adults, like Oshana, suffer from long-lasting effects of COVID-19, and it is unclear when, or even if, these patients will fully recover. "The older you get, the more vulnerable you are no matter the disease," says Dr. Avi Nath, the clinical director at the National Institute of Neurological Disorders and Stroke in Bethesda, Md. "The same is true for COVID."
Subscribe to Kiplinger's Personal Finance
Be a smarter, better informed investor.
Save up to 74%
Sign up for Kiplinger's Free E-Newsletters
Profit and prosper with the best of expert advice on investing, taxes, retirement, personal finance and more - straight to your e-mail.
Profit and prosper with the best of expert advice - straight to your e-mail.
A Range of COVID-19 Symptoms
Older adults have been hit hard; 95% of all coronavirus deaths in the U.S. involved a patient who was at least 50 years old, according to data from the Centers for Disease Control and Prevention. Older adults are also more likely to suffer from the virus's lasting effects, commonly known as long COVID. Between 50% and 80% of all patients had symptoms three months after contracting the virus, and those who were at least 50 years old were more likely to report lingering issues, according to a post on the Harvard Health Blog.
That's because younger people are typically healthier to begin with, says Dr. Aaron Bunnell, co-director of the University of Washington School of Medicine's Post-COVID Rehabilitation and Recovery Clinic in Seattle. "When you come into an illness, your baseline affects your outcome," Bunnell says. "A 60-year-old man has a different cardiopulmonary reserve than a 20-year-old. If you take a 20% hit to your cardiovascular endurance, the older man has less reserve."
Patients with long COVID have reported a range of symptoms, including fatigue, loss of smell or taste, insomnia, shortness of breath, brain fog and an elevated heart rate. Those who spent time in an intensive care unit often face greater complications and a longer recovery. It's common for hospitalized patients to suffer from post-intensive-care syndrome and critical illness neuropathy. The former affects cognition and the latter refers to weakness of the patient's limbs. "The ICU can be a very difficult place to be," Bunnell says.
Older adults with long COVID are prone to anxiety, depression, confusion and loss of appetite. Dr. Souzan Swift, a licensed psychologist with Heal, a teletherapy practice, believes these symptoms are caused directly by the virus and the stress of the past year. Treatment includes therapy and medications for these patients, Swift says. "They were already feeling nervous and scared and then you bring in these symptoms. They are wondering when they will get better."
Living in Limbo
Some sufferers of long COVID have been forced to retire early or apply for disability benefits, says Dr. Jason Maley, program director of the Critical Illness and COVID- 19 Survivorship Program at Beth Israel Deaconess Medical Center and Harvard Medical School in Boston. "They can't function in their job because of exhaustion or difficulty with thinking and memory."
Their lives are in limbo because so little is known about the treatment or prognosis for patients with long COVID even though clinics to treat these patients have opened since the pandemic began. The specialized programs help streamline treatment, with all the patient's doctors working together in close consultation, Bunnell says. These efforts include physical therapy to help patients improve their breathing and energy levels as well as cognitive therapies to bolster concentration and mental acuity, Maley says. The Survivor Corps, a grassroots organization of COVID-19 survivors, has a database of post-COVID-care clinics (survivorcorps.com/pccc). If you don't live near one of these clinics, ask local doctors if they have experience treating long COVID before scheduling an appointment.
Long COVID patients should also get vaccinated. The COVID-19 vaccine not only protects them from getting sick again but also may reduce long COVID symptoms. In some surveys, up to a third of patients reported that their long COVID symptoms improved several weeks after vaccination, Maley says. Bunnell tells patients not to give up hope. "It's unlikely to be this way the rest of your life," he says. "You will make gradual progress."
Oshana certainly has. One side effect, a rapid rise in her heart rate, is gone. Her pulmonologist has been happy with her progress, though he believes a full recovery will occur at a "glacial pace," she says. Before contracting COVID, Oshana enjoyed dancing, weight training and hiking. She can still do most of those activities but not to the same extent as before.
She warns other COVID survivors to pay attention to their health. "If you notice you aren't feeling well and things are out of character physiologically, take it seriously," Oshana says. If you are diagnosed with long COVID, recognize that life might not be the same, she says. "You might have to dial back your expectations about what you are able to do now. That's been the hardest lesson for me."
Senior Retirement Editor, Kiplinger.com
Jackie Stewart is the senior retirement editor for Kiplinger.com and the senior editor for Kiplinger's Retirement Report.