Don't Be a 'Helicopter Child' in Retirement
Signs and signals you're hovering over your aging parents and infantilizing them.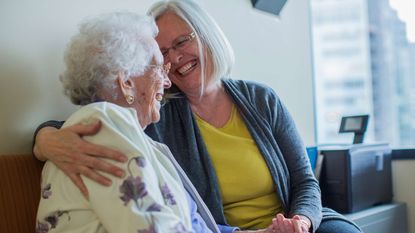 (Image credit: Getty Images)
So-called "helicopter parents" hover over their children, anxious to prevent the slightest discomfort. But there are also "helicopter children," who are so worried about their aging parents that they end up infantilizing them.
Both come from the same well-meaning place of wanting to protect their loved ones, says Jane Wolf Frances, author of Parenting Our Parents (Rowman & Littlefield, $34), a psychotherapist and founder of ParentingOurParents.org, which offers resources and an online community for children caring for their elderly parents. Like the parent of an infant, "you don't walk in on day one and know how to do things," she says.
Plus, what may be appropriate for a senior who is physically and cognitively able won't work for a parent with dementia. When a parent is still functionally and mentally capable, "they have a right to make any decision they want, even if it's a bad one, as long as they're not hurting someone else," says Howard Gleckman, a senior fellow specializing in aging policy at the Urban Institute and author of Caring for Our Parents (Saint Martin's Press, $24.95). A decline in memory or taking longer to understand something is not the same as being incapable of making a decision, he adds.
Subscribe to Kiplinger's Personal Finance
Be a smarter, better informed investor.
Save up to 74%
Sign up for Kiplinger's Free E-Newsletters
Profit and prosper with the best of expert advice on investing, taxes, retirement, personal finance and more - straight to your e-mail.
Profit and prosper with the best of expert advice - straight to your e-mail.
If big changes are needed, do them in stages. Gleckman knew his father, who had been an accountant, was having trouble managing the bills. "That was an important part of who he was. He saw himself as a guy who knew numbers." At first, Gleckman balanced the checkbook but had his father sign the checks. That changed as he became sicker. Still, his father maintained some control while he could.
You want to keep in mind the three "T's"—timing, tenderness and tonality, says Frances. She has first-hand experience balancing her fears with the needs of aging parents. Her father was taking care of her mother, who had Alzheimer's, and they lived across the country in New York while she was in Los Angeles. She wanted them to move to California, but her mother wasn't ready. Two and a half anxious years passed before her parents' doctors and primary caregivers told Frances her parents couldn't live independently. "That's when I knew I couldn't back off," she says.
Barbara Lewis, a marketing consultant who has developed a "Guide for Adult Children of Parents with Dementia," says one sign of a helicopter child is issuing commands. Lewis's website JoansFamilyBillofRights.com posts the guide and has other resources for patients, families and health care professionals.
When Lewis visited her mother in the dining room of a skilled nursing facility, "I noticed how children, mainly women, hovered over their parents, many of whom were cognitively impaired," she says. "They used all imperative sentences: 'Sit down, cut your food with a knife.' I was doing the same thing."
At that point she decided she would always ask her mother, who had dementia, questions or make suggestions. "I would say, 'Do you want a napkin on your lap? Do you want orange juice?' It allowed my mother some control because she had lost everything," she says.
Determining cognitive ability isn't easy. It's not uncommon—whether from fear or lack of insight—for older people to believe they are more competent than they actually are. If that's the case, ask your parent if you can go together to consult a doctor, or you might call your parent's doctor to make sure the health care provider is aware of certain symptoms. But unless there is a real fear for their safety, respect your parents' rights, and don't do things behind their backs.
One question to ask yourself is if your helicoptering behavior stems from genuine concern for your parents or a need to ease your own worries or guilt.
"We tend to underrate autonomy and overrate safety," Gleckman says. "Children put older adults in a very comfortable box—you're old and you're frail and the best we can do for the rest of your life is protect you. It's a very easy, unnuanced kind of view, and that's not what people are like."
Contributing Writer, Kiplinger's Personal Finance
Alina Tugend is a long-time journalist who has worked in Southern California, Rhode Island, Washington, D.C., London and New York. From 2005 to 2015, she wrote the biweekly Shortcuts column for The New York Times business section, which received the Best in Business Award for personal finance by the Society of American Business Editors and Writers. Her work has appeared in numerous publications, including The Times, The Atlantic, O, the Oprah Magazine, Family Circle and Inc. magazine. In 2011, Riverhead published Tugend's first book, Better by Mistake: The Unexpected Benefits of Being Wrong.