Caring for Your Aging Parents: How to Prepare
The time to get ready is well before the time comes. Here's how to approach some important talks and what you need to cover.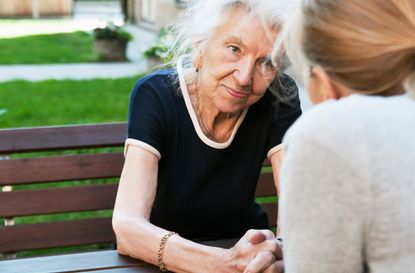 (Image credit: This content is subject to copyright.)
Caring for aging parents is something you hope you can handle when the time comes, but it's the last thing you want to think about.
Whether the time is now or somewhere down the road, there are steps you can take to make your life — and their lives, too — a little easier.
It's Time for a Chat
The first step is talking to your parents. How will you know when it's the right time to do this? Look for indicators like failure to take medication, new health concerns, diminished social interaction, general confusion or even fluctuations in weight.
Subscribe to Kiplinger's Personal Finance
Be a smarter, better informed investor.
Save up to 74%
Sign up for Kiplinger's Free E-Newsletters
Profit and prosper with the best of expert advice on investing, taxes, retirement, personal finance and more - straight to your e-mail.
Profit and prosper with the best of expert advice - straight to your e-mail.
What can make things more difficult is when the parents are unwilling or unable to talk about their future.
This can happen for a number of reasons, including fear of becoming dependent, resentment toward you for interfering, reluctance to burden you with their problems, or because they are already incapacitated. Without their cooperation, you may need to do as much planning as you can without them. However, if their safety or health is in danger, you may still need to step in as a caregiver.
If you're nervous about talking to your parents, make a list of topics that you need to discuss. This will help ease tension, and you will be less likely to forget anything.
If there is some reluctance on the part of your parents, it may be wise to cover your list over several visits so that it doesn't sound so much like an interrogation.
Get Personal
Once you've opened the lines of communication, a good next step is to get as much information as you can to prepare a personal data record. This document lists information that you might need in case your parents become incapacitated or die.
Here is some information that should be included:
Bank and investment accounts
Estate documents like wills and trusts
Funeral and burial plans
Medical information
Insurance information
Names and phone numbers of professional advisers
Real estate documents
Be sure to write down the location of documents and any relevant account numbers. It's also a good idea to make copies of all the documents you've gathered and keep them in a safe place.
Explore Living Arrangements
Eventually you'll need to have discussions on more sensitive subjects like your parents' wishes on medical care decisions and future living arrangements.
Where your parents eventually live will depend on how healthy they are. As they grow older, their health may deteriorate so much that they can no longer live on their own. At that point, you may need to find them in-home health care, health care within a retirement community or nursing home, or you may insist that they come to live with you.
If money is an issue, moving in with you may be the best or only option. Keep in mind this decision will impact your entire family, so talk about it as a family first.
Make It a Family Affair
The physical and financial responsibility of taking care of elderly parents may fall on several adult children, and usually not all are equally able to bear the burden. The result can be resentment, even hostility, and the breakdown of family cooperation.
The key to keeping harmony is communication. Family meetings on a regular basis are key to keeping tensions down and everyone informed. Families can talk over who can pay for care when it's needed, and who can do physical work for a parent.
Even if a family member lives at a distance, there are things they can do. Consolidating accounts in one bank, setting up online access to paying bills and overseeing financial management are areas that can be handled from anywhere in the U.S.
Ask for Help
The key is to not try to care for your parents alone. Besides getting the family involved, there are also many local and national caregiver support groups and community services available to help you cope with caring for aging parents.
If you don't know where to find help, contact your state department of elder care services, or call:1-800-677-1116 to reach the Elder Care Locator, an information and referral service sponsored by the federal government that could direct you to resources available in your area.

President, Piershale Financial Group
Mike Piershale, ChFC, is president of
Piershale Financial Group
in Barrington, Illinois. He works directly with clients on retirement and estate planning, portfolio management and insurance needs.