Airbnb Host Tells What It's Like
This Denver pharmacist began booking her ski condo a few months after the pandemic hit.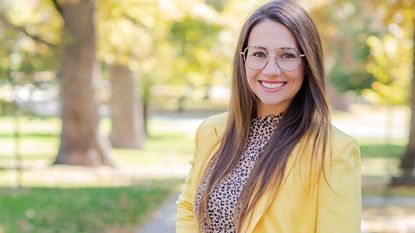 (Image credit: Julia Vandenover)
Who: Kelsey Erwin
What: Pharmacist and Airbnb host
Where: Colorado
When did you first become an Airbnb host?
I acquired the property I now rent out in 2020 and became a host in June 2020, so I was kind of challenged with kicking off my Airbnb in the middle of the pandemic. It was something I had been wanting to do but didn't quite have the time. And then when the pandemic hit and we were all mostly quarantined, I found myself having more time. So I started to look into options for where I'd like to set up an Airbnb and what the Airbnb host role would require me to do.
Where is your property?
Subscribe to Kiplinger's Personal Finance
Be a smarter, better informed investor.
Save up to 74%
Sign up for Kiplinger's Free E-Newsletters
Profit and prosper with the best of expert advice on investing, taxes, retirement, personal finance and more - straight to your e-mail.
Profit and prosper with the best of expert advice - straight to your e-mail.
My rental is in Colorado, in Grand County. It sits on a small local ski resort, but it is also near to both a larger resort, Winter Park, and Rocky Mountain National Park. The experience for guests when they visit my rental very much pertains to nature and being outdoors and being adventurous. I wanted the inside of my rental to have not only a mountain vibe but also a modern vibe.
How are bookings doing?
It's still too far in advance to say for the upcoming winter season, but I would consider it very successful. In Colorado we have high season and low season, and during high season it has been booked nonstop. During low season there are fewer guests but still a decent amount of bookings.
Why do you think that a rental like yours has done so well during the pandemic?
People have wanted to be outdoors and away from others during COVID. And there are a lot of outdoor activities where my rental is located.
How much time do you spend each week managing it?
It depends on the number of bookings and any maintenance required. In a slow month, only an hour or so a week; in a busy month, I can expect to spend an extra hour or two a week on management. I hire a cleaner for my bookings, so that cuts back on the amount of hands-on time for myself.
How much can you earn from your property?
Earnings depend on the season and the month. It has only been a little over a year since I began hosting, so I don't have the full picture yet. I charge between $185 and $250 per night. Winter and summer months have shown the most bookings so far.
The pandemic slowed travel and set restrictions. How did that impact hosting?
Individuals who wanted to book stays weren't looking quite as far out as they had previously because they didn't know what the COVID restrictions might be. Also, the pandemic shifted the clientele; it seemed there were more road trips and more "stay­cations," rather than people flying in from out of state. It left uncertainty about whether I would have income for that month. Also, Airbnb outlined enhanced cleaning protocols. Once we received those, I was able to relay that information to cleaners, interview the ones I wanted to clean my condo and make sure that they were abiding by all the enhanced guidelines.
Did things improve when travel restrictions started to ease?
Yes. And after vaccines became available, I could see a shift where people felt more comfortable traveling.
Would you recommend hosting?
I think it's great. It would be different for each individual, whether someone might have the time to manage it or not. For me, it's a little bit of a distance from my primary residence in Denver, and I have to interview and coordinate cleaners. But it's something that I wanted to test out to see if I could run an Airbnb on my own. And what I really wanted to do was create a place where I would want to stay if I were an Airbnb guest and offer that experience to others.
Staff Writer, Kiplinger's Personal Finance
Emma Patch joined Kiplinger in 2020. She previously interned for Kiplinger's Retirement Report and before that, for a boutique investment firm in New York City. She served as editor-at-large and features editor for Middlebury College's student newspaper, The Campus. She specializes in travel, student debt and a number of other personal finance topics. Born in London, Emma grew up in Connecticut and now lives in Washington, D.C.