COVID's Silver Lining: A Calmer Life
This family left the West Coast for a simpler lifestyle in a small Cape Cod town.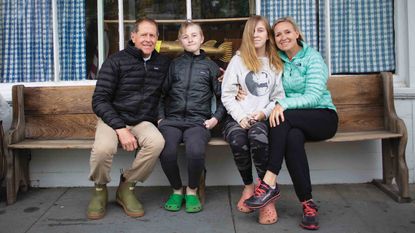 (Image credit: Photo by Salomé Giafaglione)
Profile
Who: Aimee Foster, with husband Barrett, son George and daughter Elizabeth
What: Left Burlingame, Calif., during the pandemic and moved to Cape Cod
Where: Brewster, Mass.
Subscribe to Kiplinger's Personal Finance
Be a smarter, better informed investor.
Save up to 74%
Sign up for Kiplinger's Free E-Newsletters
Profit and prosper with the best of expert advice on investing, taxes, retirement, personal finance and more - straight to your e-mail.
Profit and prosper with the best of expert advice - straight to your e-mail.
Why did you decide to move to Cape Cod from the Bay Area? My husband and I moved out to California about 16 years ago for work. He's in the tech industry, and I'm in financial services. Burlingame is just south of San Francisco, and we loved the Bay Area, but we missed the East Coast because that's where we are both from. My husband's family has lived in this town since around 1700, and before the pandemic, we had bought a second home here that we intended to retire to when the kids finished school. We always imagined it would be nice to move here, but we never thought it could happen while we were working. Then COVID happened, and my husband and I were both working remotely.
You sold your home in California? We got to Brewster in May of 2020 and put our Bay Area house on the market right after Thanksgiving. We hooked up with a wonderful agent, who essentially helped us sell our house without us ever going back. Between our agent and local friends, we packed up the house, prepped it for sale, staged it, put it on the market and sold it in less than a week.
What has life on Cape Cod been like during the pandemic? We had what felt like a pretty normal summer, except for mask-wearing and always eating in. Then as we segued into the fall and winter, that was all new territory for us. But we enjoyed it. Both my husband and I grew up with four seasons, so we got to experience that anew—and with the kids for the first time. The weather is way more temperate than we thought it would be. I mean, winter is winter, and I'm glad it's over, but really it was lovely. And the Cape is very quiet that time of year, although all of the locals will say it was very busy relative to how it normally is because there are so many people like us who've moved in, as well as people who have second homes and decided to work remotely.
How are your kids adjusting? As parents we felt that this would actually be a really great place to finish raising them. They'd had the experience in the Bay Area, with all its wonderful diversity and energy, and we knew we could nurture that memory. We also thought it would be good for them to come to an area that was more rural and just be kids a little bit longer. And it turns out the school districts are very good, although it has been a little hard because our kids have chosen distance learning.
Is the cost of living lower? The tax rate in Massachusetts is lower, and there are things that we used to pay for that now cost less. Kids' activities seem to be more baked into the school system or the town recreational budget. But we're going to do some work on our house, and it's probably going to cost about what we paid per square foot in the Bay Area. And it costs a lot more to heat a home here than in California. But our water bill is so much less expensive. We've been saving money, but I also find that we're spending money on things that we didn't have the room to spend on before—more surfboards, lawn mowers and bikes.
Do you miss the city? When we were making the decision to move, my husband and I had to think about whether we would miss all the trappings of a more urban area. And we agreed that we would seek those out when we needed them and benefit from what has come to be a really lovely quality of life. The pace of life is just calmer, and therefore our whole lives are calmer.
Staff Writer, Kiplinger's Personal Finance
Emma Patch joined Kiplinger in 2020. She previously interned for Kiplinger's Retirement Report and before that, for a boutique investment firm in New York City. She served as editor-at-large and features editor for Middlebury College's student newspaper, The Campus. She specializes in travel, student debt and a number of other personal finance topics. Born in London, Emma grew up in Connecticut and now lives in Washington, D.C.