Airlines Hit Over Carry-On Fees, Making People Wait on Tarmac
Spirit settled a class-action lawsuit over carry-on fees while American Airlines was fined for making passengers wait on the tarmac.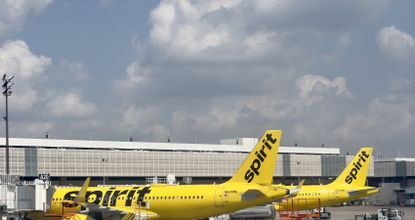 (Image credit: Daniel Slim/AFP via Getty Images)
Spirit and American Airlines in two separate cases were recently ordered to pay monetary penalties for their treatment of passengers. The news comes as many Americans are looking for ways to stretch their dollars without breaking their travel budgets while travel seems to finally be back after the start of the COVID-19 pandemic.
Spirit Airlines settles over carry-on fees
In Spirit's case, the airline agreed on Aug. 23 to pay up to $8.25 million to settle a class-action lawsuit brought by passengers who booked flights on Spirit through online travel agents (OTAs) and said they were charged additional carry-on bag fees.
According to federal court documents, the passengers booked tickets from Aug. 31, 2011, through May 3, 2017, on one of six OTAs — Expedia, Travelocity, Kiwi, CheapOair, Cheap Tickets and BookIt.
Subscribe to Kiplinger's Personal Finance
Be a smarter, better informed investor.
Save up to 74%
Sign up for Kiplinger's Free E-Newsletters
Profit and prosper with the best of expert advice on investing, taxes, retirement, personal finance and more - straight to your e-mail.
Profit and prosper with the best of expert advice - straight to your e-mail.
The proposed settlement provides a cash refund of up to 75% of the carry-on fee paid to each class action member who submits a valid claim form. The amount paid will be pro-rated based on the amount of carry-on fee each person actually paid, per the court documents.
Potential members of the class action suit will be sent notices advising them to review the details of the settlement and submit a claim form. These members will be contacted via the email addresses that Spirit or the OTA have on file or, if an email address is unavailable and a mailing address is, by a postcard with instructions via first-class mail.
Spirit did not immediately respond to requests for comment.
American Airlines fined total of $4.1M
American, meanwhile, was slapped with a $4.1 million fine for illegally making 5,821 passengers wait on tarmacs for hours at a time without an opportunity to deplane, the Department of Transportation (DOT) said in an Aug. 28 statement.
Of the total fine, $2.05 million will be credited to American for compensation provided to passengers on the affected flights, DOT said.
American allowed 43 domestic flights to remain on the tarmac for long periods between 2018 and 2021 without allowing passengers an opportunity to deplane, the DOT found in an extensive investigation. On one of those flights, passengers were not given food or water as required, the agency said. Most of the delays occurred at Dallas Fort Worth International Airport.
American said in a statement that the delays in question resulted from exceptional weather events and represented 0.001% of the 7.7 million flights the airline and its partners conducted from 2018 to 2021.
"American always strives to deliver a positive travel experience to our customers and takes very seriously our responsibility to comply with all Department of Transportation requirements," American said. "We have since apologized to the impacted customers and regret any inconvenience caused."
DOT said the fine is the largest ever assessed for violating federal statutes that prohibit tarmac delays of three hours or more on domestic flights without allowing passengers to deplane.
"This is the latest action in our continued drive to enforce the rights of airline passengers," Transportation Secretary Pete Buttigieg said in a statement. "Whether the issue is extreme tarmac delays or problems getting refunds, DOT will continue to protect consumers and hold airlines accountable."
Your rights over flight delays and cancellations
Buttigieg and the DOT have been looking into changes to help airline passengers in the wake of flight disruptions. Earlier this year, Buttigieg and President Joe Biden announced the formulation of new rules requiring U.S. airlines to compensate passengers and cover expenses such as meals, hotels and rebooking in cases where the airline has caused a cancellation or significant delay.
You can use the DOT's airline customer service dashboard for more detailed information on what airlines entitle you to over delays and cancellations.
Related Content
Esther D'Amico is Kiplinger's senior news editor. A long-time regulatory journalist, Esther has covered a range of industries including antitrust and congressional affairs, infrastructure, transportation, climate change and the industrial chemicals sector. She holds a bachelor's degree in journalism and in English.