What You Must Know About Tipping While Traveling
Relax, you're on vacation. Use these six tips to establish a tipping plan that eliminates stress.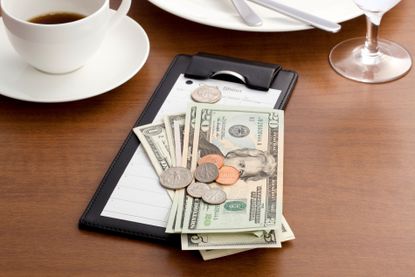 (Image credit: Getty Images)
It can be confusing who to tip, when and how much while you are on a vacation.
But being prepared can take some of the stress and awkwardness out of the process, allowing you to relax and enjoy your trip.
Here are six things to think about when providing a gratuity while traveling.
1/6
Include Gratuities in Your Vacation Budget
As you estimate how much to save for your next trip, be sure you figure in all of the tips you'll be expected to leave along the way. You don't want to set out on your vacation only to realize that you didn't save enough to cover gratuities.
2/6
Tip the Right People
Certain service providers in the U.S. rely on tips for the majority of their income. If you leave less than the standard tip, that can affect that worker financially.
One service provider you'll certainly want to thank with a tip is the hotel housekeeper. Each morning before you leave the room, you should include your tip, usually $2 to $5 per day, in an envelope labeled "housekeeping" somewhere visible. Different housekeepers may clean your room on different days so this ensures that they all benefit from the gratuity.
However, some hotels have cut back on cleaning rooms every day because of COVID-19. If that's the case at your hotel, leave your tip in an envelope at the end of your stay.
Other people you might tip as you travel: the skycap, shuttle driver, concierge and hotel valet.
3/6
Stock Up on Small Bills
If you carry only tens and twenties, you run the risk of forking over too much cash when it comes time to tip. That could mean you end up over tipping, especially if you are in a hurry.
So prepared. Make sure you have a bunch of ones and fives in your wallet or purse before heading out on vacation.
4/6
Avoid Unnecessary Services and Accompanying Tips
If your budget is tight and you need to skimp, you can skip some services. That allows you to avoid tipping without being rude to the service provider.
For example, you can handle your own luggage by packing light with a no-fuss bag, such as a small roller-bag or backpack. Doing so will help you politely dodge bag assistance from skycaps, drivers and bellhops and free yourself from any obligation to tip them. If you want a break from housekeeping gratuities, put the "do not disturb" sign to work and only leave a couple of dollars on check-out day.
5/6
Read the Fine Print
Some hotels, especially high-end places, automatically include gratuities for certain amenities, such as room service. Some cruise lines also tack tips onto your bill. (You can normally adjust that amount at the guest services desk. The charge will be clearly labeled as a gratuity or service charge on your bill.) So before you're unintentionally too generous, check your hotel's or cruise line's policies.
You might even find some places where tipping is forbidden. Many all-inclusive resorts already factor gratuities into the package prices and discourage guests from giving any additional cash to staff members. You might even get employees in trouble if you insist on slipping them a tip. In such cases, you can still do something special for a person who has provided you with exceptional service by writing a note to management on behalf of the employee who has gone above and beyond.
6/6
Tips Can Get Lost in Translation
If you're traveling outside the U.S., avoid an international incident by studying up on the host culture's tipping tendencies. In some countries, tipping in any situation is not part of the culture and would be considered awkward or even insulting. Instead, you can express appreciation with your words.

Online Editor, Kiplinger.com
Rapacon joined Kiplinger in October 2007 as a reporter with Kiplinger's Personal Finance magazine and became an online editor for Kiplinger.com in June 2010. She previously served as editor of the "Starting Out" column, focusing on personal finance advice for people in their twenties and thirties.
Before joining Kiplinger, Rapacon worked as a senior research associate at b2b publishing house Judy Diamond Associates. She holds a B.A. degree in English from the George Washington University.