Scammers Target Last-minute Shoppers
Products may be in short supply, but potential thieves are not. Be "scam smart" to keep your holiday happy.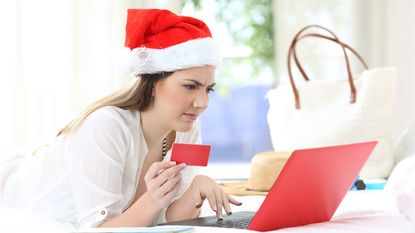 (Image credit: Getty Images)
It may be the season of goodwill toward all, but Santa has a naughty list for a reason. And this time of year is also a busy and lucrative season for scammers. So while you're looking for that perfect, last-minute gift, be sure to have your guard up to protect yourself from thieves.
Well-known supply chain problems are creating opportunities for scams this year, said Naomi R. Cahn, director of the Family Law Center at the University of Virginia School of Law.
Last year alone, the Federal Trade Commission received more than 2.1 million reports of fraud from consumers, with imposter scams and online shopping as the leading categories. Consumers last year lost more than $3.3 billion to fraud, an increase over the $1.8 billion lost in 2019.The FTC says that scammers – like the rest of us – follow headlines and know what everyone is trying to buy. Shortages create openings for scammers to present themselves as problem solvers to frazzled consumers.
Subscribe to Kiplinger's Personal Finance
Be a smarter, better informed investor.
Save up to 74%
Sign up for Kiplinger's Free E-Newsletters
Profit and prosper with the best of expert advice on investing, taxes, retirement, personal finance and more - straight to your e-mail.
Profit and prosper with the best of expert advice - straight to your e-mail.
And it's not just seniors who are being targeted by scams, Cahn said; we're all potential victims.
How to Protect Yourself From Scams
But fear not. Odds are good that if you're smart about your shopping, you'll avoid becoming a target, Cahn said. "We tend to hear about the scams," Cahn said. "As long as you're scam savvy and protect yourself, in general, most of the time you'll be fine."
How to be scam savvy? "Beware of gifts that seem too good to be true or ads for companies you've never heard of that pop up on social media." Cahn said.
Say there's a toy or some kind of gadget you can't find anywhere because of supply chain issues. But you really want that gewgaw for someone on your shopping list. Lo and behold, you see anad in one of your social media feeds for that very thing at a great price. But it's from a vendor you've never heard of. Be wary, Cahn advised.
Check out the store. Look for reviews online. Look for a solid history. Search for the name online, along with words like "complaint" and "scam." Check for contact information and return policies. See if anyone you know has shopped there successfully. Do not be too eager to click through and give the site any financial information.
Cahn said she recently placed an order and realized she didn't get a confirmation email. She called the retailer to make sure everything was taken care of. Even though you might be on hold for long periods of time, this is an important step, Cahn said. This is why you should make sure that you place orders from established, reputable retailers that have phone numbers you can use to contact them.
Online Shoppers Vulnerable to Cyber Scammers
The Cybersecurity and Infrastructure Security Agency (CISA) advises special precautions for online shoppers. The agency says attackers take advantage of online shoppers three ways:
Creating fraudulent sites and email messages. Attackers can create malicious websites or email messages that look legitimate to get you to give them personal and financial information. They may also represent themselves as charities.
Intercepting insecure transactions. If a vendor fails to use encryption, an attacker may be able to intercept your information.
Targeting vulnerable computers.f you don't protect your computer from viruses or other malicious code, an attacker may be able to gain access to your computer and the information it holds.
But even when you shop with reputable online retailer, you can still fall victim to so-called porch pirates who steal packages that have been delivered but not yet retrieved by residents. Be sure to retrieve all packages as soon as they're delivered to keep thieves from taking them from your porch, or ask a trusted neighbor to help. If you're going away, be sure to stop your mail so it doesn't pile up and alert thieves you're not home.
Also be wary this time of year of donation solicitations. Scammers will take advantage of your charitable impulses and request donations to bogus causes. Before making any donations, be sure to check that the organization is legitimate.
Senior Retirement Editor, Kiplinger.com
Elaine Silvestrini has had an extensive career as a newspaper and online journalist, primarily covering legal issues at the Tampa Tribune and the Asbury Park Press in New Jersey. In more recent years, she's written for several marketing, legal and financial websites, including Annuity.org and LegalExaminer.com, and the newsletters Auto Insurance Report and Property Insurance Report.