How to Safely Socialize (and Work) at Home During the Pandemic
Tips for transforming your backyard area into a social distancing hang out, as well as creating a work-from-home haven.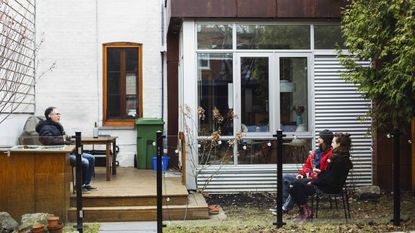 (Image credit: Getty Images)
Being with family and friends during COVID was easier last spring and summer, when you were able to feel reasonably safe gathering outdoors at sidewalk cafés and restaurants, picnic areas, and porches and patios. Now, with the pandemic still raging and winter weather arriving, options for lingering outdoors in most parts of the U.S. have diminished.
But with the right furniture, equipment and gear, you can transform your backyard into an inviting space to socialize and still stay warm. Here's where to start.

Browne Taylor joined Kiplinger in 2011 and was a channel editor for Kiplinger.com covering living and family finance topics. She previously worked at the Washington Post as a Web producer in the Style section and prior to that covered the Jobs, Cars and Real Estate sections. She earned a BA in journalism from Howard University in Washington, D.C. She is Director of Member Services, at the National Association of Home Builders.