With Car Prices Soaring, Americans Set Record for Driving Older Vehicles
Surging car prices and high interest rates are forcing more and more Americans to delay new vehicle purchases.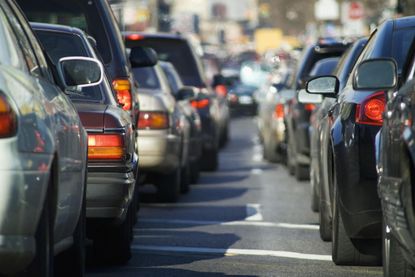 (Image credit: Getty Images)
Thanks to high new car prices, low vehicle inventories and elevated interest rates, drivers are avoiding trade-ins and upgrades at a previously unseen rate. According to a new report from S&P Global Mobility, the average age of passenger vehicles on U.S. roads set a new record in 2023.
Tough market: Rising car prices and production delays
According to a report on car prices from Cox Auto Group, the U.S. new car market is becoming a luxury market, where new vehicles are available only for wealthier buyers. The shift traces back to supply disruptions, new tech, limited inventories, higher interest rates and automakers increasingly focused on wealthy buyers.
In December 2017, Cox tracked 36 models with MSRPs (manufacturer's suggested retail price) below $25,000. Then, under-$25K cars were 13% of total new-vehicle sales. By December 2022, only 10 models with MSRPs under $25K remained on the market — a share of just under 4%.
Subscribe to Kiplinger's Personal Finance
Be a smarter, better informed investor.
Save up to 74%
Sign up for Kiplinger's Free E-Newsletters
Profit and prosper with the best of expert advice on investing, taxes, retirement, personal finance and more - straight to your e-mail.
Profit and prosper with the best of expert advice - straight to your e-mail.
Meanwhile, luxury brands took more market share and non-luxury brands moved into the luxury category. In December 2017, the share of vehicles priced over $60K was less than 8%, with 61 models. By December 2022, at least 25% of new car sales were over $60,000, featuring 90 unique models.
Elevated costs = Drivers keep vehicles longer
S&P Global's new report tracks the average age of the more than 284 million vehicles in operation on U.S. roads. According to the report, the average age of cars and light trucks in the U.S. has risen this year to a new record of 12.5 years, up by more than three months over 2022's previous high water mark. The growth breaks down to a 3.8% increase for passenger cars to an average age of 13.6 years, and 1.7% increase in trucks, SUVs and crossovers to the new record of 11.8 years.
The trend ties back to new car market disruptions last year, when S&P Global correctly predicted that depressed new vehicle sales would put upward pressure on the average age of cars on the road.
In 2022, the combined effect of slowed auto production and decreasing consumer demand caused retail and fleet sales of new light vehicles in the U.S. to drop 8% from 2021's 14.6 million units to 13.9 million units in 2022. This was the lowest level recorded in over a decade.
This marks the sixth straight year of increase in the average vehicle age of the US fleet. It also reflects the highest yearly increase since the 2008-2009 recession.
Tips for struggling new car buyers
At this point, carmakers are increasingly catering new vehicles to the luxury market. Cash-strapped drivers could do well to seek out a quality used car that fits their budgets better.
But if you have your heart set on a new vehicle, follow these tips to soften the financial blow:
Hold off on your new car purchase until later this year, when it's widely predicted that the Fed will finally stop hiking interest rates as inflation cools. Interest rates on new car loans should stabilize and even decrease as the Fed backs off and we face down a potential recession.
Shop around for car financing with your local bank, credit union and dealer. Ask about the full range of financing options before settling for the first offer.
Consider lower-priced cars with high resale value. Luxury models' rapid depreciation usually can't be overcome with favorable financing and free maintenance.
Order online. Major carmakers like Volvo are shifting to offer direct online buying, matching Tesla. This can offer real savings by cutting out car dealership and their fees.
Consider an electric vehicle. The Inflation Reduction Act expanded the Electric Vehicle Tax Credit and EV Home Charger Credit to $7,500 off the MSRP of your vehicle.
Even if you hate price haggling, consider non face-to-face options like email, text message and live chats to unlock better deals.
Related Content
Audience Engagement Manager, Kiplinger.com
Ben Demers manages digital content and engagement at Kiplinger, informing readers through a range of personal finance articles, e-newsletters, social media, syndicated content, and videos. He is passionate about helping people lead their best lives through sound financial behavior, particularly saving money at home and avoiding scams and identity theft. Ben graduated with an M.P.S. from Georgetown University and a B.A. from Vassar College. He joined Kiplinger in May 2017.