Make the Most of the New Workplace
In the wake of the pandemic, employers are willing to be more flexible and inclusive.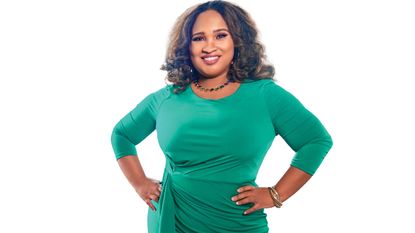 (Image credit: Photo by Nick F. Nelson)
Natasha Bowman, author of You Can't Do That at Work, is founder of Performance ReNew, a workplace consulting firm.
The workplace is changing rapidly. How will those changes affect current employees and people looking for a job? We were hoping to move into a post-pandemic workplace in 2022, but with the resurgence of COVID-19, return-to-work plans are changing. Employees can expect to continue working remotely or in a hybrid situation until the pandemic is over. Employers are also looking to hire a more inclusive, diverse workforce that goes beyond race and gender. There's a war to attract and keep the best and the brightest for talent. Employers have learned that if they don't want to experience a labor shortage, they're going to have to revise their mental health and wellness strategies. That's more than just discounted gym memberships and nutrition programs. It means continuing to offer therapy benefits provided during the pandemic and having quiet spaces in the office where folks can go to when they need to recharge.
Employers must also figure out how to provide the flexibility that people felt while they were working remotely—the flexibility that allowed them to both work and enjoy things that they're passionate about.
Subscribe to Kiplinger's Personal Finance
Be a smarter, better informed investor.
Save up to 74%
Sign up for Kiplinger's Free E-Newsletters
Profit and prosper with the best of expert advice on investing, taxes, retirement, personal finance and more - straight to your e-mail.
Profit and prosper with the best of expert advice - straight to your e-mail.
How can job seekers take advantage of these changes in the workplace? If you've been working remotely (and want to continue), talk about what you've been able to accomplish in the past couple of years and how that has worked for you and benefited the company. If you cut out your commute, talk about how you've been able to put that time back into your job.
At the end of an interview, if the hiring manager asks, "Do you have any questions for me?" don't forget to ask about the organization's culture. Most people just ask about pay, but many folks are willing to take a pay cut if it means greater flexibility to support their mental health. Also, ask if you can speak with current employees you could be working with. It's a bold question, but job seekers have that kind of leverage now. You want to confirm that what the hiring manager said about the culture is true.
What's the most effective way to secure an interview? Send your résumé or application directly to the hiring manager, recruiter or someone in that organization. That continues to be the way to make sure that your résumé is being seen. Use LinkedIn to make the connections. Sending materials to the company through its online job portal usually won't do it because they get thousands of applications and end up reading maybe the first 15 to 20.
How can employees who want to continue working remotely but aren't interested in leaving their current job take advantage of the changed workplace environment? Let your employer know just how much your productivity has improved and how that has contributed to overall company success. Research your competitors to see how they're handling remote work. If they allow it, bring that up. If your company continues to take a hard stance on working from the office, ask for an accommodation, such as coming in a few days a week. If you've been doing a good job working from home, it's going to be hard for your employer to say remote work will hurt your performance.
Ex-staff writer, Kiplinger's Personal Finance
Rivan joined Kiplinger on Leap Day 2016 as a reporter for Kiplinger's Personal Finance magazine. A Michigan native, she graduated from the University of Michigan in 2014 and from there freelanced as a local copy editor and proofreader, and served as a research assistant to a local Detroit journalist. Her work has been featured in the Ann Arbor Observer and Sage Business Researcher. She is currently assistant editor, personal finance at The Washington Post.