Will Biden's $15 Minimum Wage Proposal Survive?
Even President Biden doesn't think his proposed minimum wage increase will reach the finish line.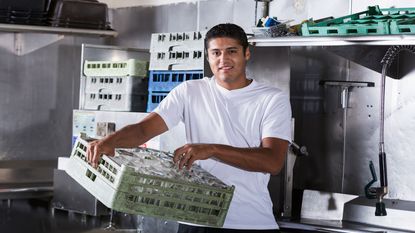 (Image credit: Getty Images)
Even though President Biden included it in his $1.9 trillion economic stimulus plan, don't expect a $15 federal minimum wage anytime soon. The current federal minimum wage is $7.25 per hour, so Biden's proposal would more than double that amount. But even the president thinks his minimum wage proposal will end up on the cutting room floor. "I put it in, but I don't think it's going to survive," he told CBS News.
In addition to Republican opposition, there has also been push-back on a $15 minimum wage from more conservative Democrats – most notably, Sen. Joe Manchin (D-W.Va.), whose influence has skyrocketed now that the Senate is split 50-50 between Republicans and Democrats. Manchin has made it very clear that he doesn't support the proposed minimum wage increase, and his vote will most likely be needed to pass any new economic stimulus bill.
There are also questions about whether a minimum wage increase can be included in a reconciliation bill. Reconciliation is a procedural device that Democrats appear ready to use to allow a stimulus bill to pass in the Senate with a simple majority vote instead of the usual 60 votes needed to avoid a filibuster. However, according to a summary of the reconciliation process from the House Committee on the Budget, "[o]nly policies that change spending or revenues can be included" in a reconciliation bill.
Subscribe to Kiplinger's Personal Finance
Be a smarter, better informed investor.
Save up to 74%
Sign up for Kiplinger's Free E-Newsletters
Profit and prosper with the best of Kiplinger's expert advice on investing, taxes, retirement, personal finance and more - straight to your e-mail.
Profit and prosper with the best of Kiplinger's expert advice - straight to your e-mail.
On the surface, a minimum wage increase doesn't appear to meet that standard. But Sen. Bernie Sanders (I-Vt.), chairman of the Senate Budget Committee, isn't giving up. "We have a roomful of lawyers working as hard as we can to make the case to the parliamentarian that in fact raising the minimum wage will have significant budget implications and in fact should be consistent with reconciliation rules," Sanders told CNN. He faces an uphill battle getting a minimum wage increase in the reconciliation bill, though.
But that doesn't mean we won't see a push to increase the minimum wage down the road. President Biden said he would fight for separate legislation to increase the minimum wage after his stimulus package is enacted. The president has also taken executive action directing the Office of Personnel Management to come up with recommendations for promoting a $15-per-hour minimum wage for federal government employees.
Finally, don't forget that states can have their own minimum wage (opens in new tab). They can be higher than the federal amount, but not lower. So, even though efforts to increase the federal minimum wage may fail, workers in some states could see a pay raise in the near future if their state increases its minimum wage.
[Stay on top of all the new stimulus bill developments – Sign up for the Kiplinger Today E-Newsletter (opens in new tab). It's FREE!]
Senior Tax Editor, Kiplinger.com
Rocky is a Senior Tax Editor for Kiplinger with more than 20 years of experience covering federal and state tax developments. Before coming to Kiplinger, he worked for Wolters Kluwer Tax & Accounting and Kleinrock Publishing, where he provided breaking news and guidance for CPAs, tax attorneys, and other tax professionals. He has also been quoted as an expert by USA Today, Forbes, U.S. News & World Report, Reuters, Accounting Today, and other media outlets. Rocky has a law degree from the University of Connecticut and a B.A. in History from Salisbury University.