New Challenges for a Church
With Sunday services online, this minister's congregation is finding ways to stay connected.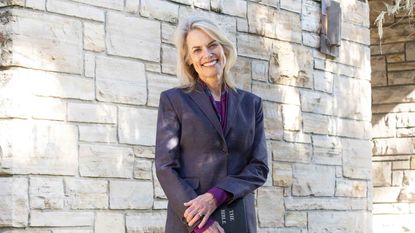 (Image credit: Photo by Angela Decenzo)
Profile
Who: Joanne Swenson, age 64
What: Senior minister, Church in the Forest
Where: Pebble Beach, Calif.
Subscribe to Kiplinger's Personal Finance
Be a smarter, better informed investor.
Save up to 74%
Sign up for Kiplinger's Free E-Newsletters
Profit and prosper with the best of expert advice on investing, taxes, retirement, personal finance and more - straight to your e-mail.
Profit and prosper with the best of expert advice - straight to your e-mail.
How did you end up at Church in the Forest? I was working on an independent ministry in Stamford, Conn. Out of the blue, I got a phone call from someone who had been a parishioner of mine when I was a minister in Boston. He said that a church in California had been looking for their next pastor for almost two years, and he felt like I might be the person. I hardly knew one thing about Pebble Beach, but I really missed being at the pulpit. So I began to talk to this church, and it has been just a wonderful place.
Where does the name Church in the Forest come from? We are in a historic forest, called the Del Monte Forest, which is part of Pebble Beach. Church in the Forest (opens in new tab) is a nondenominational Christian community, honoring the diversity of the Christian tradition, striving to worship and live by its sacred treasures.
How would you describe the congregation? We have about 450 members. But pre-pandemic, probably about 120 regularly attended worship services; many are second homeowners. It's definitely an empty-nester congregation, and we're not embarrassed about that. They've raised their children, they've grown past some of the anxiety of career and professional status, and they're ready for a lot of spiritual growth. I'd say our youngest members are in their mid fifties. I just said a memorial service for our oldest member a few days ago. She was 108 years old. She attributed her long life to never using a golf cart.
Did the church have in-person worship at any time during the pandemic? We had to shut down in mid March. But the second we could, in June, we tried to return to worship. We had two services in order to spread out our congregation, and we marked out places on the pews with masking tape. We required face masks, and we took temperatures at the door. We were allowed to keep that up for about five Sundays. Now, we do have little outdoor memorial services when someone dies. We call it Kaddish, borrowing from the Jewish tradition of saying Kaddish over the dead.
Your Sunday service is available online? We record Sunday worship on Thursday, and we post it on our website and YouTube on Sunday. We have an amazing music director who brings in her best friends, and they perform for about 15 minutes before each service. They're extraordinary musicians. We also have a podcast. Between the podcast and the video, about 80 people tune in. It's a little disappointing that it's not more, but our congregation is older, and they just aren't crazy about anything digital. They want to be in the room. That's been one of the challenges of this time.
How has Bible study and fellowship been affected? Bible study and prayer have con­tinued virtually; they have even thrived. It's almost as if people dug their toes in the ground and said, I am not going to let this pandemic and quarantine stop my spiritual life. And even though fellowship isn't happening at the chapel, our people are calling and talking to each other, getting together on the golf course, or getting together for a cup of coffee or a glass of wine.
Do you imagine churchgoing may be changed by the pandemic? Yes, I do. Although people can become content through virtual means, people want connection. So, more than ever, we're going to have to make that Sunday morning experience one of open hearts. Right before the quarantine, we had a sermon series on rituals of the church. I preached about healing and rituals of healing in the church, and I invited people to come forward to be anointed and to be prayed over for healing. I was cautioned that no one was going to come forward. But the front of the church was packed. So, it makes me know that there is a hunger for that. I guess the question will be whether we design worship in such a way that people will say, I just don't want to miss it.
Staff Writer, Kiplinger's Personal Finance
Emma Patch joined Kiplinger in 2020. She previously interned for Kiplinger's Retirement Report and before that, for a boutique investment firm in New York City. She served as editor-at-large and features editor for Middlebury College's student newspaper, The Campus. She specializes in travel, student debt and a number of other personal finance topics. Born in London, Emma grew up in Connecticut and now lives in Washington, D.C.