A New Chapter for This Bookstore
Katrina and COVID haven't deterred the owner of a used bookstore from catering to his clientele.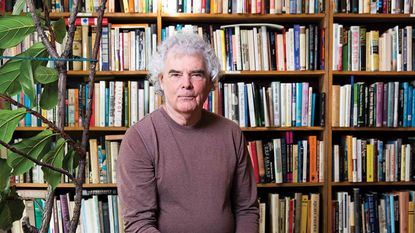 (Image credit: Photograph by Felix Sanchez)
Who: John Dillman, age 73 Occupation: Owner of Kaboom Books Where: Houston, Texas
How did you become a used bookstore owner in Houston? It all started about 43 years ago, when I lived in New Orleans. I had too many books, and it behooved me to get out from under them. So I sold books at the flea market in the French Quarter for about a year and a half, at which point I recognized that the customer base was interesting and intelligent and that I was good at selling stuff. So I opened my first shop in the French Quarter, which my wife and I ran for more than 30 years. Before Hurricane Katrina in 2005, I had just finished remodeling our store. After Katrina, I realized business would go into the toilet for about 10 years, and so it seemed to me that the only logical thing was to come to Houston.
How has the pandemic impacted your store during the past year? The first quarter was excellent, but the second quarter, we immediately shut down because Houston became a hot spot. We stayed shut down for the second and the third quarter. But if you're in small business for a certain amount of time, eventually you understand that some years there are untoward events that just aren't predictable, like Katrina. We had some money put aside, and we folded that money back into the business to keep it going. And we spent our time just tidying up, making sure we had the maximum use of space, and hoping that we could open back up.
How has business been since you reopened? When we reopened in October, I told myself, if we do half of what we would normally do this time of year, I would be accepting of that. We changed our hours to just three days a week, six hours a day, and we've done as much business in those shortened days as we would with our usual eight-hour days. It makes it a bit hectic, but I've been very pleased. Thankfully, we have a very loyal clientele. And it seems people are reading a lot more this year.
Subscribe to Kiplinger's Personal Finance
Be a smarter, better informed investor.
Save up to 74%
Sign up for Kiplinger's Free E-Newsletters
Profit and prosper with the best of expert advice on investing, taxes, retirement, personal finance and more - straight to your e-mail.
Profit and prosper with the best of expert advice - straight to your e-mail.
Bookstores have long struggled to compete with Amazon. How do you do that during a pandemic? I don't try to compete. What I do is handle what I know, and I don't handle what I know other people are long and strong in. As a used bookstore owner, the service is having stuff that people aren't finding elsewhere, in very good condition and for a reasonable price. My customers are delighted by this and only with the internet do they express their disgust.
So, you don't sell online? We did try selling online for a while, but I never did like that type of selling. We make enough money out of the shop that we don't have to. We have been using much more social media (opens in new tab). I'm a pretty private person; I'm not really nuts about being on social media. But my wife handles it, and it has become a much larger part of our sphere.
What's it like to shop at the store? My basic layout for a bookshop has confirmedly been, from the beginning, labyrinthian. We've got 84 sections, from Earth Sciences to Astronomy, Physics, Social Sciences and so on. But if you're less than 4 feet tall, it really does feel like a labyrinth. Children love it, and I think adults find it cheerful as well.
Staff Writer, Kiplinger's Personal Finance
Emma Patch joined Kiplinger in 2020. She previously interned for Kiplinger's Retirement Report and before that, for a boutique investment firm in New York City. She served as editor-at-large and features editor for Middlebury College's student newspaper, The Campus. She specializes in travel, student debt and a number of other personal finance topics. Born in London, Emma grew up in Connecticut and now lives in Washington, D.C.