From Music to Merchandise
This rapper has pivoted from putting on live shows to selling T-shirts and tote bags.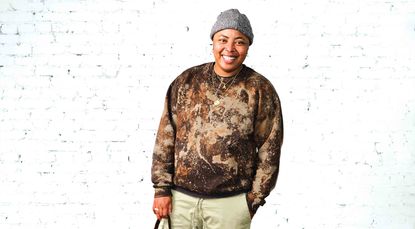 (Image credit: Photo by Marisa Guzmán-Aloia)
Profile
Who: Jewel, age 28 What: Rapper and cofounder of Good News Threads, a T-shirt company Where: Washington, D.C.
What was your life as an artist like before the pandemic? I discovered my love for songwriting and recording in college. And my school's variety shows are what got me started out performing, too. Since college, I've been going back and forth between recording music and performing and curating performances. I was throwing my own shows, called "The Kickbacks," mostly in D.C. I would be the one pretty much spon­soring the show and I would use all the money we earned to throw the next one. I was also getting paid for streaming music, on platforms like Apple Music and Spotify. But that's not really where artists' money comes from unless you're looking at millions and millions of streams. It's the performances and the merch that help an artist financially.
Subscribe to Kiplinger's Personal Finance
Be a smarter, better informed investor.
Save up to 74%
Sign up for Kiplinger's Free E-Newsletters
Profit and prosper with the best of expert advice on investing, taxes, retirement, personal finance and more - straight to your e-mail.
Profit and prosper with the best of expert advice - straight to your e-mail.
How did Good News Threads come about? We couldn't do live shows anymore. I got into the Good News Threads (opens in new tab) thing with the cofounder, Alyssa. Her sisters are super artsy, and during quarantine they had me doing a million and one arts and crafts. One of them was tie-dyeing and bleaching shirts. Then we started selling them, and eventually buying from thrift stores and selling even more. There are some newer ones, but a lot of them are nicer vintage things we thrifted. I had never bleached or tie-dyed a T-shirt before. So this is definitely a joint venture.
What items sell best? What's selling best has been changing with the seasons. Good News Threads started off with just T-shirts. But recently, as the weather has gotten colder, we have started to create more long-sleeved shirts, sweatshirts and sweatpants. And we also have tote bags.
How much do you charge for your tees? The average shirt base price is about $30. At first we weren't really paying attention to the costs because we got the shirts for free; they came out of my closet or they were donated by a neighbor. But eventually we started keeping track, and I believe we have turned a profit. Being familiar with social media with my music has definitely helped promote the business.
Who's buying your merchandise? Everybody that has supported my music has supported Good News Threads. They've either bought a tee or followed or reposted. Some have even had their photographs taken in the shirts for us. And I have noticed, even with customers that I don't know, I can usually place them from a show or something like that. They're definitely supporting Good News Threads.
Where do you see the business going? We've done three pop-up shops so far and we have more planned. The first time we did a pop-up, it was hosted by another local brand in the area, and it was a very good turnout. We didn't really expect to do much, maybe sell five tees. But then just after a break, someone walked up to us and bought two tees, and from there it was a roll. But I'd love to see Good News Threads go as far as having our own storefront. We could have a venue where you sell your clothes out front and then also have it be a hub for artists.
What's next for your music career? I was doing less recording before the pandemic because I got so deep into the shows and throwing shows for other artists. But I still push my past projects, and I still write. And I have started to record again. I've gotten into learning how to record myself. I bought $800 worth of studio equipment for around $200, set it up in my basement and started playing around with it. And so I'm slowly but surely creeping back into the music.
Staff Writer, Kiplinger's Personal Finance
Emma Patch joined Kiplinger in 2020. She previously interned for Kiplinger's Retirement Report and before that, for a boutique investment firm in New York City. She served as editor-at-large and features editor for Middlebury College's student newspaper, The Campus. She specializes in travel, student debt and a number of other personal finance topics. Born in London, Emma grew up in Connecticut and now lives in Washington, D.C.