7 Online Side Hustles Worth Your Time
Americans earn $52 million per month from side hustles.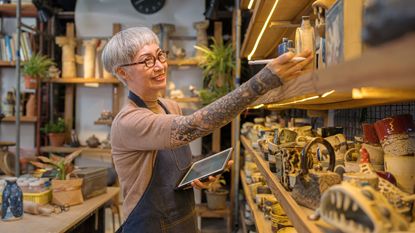 (Image credit: Getty Images)
Seemingly everywhere you go, prices are rising: from the grocery store to the gas station to apartment rentals.
So it comes as no surprise that Americans earn $52 billion per month from side hustles, according to a 2023 survey from LendingClub and PYMNTS. About half of working Americans report having a job beyond their main occupation, per the report. Notably, 53% of those workers with a side job are considered middle- to high-income earners.
"The trend of having supplemental income is here to stay," Alia Dudum, a money expert at LendingClub tells Kiplinger. "With job instability becoming more prevalent — especially in the technology sector — more and more consumers are looking to control their destinies and find alternative sources of income that will provide stability should a life-altering event happen."
Subscribe to Kiplinger's Personal Finance
Be a smarter, better informed investor.
Save up to 74%
Sign up for Kiplinger's Free E-Newsletters
Profit and prosper with the best of expert advice on investing, taxes, retirement, personal finance and more - straight to your e-mail.
Profit and prosper with the best of expert advice - straight to your e-mail.
There's a lot to consider about a side hustle before you dive in. First, take stock of how much extra time and energy you actually have: You want to prevent burnout and get the biggest payday for your hard work.
You probably also want to enjoy your side job. The difficulty there is balancing the joy against earning extra income. For example, you might like to sell handmade knits but if you only sell one every month, this side hustle might not be worth your time.
Finally, take into account tax and legal implications, and make sure there is no conflict with your employer's policy about working externally.
To start your search, look at "part-time" and "remote" opportunities on job boards such as LinkedIn and Indeed. You can also start your own small business, but the payoff may take longer. For some concrete ideas, here are seven online side hustle ideas to consider:
1. Online tutoring
Pay it forward and teach the next generation. You can go the route of web platforms such as TutorMe where the pay is $16 per hour or Preply where English tutors, on average, earn $15 to $25 an hour.
You can also search for jobs from individual organizations on ZipRecruiter and other employment sites. A recent job ad for a part-time online ESL tutor advertised rates of $15 to $25 an hour with flexible schedules.
2. Freelance specialist writer
General purpose writers typically struggle to find well-paying contract jobs. Instead, tap your industry or subject matter expertise to apply for technical or specialist freelance writer jobs.
For example from one listing, a writing job in the San Francisco area pays $55 to $65 an hour to freelance for a tech giant. The writer must know Silicon Valley news and can write stories about the company's employees for its internal website as well as cover events. It requires 20 to 25 hours per week of work.
Outside of tech, a listing for a part-time role for an associate editor in health says the role pays $22 to $28, requiring 20 hours per week.
3. Freelance designer
If you're artistic, consider looking for part-time design jobs through platforms such as Fiverr as well as job openings from individual companies. For example, a company in Los Angeles is paying $30 an hour for a production artist to work 15 to 20 hours a week.
4. Turn hobbies into a side hustle.
Want something totally different than your full-time gig? Consider turning a hobby into a money-making endeavor.
These can range from creating your own soaps or candles to jewelry, handbags, hats and more. You can sell them on platforms such as Etsy and eBay as well as Facebook Marketplace and other sites.
Go through your closet to see what your shopping habit could earn you. Consider selling your used designer clothing and accessories to websites such as Poshmark, ThredUp and Vestiaire Collective, formerly Tradesy.
Put photography skills to good use by selling your photos to stock image companies including Getty Images, Shutterstock and Adobe Stock.
If you like creating music, you can sell your beats — instrumental, shorter clips of music — to sites such as Beatstars and Airbit. These beats are sold to artists for remixing to create their own sounds.
5. Online data rater
Data is being collected everywhere, but someone needs to annotate data sets for artificial intelligence models to train on. As the deployment of AI becomes more prevalent, available jobs in this field will grow.
For example, Telus International hires internet raters, people who analyze and provide feedback on text, webpages, images and other types of data for search engines. According to its website, Telus says it helps companies test and improve machine learning models through its community of annotators and linguists.
The pay is $14 per hour, with flex hours of up to 25 hours per week.
It requires a high school diploma or GED, English fluency, frequent Gmail and social media use, general knowledge of current events, computer experience and a smartphone with internet access.
A company called TransPerfect also hires data raters, but it doesn't list the pay rate.
6. Online customer service or chat support
U.S. companies have customers all around the world. Thus, 24/7 customer service or live chat assistance is essential. These jobs let you work from home with flex schedules. They typically have minimal requirements and also will train you on the job.
7. Part-time bookkeeping
Many smaller businesses do not have the resources to have an accounting department so they hire part-time bookkeepers or accountants. To attract the best candidates, several also allow remote working for this position. Pay ranges from $11 to $25 an hour or more, according to Upwork.
Related Content