Understanding SSDI and VA Income Options for Veterans with Disabilities
For the millions of veterans struggling to make ends meet due to an injury or illness related to their service, there is help out there. But you've got to know where to look and what you may be entitled to.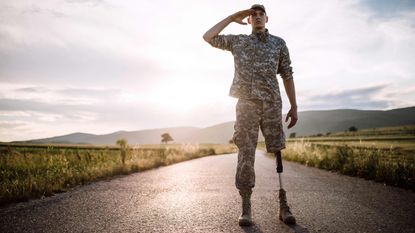 (Image credit: Getty Images)
To understand the support systems that are available to make the transition as seamless as possible and end this pattern of financial insecurity that many veterans encounter when returning home, I spoke with Brett Buchanan, VA-Accredited Claims Agent at Allsup (opens in new tab).
Q: As is the case for millions of Americans with disabilities, there is often a period of time during which veterans cannot work due to their medical condition(s) and the need for recovery. What financial assistance is available to them?
Answer: For veterans with disabilities in need of financial assistance, the first avenue of consideration should be the U.S. Department of Veterans Affairs (VA), which provides monthly tax-free disability compensation (opens in new tab) for veterans who became sick or injured during their service.
Subscribe to Kiplinger's Personal Finance
Be a smarter, better informed investor.
Save up to 74%
Sign up for Kiplinger's Free E-Newsletters
Profit and prosper with the best of Kiplinger's expert advice on investing, taxes, retirement, personal finance and more - straight to your e-mail.
Profit and prosper with the best of Kiplinger's expert advice - straight to your e-mail.
Veterans whose service made an existing condition worse are also eligible. Qualifying conditions range from physical disabilities, such as a chronic illness or injury, to mental health conditions like post-traumatic stress disorder (PTSD) that developed before, during or after service. The VA recently announced the addition of three presumptive conditions — asthma, rhinitis and sinusitis — highlighting a recognition of the danger exposure to airborne hazards is for many veterans and expanding eligibility to those who suffer from these conditions.
Q: Is the VA the only resource available to veterans?
Answer: While the VA is an excellent resource, it's important to note that it is not the only support available, as veterans can receive disability benefits from the Social Security Administration (SSA) and the VA at the same time. More than 950,000 veterans received Social Security Disability Insurance (SSDI) in 2016, according to the most recent data available, and for many that income made a significant difference. According to data (opens in new tab) from the SSA, SSDI constituted at least 75% of personal income for 52% of veterans in 2016. Even with this assistance, 12% were in poverty, and 51% would have been poor without SSDI income.
Q: Can veterans qualify for both VA benefits and SSDI benefits?
Answer: Veterans may be eligible for multiple forms of disability income, but the qualifications, application process and benefit amounts differ and need to be managed accordingly. The VA recognizes any veteran who became disabled during or as a result of their service. On the other hand, the SSA doesn't focus on how the disability occurred and instead bases eligibility on work history and the severity of the disability. As such, veterans must have spent a certain period of time in "covered" employment — jobs or self-employment during which they paid FICA payroll taxes - to qualify.
Similarly, eligibility for SSDI is dependent on whether or not an individual's condition is severe enough to prevent them from working, while the VA rates disabilities on a percentage scale, assigning different percentages to various injuries.
Q: For those veterans who qualify for both VA disability compensation and SSDI, are the benefit amounts the same? Along with income, are there benefits to applying and qualifying for both?
Answer: The benefit amounts for each can vary: SSDI bases the monthly benefit on lifetime average earnings during the period of covered work, regardless of the severity of a condition, and the average benefit in 2021 has been per month. VA disability compensation is determined by the rating associated with the disability, and payments in 2021 have ranged (opens in new tab) from $144.14 per month for a 10% disability to $3,146.42 for a 100% disability.
There are indeed benefits to qualifying for both forms of assistance, as a 100% VA rating can help fast-track an SSDI application, and even a lower rating may expedite the process, thanks to Social Security's Wounded Warrior program (opens in new tab). Additionally, unlike other disability benefits, such as workers' compensation, VA disability compensation is not held to an offset, meaning that veterans can receive the full amount of VA disability and SSDI income for which they are eligible through each program.
Veterans with disabilities may encounter many obstacles upon returning home, but understanding these supports is the first step toward giving veterans the means to take control of their financial futures.
Steve Perrigo, J.D., is Vice President, Sales and Account Management, for Allsup (opens in new tab)and has over two decades of experience and knowledge of the Social Security Administration (SSA) and its programs. He joined Allsup in August 2010 and helps clients understand their options when coordinating private disability insurance benefits with the Social Security program. Prior to joining Allsup, Steve Perrigo spent 17 years with the SSA in various roles of increasing responsibility.